Browsing articles from "July, 2013"
The big dogs will definitely enjoy Chunky Chews 8-inch Beef Braided Rawhide Ring, it's 100-percent premium rawhide. Each Chunky Chews is made for big and aggressive chewers, you can tell from the thick braided design and its weight (3x heavier than other rawhides bones in the same size), it's designed to last for awhile and at the same time promoting healthy teeth and gums. The ring features patented miracle-marinade no-run formula to provide your dog with rich flavor all the way through and off your carpets and furniture. The company uses only the highest quality ingredients, grass fed free-range beef hides, no hormone or antibiotic.
This dog treat also maintains your dog healthy skin and coat, thanks to Conjugated Linoleic Acid (CLA) and Omega 6 fatty acid in it. This product is locally farmed, produced, and packaged in one dedicated factory, all the processes are never salted, they are all traced and controlled to ensure safety and quality of your dog.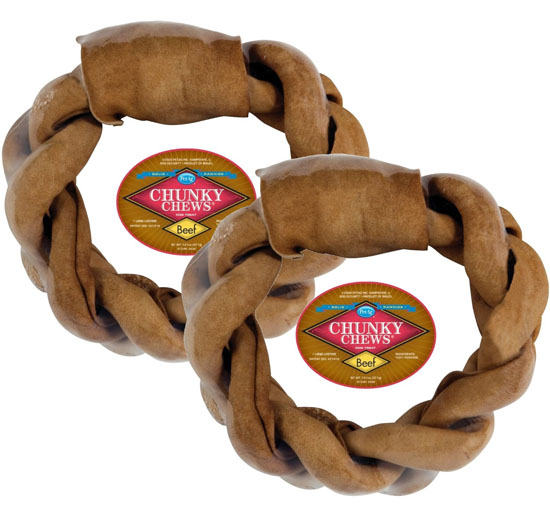 Merrick Before Grain #1 Chicken Dry Cat Food is one of not so many cat food which all ingredients are from USA, the company processes everything from their own facilities in Texas. It's a great cat food to choose when you plan to transition from raw food, it's easy on your cat's stomach, also the price is a lot cheaper when you buy in bulk. Usually when you choose grain free cat food, it is offered with much expensive price, this doesn't happen with Merrick.
Cats love this food, all ingredients are certified as human food grade. If you have cat with sensitive stomach foods, you might want to try this product. Most cats that have sensitive stomach usually prefers raw meat, especially when the cats have a corn allergy, you can choose to make their food by yourself, but not all of us have the time for that. This cat food is a great replacement, you'll find your cat happy and healthy, have shiny coat and better life quality. That statement is based on great reviews from many cat owners who have successfully changed from raw meat to this dry cat food, it is more convenient for owners and healthy for cats.
Contain your dog inside this strong and durable Midwest Black E-Coat Exercise Pen to ensure your dog stay away from dangerous area. Due to its durability, this crate is perfect for both indoor and outdoor use, the black e-coat finish resists rust and corrosion for a very long time. There are 5 different heights you can choose from 24"(W) x 23"(H), 24"(W) x 30"(H), 24"(W) x 36"(H), 24"(W) x 42"(H), and 24"(W) x 48"(H). The setup is pretty easy, no tools required on your part, also the ground anchors ensure this pen will stay in place. Another nice feature is that this crate folds flat for easy storage.
There are certain areas in your house that is dangerous for your pet, for example the kitchen. You can also this pen as barrier between rooms, in this way, you are separating your own area from the pet. Compared to plastic pen, you should go with this metal version if you're looking for extra strength and durability.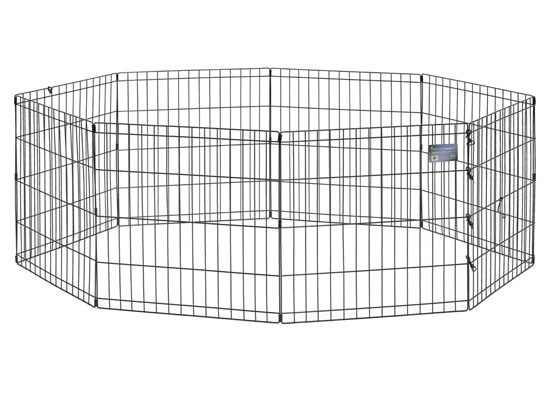 This All Weather Jacket keeps your dog dry and comfortable in style. Each jacket is made in USA, San Francisco to be exact, the material is lightweight and breathable while the microfleece lining insulates warmth. The jacket is pretty stretchy and durable, there's a belly strap for adjustability, you can use the anti-leak opening to attach your dog's leash to harness below. There's only one color choice available, but you can choose the accent color: blue or orange.
Make sure you measure your dog's size (neck to tail and around the chest), Wildebeest offers range of sizes from XS to XL. The built-in D-ring provides convenient way to attach the leash directly to the jacket, however, if you own strong and heavy pet that pulls, it is highly recommended that you use your own method of harness attachment. All Weather Jacket is machine washable then hang dry. Your four legged friends would enjoy their daily walk with this jacket.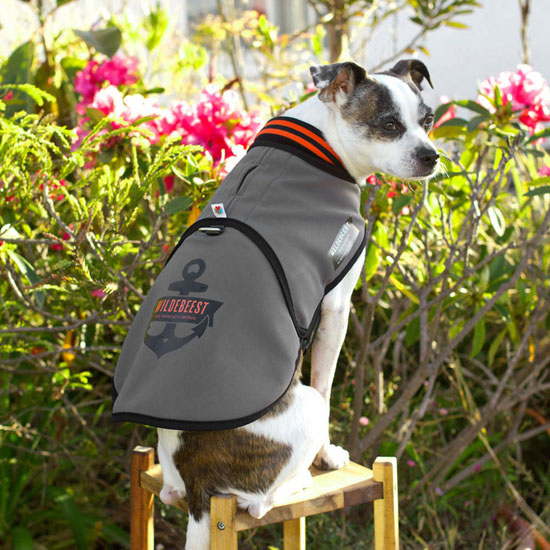 Tweets by @pawfipet