Browsing articles in "Toys"
Keep your cat busy with FroliCat Pounce Automatic Cat Teaser, it's a lovely, interactive toy designed especially for your feline friends. You can't always play with your cat and at certain point, your cat might get bored, just home alone or even locked in a room. This toy is one of great, automatic fun toys to keep your cat entertained, it features electronic mouse that moves around randomly around circular path. This little mouse would catch your cat's attention, the mouse can hide under obstacles, move in reverse direction, zoom forward, and sometimes twitching back and fort. This toy will kick your cat's instinct to hunt, chase and pounce a prey.
Gift your cat this cool Extreme Cat Tunnel, your feline friend would be entertained for months. Yes, we know that cat chutes and tunnels are not new, they are available in different pet shops, but this one uses Velcro tape where you can attach and customize wherever you want. This means, you can also be creative to construct this cat tunnel to whatever shape you like, create a cool maze for your cat to enjoy.
Each set comes with 3 tunnel sections, there are straps that can be used to tie 2 tunnel sections with entrances to your furniture, in this way, you can create multi-storey enclosures. The entrance size is about 7-inch x 5.5-inch while the tunnel section is about 3ft. long when stretched out. Unfortunately the instructions are in Japanese, but don't worry about it, it's pretty easy to use.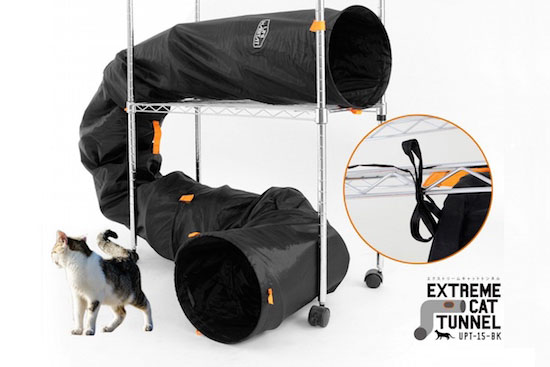 Kitty Cactus Scratch Post with Pom Pom is a great scratching post instead of your precious furniture. Entice your cat with cat nip, this durable and attractive scratch post can handle a rough play, both of you and your cat will love it. It satisfies your cat natural instinct to scratch, available in a wide variety of styles and sizes to fit your cat's height and your budget as well. This model measures 10-1/2-inch width by 11-inch depth by 16-inch height, it's ideal to keep your kitty active for hours, a great way to make your cat exercise. The post is covered with long lasting carpet and with its durable construction, it lasts for years.
Where to buy Kitty Cactus Scratch Post with Pom Pom?
– GRPet
– Amazon
– Newegg
Do you want to see your cat to be a DJ? You can if you buy your cat this cool Suck UK Cat Scratcher. This is actually a cardboard in a unique DJ music box form, a mixing deck-shaped cat scratching mat. It looks really funny when you see your cat spin and scratch the cardboard, he looks like a real DJ. So instead of giving a chance for your cat to scratch your precious furniture, you can offer him this scratcher. Scratching is a great exercise for cat's muscles or just simply a pleasure.
Suck UK Cat Scratcher comes in flat packed and fold together into a simple structure. It is completed with poseable tone arm and a top that spins, it's enjoyable to watch your cat suddenly mixes music like a real DJ.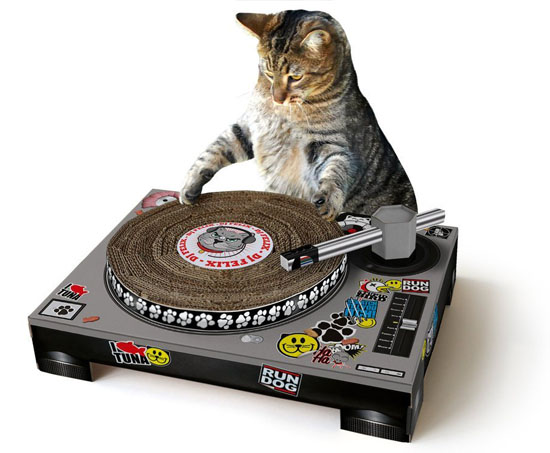 This cardboard is the perfect alternative for your cat to scratch on besides your beautiful furniture. Bergan Turbo Scratcher cat toy is a safe and affordable toy to keep your cat entertained while at the same time you'll be glad that your cat is no longer interested in the furniture. This cat toy comes with catnip and ball, simply place the ball in circular track, your cat will be busy playing with it for hours, watch as your cute cat bath the ball around and around. Measures 16" in diameter, the scratch pad is replaceable, hence, you can replace it anytime when you feel the cardboard pad is no longer decent for your cat's paws to scratch on.
A simple toy can be so impressive, take a look at Cat Charmer cat toy from Cat Dancer, we can bet that would be impossible for your cat to ignore this. This interactive cat toy has been designed by keeping cat's behavior in mind, it has been made to charm not harm. Does your cat need some exercises? Well, we're pretty sure this colorful fabric with polycarbonate wand will make your cat get up and move its body, excellent for aerobic exercise. It's a safe interactive toy for kittens or adult cats, the bright colored ribbon is also a plus point.
Play with your feline friend and tease your cat with Zanies modern eco-friendly cat teaser. This cat toy is a combination of natural canvas, twine and wood. As a modern pet owner, we are sure you are green conscious person, this modern cat toy is eco-friendly since it's made of natural materials. Watch as your kitty having fun with a mice dangles from a 49cm pole.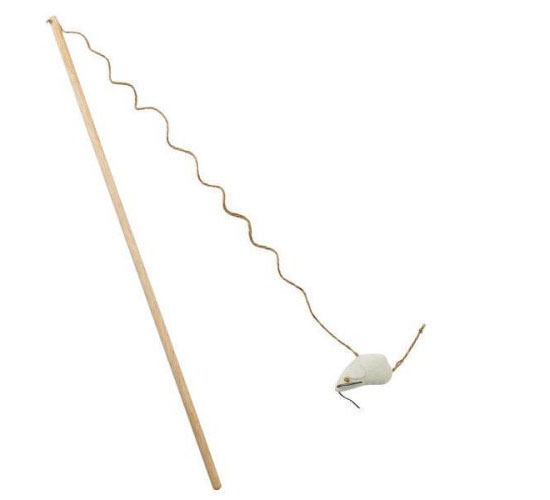 It's a cat's instinct to hunt a mouse, therefore Kong Natural Mice cat toy would be a perfect gift to your cat. This toy is made from eco-friendly materials, natural and renewable, it's very safe for cat. You can use this toy to stimulate the cat's hunting and stalking instinct, watch how your cat reacts when you throw these mice.
Tweets by @pawfipet