Browsing articles from "January, 2013"
Four Paws Wee-Wee Housebreaking Pads for dog feature super absorption to protect your floors and carpets from mess. It's been especially designed and formulated to attract puppies when nature calls, you can use it for training or alternative when your dog is housebound or during poor weather. There are variety sizes you can choose to suit the size of your dog, buy bulk for cheaper price.
By training your dog to use wee-wee pad, you can be sure that your dog won't make a mess on your floor, for example if you are late from work, and can't make it home in time to get your puppy out, it will use the wee-wee pad. It also means that elderly people can benefit from the pad since there maybe times when they can't take their dog out. We also read that even though Four Paws Wee-Wee Housebreaking Pads are meant for dogs, some customers use it for their cat, under the litter box to be exact, to catch any accidental over shooting.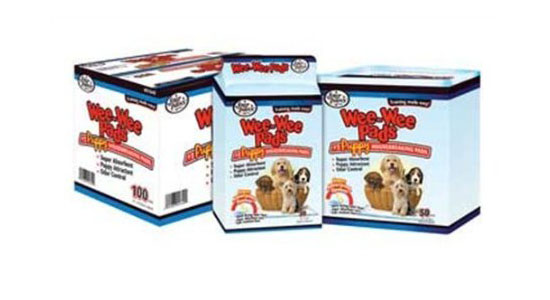 If you only want to purchase attractive fish tank, checkout Aquarius Aq15005 Aquarius 5 Rounded 5-Gallon Aquarium Kit. It's a beautiful aquarium made of shatter-proof acrylic that features full hood, LED lighting, and Mini Max internal power filter. A complete kit to start your aquarist hobby. There are 3 variations to choose to illuminate your fish: moonlight blue, daylight white and both white/blue combo, the acrylic construction provides you with crystal clear view of your aquatic friends. Some people say that the geometric shape of this aquarium makes it hard to see what's happening at the hard curve on the corners, however the flat front offers great view of what's inside.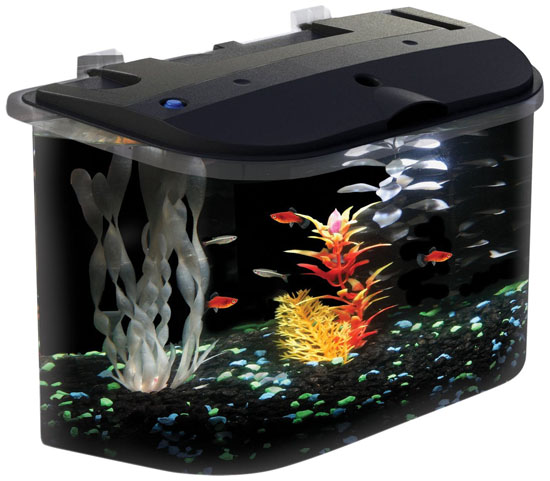 The lid is pretty easy to lift up or remove, just incase you want to add water or do water changes. Once you turn the light on, this aquarium would look awesome especially when you choose to use both white and blue light. The water flow of its submerged filter is pretty strong, perfect for betta fish. You might want to add a heater if you plan to keep tropical fish. Overall, Aquarius Aq15005 Aquarius 5 Rounded 5-Gallon Aquarium Kit looks good on your office desk or home, a nice gift for your kids as well if they want to keep fish.
You and your cat would love the idea behind Kitty City 46-inch Mega Kit Cat Perch. It's a pet furniture which can be expanded and built upon (hint: you don't have to build the same structure just like the photo here, be creative) in order to keep your cat entertained and from getting bored. You attach additional panels and connect it to multiple units to expand this playing pen into larger area and more spacious. The material is soft but durable, it is ideal for playing and resting, also its heavy duty coated fabric is tearing resistant. This unit features 4 scratching posts to satisfy your cat's natural instinct to scratch, cute 3 plug 'n play catnip filled plush toys to tease your cat, 3 level platforms, and 2 cube homes.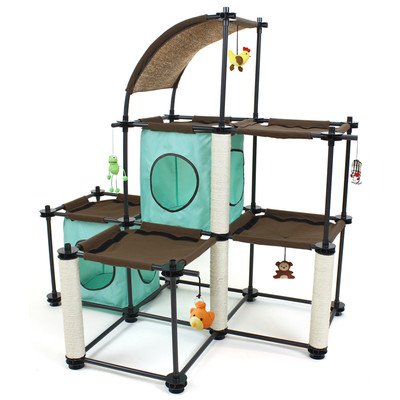 You can keep large pet away from certain areas while smaller pet to pass through when you install Carlson 0930PW Extra-Wide Walk-Thru Gate with Pet Door. It's a handy walk-thru gate to keep children away from dangerous areas such as kitchen, but there's a small gate to let your little pet to walk through. This gate is convenient way to protect both your home and pet, since it's made of steel, you can be sure this gate is chew-proof. Installation is easy, this safety gate features a pressure-mount system it is also ideal for extra-wide openings when needed.
The gate features one-touch release lever-style handle design to enable you passing through with only one hand, just in case you are carrying things. The small 10" x 7" pet door lets small dog or cat pass through while everyone else stays put. The durability and strength of Carlson 0930PW Extra-Wide Walk-Thru Gate is unquestionable, it keeps your pet safely contained in certain area in your house, and avoid any mess.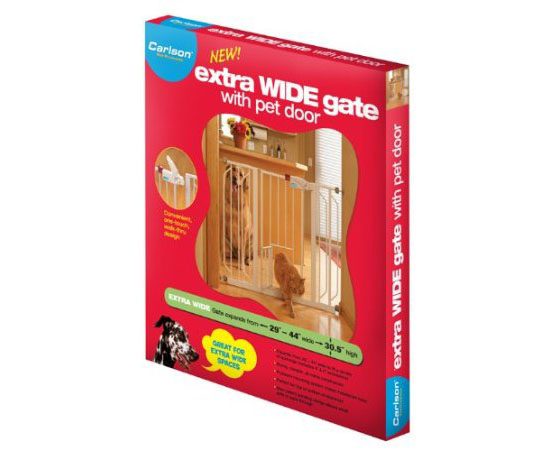 Measures 7" x 5" x 10", this Exotic Environments Forgotten Ruins Aquarium Ornament would look great in your aquarium. Amazing hand painted details would look really awesome if you have similar themed to décor your fish tank or terrariums. This unit is a solid one piece construction, your betta fish can swim around through holes or just hide. It's a great addition to any fish tank, we highly recommend this aquarium ornament to you.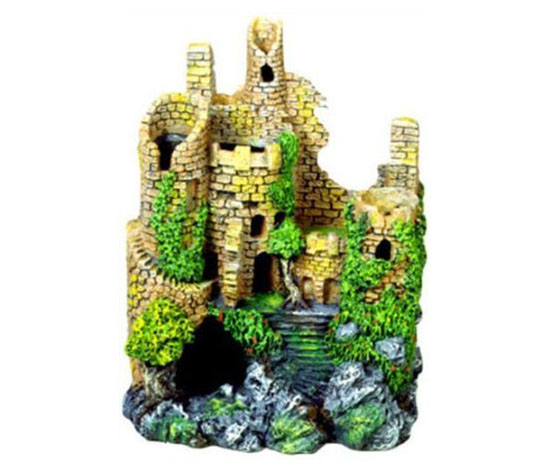 PetFusion Elevated Pet Bowl Holder comes in natural pine would look really good in your kitchen. For design conscious pet lovers, it's really important for their pets also own stylish products, if you are one of them, then you should check this out. Elevated bowl promotes healthy digestive, mealtime is also more comfortable for your pets since they don't have to bow their heads too low to eat or drink. The base of this holder is completed with anti-slip feet to keep everything neat and tidy. Cleaning shouldn't be an issue here, the natural wood material is finished with water resistant seal, wipe it with damp cloth and it looks like new, even those 2 stainless steel bowls are dishwasher safe for your convenience.
If you tested wide variety grain-free dog foods, you would realize that each of this product is not created equal. for adult dogs features balanced level of protein without grains or fillers, because sometimes high level protein results in higher level of calcium and phosphorus that block the absorption of other minerals such as zinc and iron. The formula from Wellness is guaranteed to offer your dog balance and optimum level of calcium and phosphorus, it uses only high quality, lower ash meats along with proper blend of botanicals and nutritional supplements.
Purchase a pack of Canine Caviar 6-Inch Buffalo Lollipops for cheaper price, they are extra meaty treats for your best furry friend. Your dog deserves the best right? So, when your dog has done something good, why not reward them with delicious chewy treat? It is ideal for long satisfying chew, it also helps to reduce any tartar and maintain the health of your dog's teeth and gums.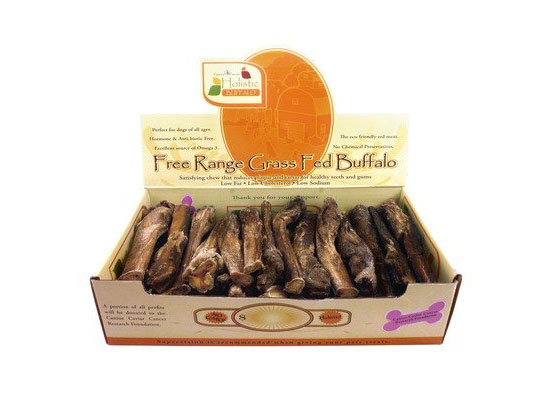 Tweets by @pawfipet