Browsing articles in "Toys"
Kong Fuzzy Frog Squeaker Toy offers quality plush toy for your dog. Claiming to be "indestructible" might not be appropriate because there's going to be a dog out there, somewhere that can destroy that claim. However, we can assure you that the quality from this company is much better than most dog toys on the market. This plush toy squeaks when your dog bites it, it also comes with a free replacement squeaker just in case your dog manages to destroy it, you still have an extra.
We recommend that you purchase small instead of x-small size, even though your dog might be petite in size, many customer reviews mention that the x-small frog is actually really, really small (preferable for puppies). Your dog might be better play with the small size.
Looking for playful and cute toy for your dog? Checkout these Animal Squeaky Toys. Each one is designed to be endearing and very durable, promising hours of fun for your dog and you. There's squeaker inside each arm and leg, so basically, your dog would jump and have fun playing with it, even more, at the moment we write this review, the company offers reduced price when you choose two or more toys. Durable Tuffut Technology construction makes sure this corduroy plush toy can handle your dog's rough play.
Holiday is near, you might want to prepare a special gift for your furry pal, we'd like to recommend this cute Kyjen Holiday Hide-A-Squirrel Jr. This cute holiday themed dog toy improve your dog's problem solving skills, designed for hours of entertainment, your dog would not just have fun, they will also fine tune their hunting skills. It's an ideal toy for puppies that need an outlet for their instinctual behaviors but it doesn't mean older dogs won't enjoy playing with it.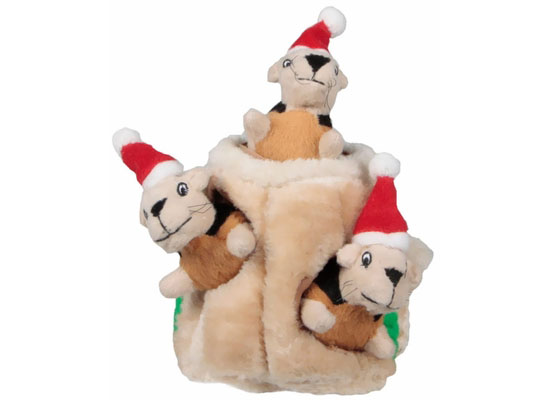 Inspired by geometric shapes and art, Odin modern puzzle dog toy was born. It's a unique puzzle toy with integrated flaps where you can easily fill in your dog favorite treats, different sized holes allow for different size of treats. You can start teaching your dog how to play with this puzzle by using small treats or kibble, in this way, they will easily fall out of the 4 holes on the sides of the toy, your dog would learn that they can get those treats by gently rolling or picking up/dropping Odin.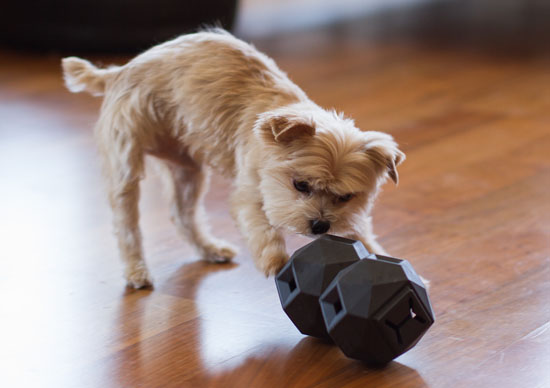 There's a new member in Zogoflex line, West Paw introduces Toppl. It's a colourful, stuffable puzzle toy that will entertain your dog all day long. You can stuff treats inside this toy, your dog would do anything to try to get them, it's fun to watch. Your smart dog will play with this bouncy and chewable toy, roll, wobble, or bounce it just to get those precious rewards. The cool thing about this toy is that you can interlock 2 different sizes in order to make playtime a bit challenging and more fun. Just like other Zogoflex toys, this one is recyclable, BPA and Phthalate free, FDA compliant. It is guaranteed to last.
CleverPet entertains your dogs when you're not home, in fact, it makes your dogs even more clever. Yep, it's an interactive device that offers a fun time when your pet is home alone, it also acts as pet feeder while your furry friend engages with it and learns new tricks. This pet gadget is controlled with nice and easy-to-use mobile app, especially designed for iOs and Android. You can control CleverPet completely, in real time, such as set the schedule, keep track when your dog playing or eating.
The company claims that this gadget features scientifically proven techniques to offer great interactions that adapt to individuality of your dog's needs, and it becomes more challenging as your dog becomes smarter. In this way, you can avoid your dog becomes bored when they are alone, boredom can lead to anxiety and destructive behavior, so let's keep this cute companion busy and happy.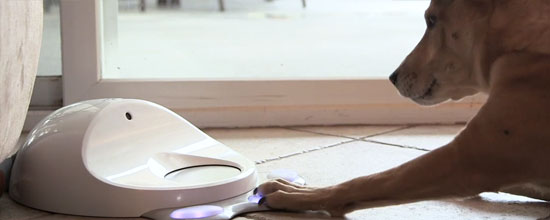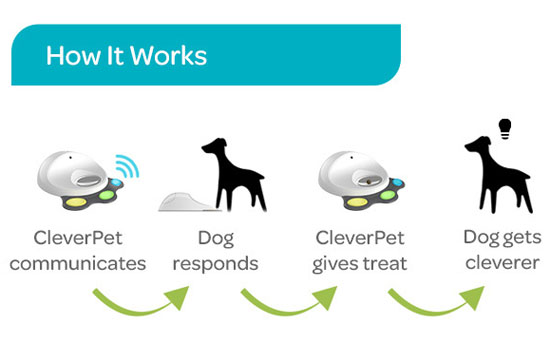 An automatic ball launcher, hm…that sounds pretty cool isn't it? iFetch project started when one afternoon, Grant tried to do his homework at the kitchen table but his dog, a toy poddle, kept dropping the ball at his feet, begging him to play fetch. He couldn't resist the request (who could?), but after 20 minutes, Grant was tired and needed to finish his homework. The little dog didn't feel the same way, well, we know how dog can be so energetic. This was the idea of automatic ball launcher hit Grant, what if he could make a device that could throw the ball automatically so that he could finish his homework.
So, the journey began, it became a family project with extensive researching, prototyping, testing and refining, this family launched a Kickstarter campaign and received 4 times of their original pledge.
iFetch is a ball thrower, it has 3 distance settings that you can choose from: 10 feet, 20 feet, or 30 feet. To do so, simply press the button on the back to go through the distance options. Place the ball into the funnel, it will automatically launch to the chosen distance.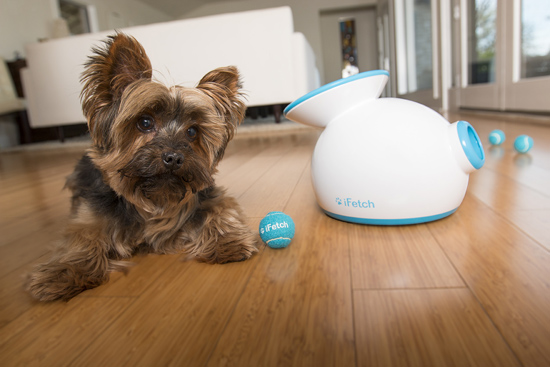 Hyper Pet K-9 Kannon Ball Launcher is a dog toy that makes you look really cool holding it. It's a tennis ball launcher designed to provide ultimate fun for both of you and your dog, it's been tested to be able to throw one ball up to 75 feet long, pretty cool heh? Even your kids would love it, in fact, they might beg you to throw the ball with this cool toy, blasting fetching fun for every dog. All you have to do just pull back the handle and load the ball, now get ready to aim and pull the trigger to shoot.
It's an innovative toy for our furry friend, you probably already know Hyper Pet company, it's the brand behind famous ball launcher dog toy. It also features built-in hands-free ball pick up and extra ball storage. A mini cannon that fires tennis balls, making fetch game more fun for you and your dog. This product comes with a safe tennis ball.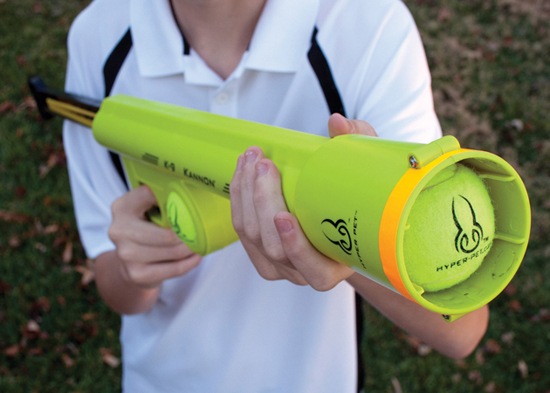 Dogs can get bored with their toys and most often than not they can resort back to chewing your precious shoes. So, why not giving your dog a unique and wacky new toy to chew? Checkout Kurgo OriGummi dog toy, available in 2 models, each one is inspired by origami, it stands heavy chewers. Each one is made from a rugged nontoxic plastic with central compartment (Crane model) that you can use to keep some treats to encourage your dog to play with it for hours. Now, Kurgo OriGummi dog toy is more irresistible than your shoes. The edges are gentle on gums and teeth, they help to brush your dog's plaque away, even during play time. There are 2 internal squeakers (dog model) to persuade your dog to keep on playing.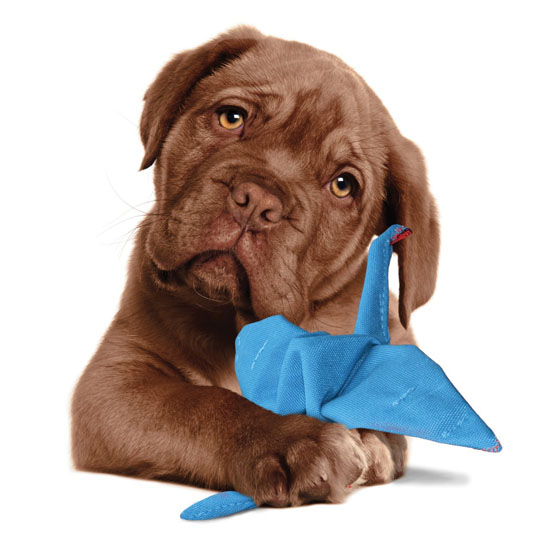 KONG Cozie Marvin the Moose Dog Toy is so adorable, it's a soft and cuddly plush toy for your best furry friend. Dogs can be rough, this toy has been made with extra layer to provide extra tough toy, an ideal toy to play fetch or simply as a comfort to your dog. Many customers have said how much their dogs love Kong Moose toy, they play with it almost on daily basis.
This is actually just one of 10 available characters, it squeaks to help entice play. Watch as your dog carry KONG Cozie Marvin the Moose Dog Toy everywhere, toss it, shake it, pull on it or even chew it. The sturdy material really helps to allow this toy last for a long time.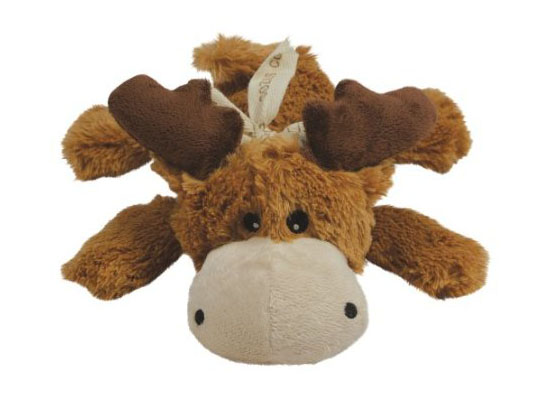 Tweets by @pawfipet