Browsing articles in "Birds"
Bird lovers, here's a cool bird feeder that would decorate your backyard as well as invite all birds to come and hang out. Prairie Style 3D Wooden Lantern Bird Feeder is one of cool handmade bird feeders on the market.
This can also be a unique gift idea, the timeless design comes with DIY project, building this product would be enjoyable for all ages. This bird feeder is actually a wooden 3D puzzle kit where you need to assemble to use it, there's a mason jar with bird seeds located down at the center. The wood material comes natural and unfinished, you can choose to paint it or stain it however you like.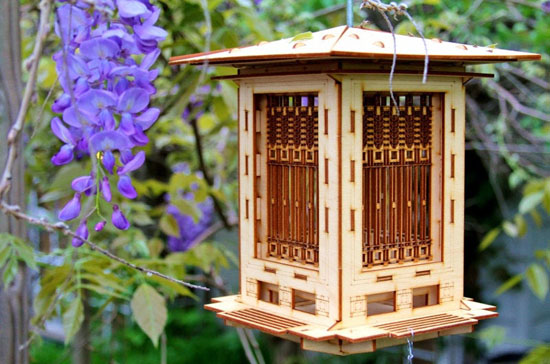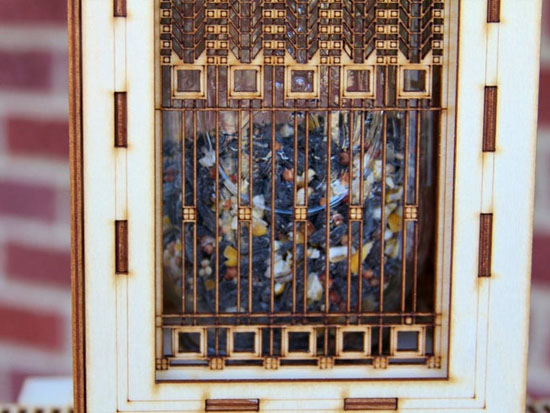 Love hearing the sound of bird chirping? You can bring that spirit next to you with this cute Vintage Camper Bird House. The colorful wooden house invites feathered friends to nest, play, and eat while that cool retro design is for you to enjoy. The design idea came from old photographs of a trailer, it would look pretty cool if there's a birdhouse with simple construction but amazing details that resemble an old trailer.
This birdhouse would be a great home for a small bird family, there are little windows to peak in yet still offer new hatchlings security. This kit is about 1:20 scale of a real trailer.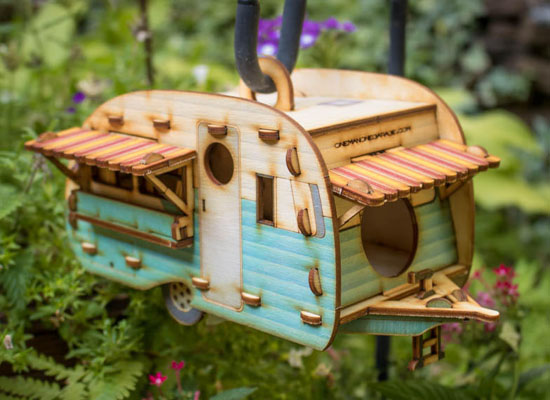 Handmade in Philippines by Filipino artisans, Wicker Bird Bungalow offers a unique, natural bird house. Each piece uses local materials to create a cozy space for our avian friends to hangout or even lay eggs. This little bungalow is a perfect space for little birdie to enjoy a tropical vacation, it's like a little paradise for them
Filipino artisans craft each house from local materials, creating a cozy space for our feathered friends. This piece uses locally sourced wicker, rope, and twigs. You can hang one or few of these bird houses in your backyard, but we recommend that you hang it near your bird feeder or bird bath pool, soon they'll notice that you also have a cool bungalow for them to be safe during the rain or simply to relax.
In an attempt to increase bird population in the cities and villages, Klaas Kulken has designed Terracotta Roof with integrated birdhouse. This design came to real after consultation with Vogelbescherming Nederland (Dutch organization concerning the protection of birds), basically it merges basic terracotta roof tile with archetypal shape of a house. It looks pretty cool, doesn't it? There are some birdhouses above your head and it blends perfectly with the roof.
Colorful Carnival Hummingbird Feeder comes in two forms: round and tall, both features cool colors to invite one of nature's cool creatures, hummingbirds. Each feeder is handmade, created from recycled glass, so it's a nice product if you are green conscious person. The carnival of colors would add art to any outdoor space, you can install it on your yard, front porch, or deck to bring the environment to life. Once those hummingbirds come around it, their energy and beauty would also live up any space.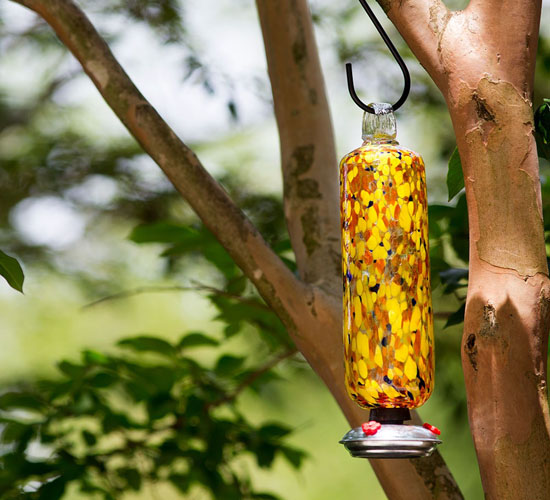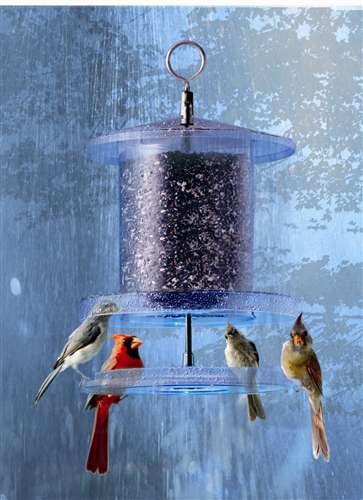 Watching birds in the morning is refreshing, we really love hearing them chirping while eating and hangout with friends. Birdsong essentials All Weather Feeder is a 6-quart feeder that keeps the seeds dry through all seasons. When you love birds as much as we do, you should consider having this unit on your backyard or front porch.
Hate wet seeds? So do birds. That's why this feeder features covered feeding port, in this way, the seeds stay dry from rain and keep away snow. You don't need to worry about cleaning out wet and moldy seed. The circular perch design allows you to view birds while they are eating, even when you are on the far side, that perch also catches spilled seeds. It's easy to clean, so you can be sure it won't clog up with ice or snow in winter. This model has 2 options: 4Qt capacity and 6Qt capacity.
Although a bird cage is meant to house your feathered friend, it will also become a permanent fixture in a room in your home, this kind of cages are usually called decorative bird cages. There is no reason why you can't have an efficient and spacious bird cage while having it act as a decorative piece as well.
Bird cages don't have to be boring and ugly. There is absolutely no reason why you need to put your bird up in a cage that downgrades the rest of your decor. You certainly don't want to end up sticking the bird in a corner of the room so that your lovely furniture isn't affected by a bird cage eyesore.
Here is an example of a decorative bird cage that would fit in perfectly to a room that has a blue matching tone. This cage can act as a standalone accessory for a room. It is that stunning!
It should fit one or two small birds easily and will enhance the style of the room instead of taking away from it! It is a quaint cage with a homestyle look and feel to it.
Love wild birds? So are we. Listening those birds chirping in the morning gives us peaceful feeling. Zingz and Thingz Seaside Station Freestanding Birdhouse is a beautiful addition to any backyard or garden, it won't function just as a birdhouse but also a modern decoration. You can place it near bird feeder so that those birds can hangout while having their breakfast, or better, one of those bird might make a nest inside to lay its eggs. Made of wood, this birdhouse is a lifeguard station completed with all the trimmings, you can also see the details are amazing. It weights just about 1.8lbs with dimensions of 11.25-inch (H) x 7.5-inch (W) x 8.75-inch (D).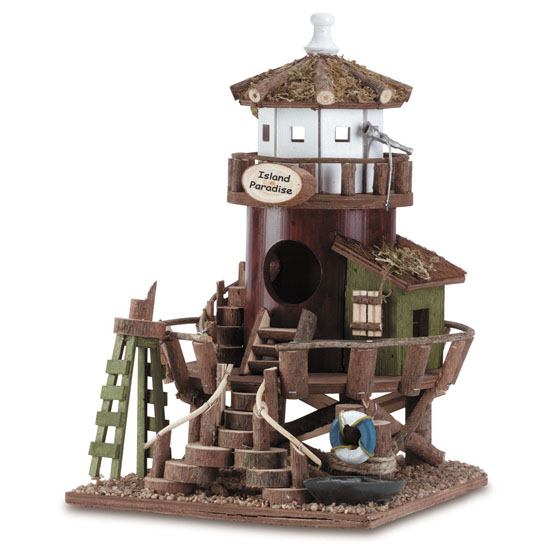 Kaytee Platime Activity Center is a nice portable playground for your avian friends such as parakeets or cockatiels. It's an ideal entertainment spot when your bird is having "out of cage" playtime, you can set this up on your desk or table top, you can also choose to hang it on a ceiling to save some space. When fully assembled, this unit dimensions are 17" in diameter with 15.75" height, it promotes healthy exercise while encouraging great interaction between you and your lovely pet bird.
The center post holds 6 adjustable perches, it comes with variety toys, food, and water cups. Those multiple attachment points have been designed for any other pod toys and accessories. To make it easier, chain and ceiling guard are included within each purchase so that you can create a hanging activity center to save some space.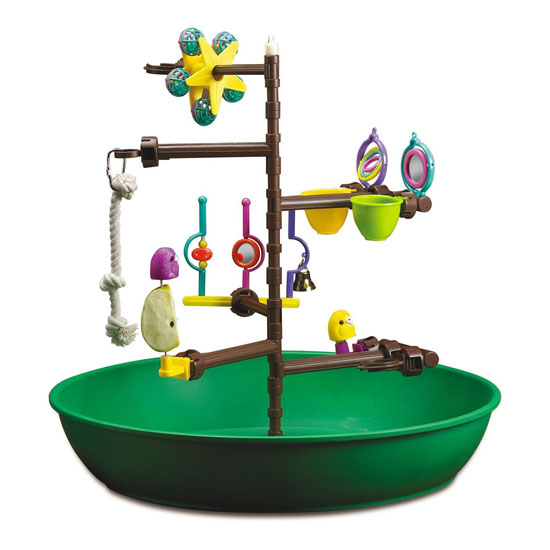 This modern birdhouse comes from the same designer of Rocking 2-gether Chair, yes, Paul Kweton has done it again. It's a birdhouse made of repetitive lasercut plywood ribs with clear coat finish. The sophisticated form will make your home even more beautiful, you'll get a lot of complements from your guests, just don't forget to clean it after a week. We're not sure if this birdhouse is for sale, but you can contact Paul to get further details, even the lasercut template is available on request.
Tweets by @pawfipet