Browsing articles from "May, 2012"
Integrate your furniture collection with your pet bed, just like Tavolato pet bed from Petsmood. If you are a modern conscious pet owner, then this furniture is the perfect complement to your modern lifestyle, we're pretty sure your pet would love this furniture as well. It integrates perfectly with your existing interior décor, elegant and stylish, a clever approach to preserve your design sensibility while providing a functional and comfortable bed for your furry pal.
Tavolato pet bed doubles as a coffee table. You can enjoy the company of your pet while enjoying your afternoon tea or a cup of coffee, alone or with guests. This pet bed is custom made in France and comes with removable cushion for easy cleaning.
Do you want to add comfortable bed to your dog existing crate? Try Midwest Paw Print Reversible Fleece Stuffed Bed. This high quality reversible bed adds comfort to the crate with its ultra soft synthetic fur on one side and plush sheepskin on the other, your dog will love it. There are many sizes available for you to choose from, don't worry, each size fits standard crate size. When you carry your dog crate, your dog will be happily jump into the crate and then lay down to relax. This bed keeps your dog or cat to stay warm during cool weather and warm during winter.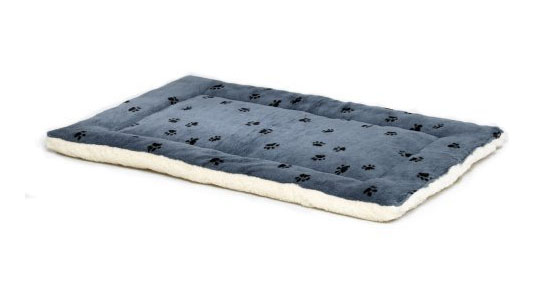 Not only Bergan Comfort Carrier Soft-Sided Pet Carrier looks good, but it also feels good. If you plan to travel with your pet, you might be interested to know that this carrier comes with fleece travel bed to keep your cat or dog comfortable inside. The padded shoulder strap is easy on shoulder, from puppy to adult dog or kitten to adult cat, you can choose the right size to accommodate your pet weight (small or large). The problem with buying pet carrier only is to find the right size, there we suggest that you measure your pet's height and length and compare it with the dimension of the carrier. You can click here to checkout each size dimension.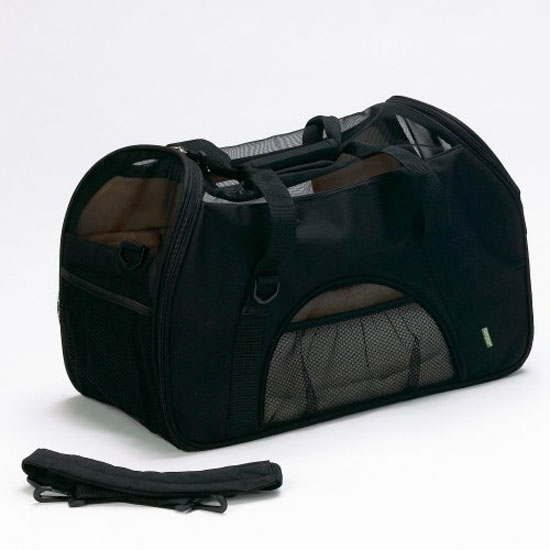 As you can expect from all Umbra products, modern and stylish. Umbra Bird Cafe Hanging Bird Feeder comes in stylish and modern design, even wild birds deserve to dine in style. Similar to FishHotel aquarium, this bird feeder also features condo-like structure with multiple asymmetrical windows, sleek and nice. Birds will love the generous divided feeding tray while you'll love the easy-fill removable lid. You can hang this feeder with its sturdy steel airline cable, the content is clearly visible through the clear plastic windows. The seed flows continuously through the holes at the bottom into the wrap-around tray, in this way, birds can perch on and feast, you can easily checkout at a glance if this feeder needs a refill or not.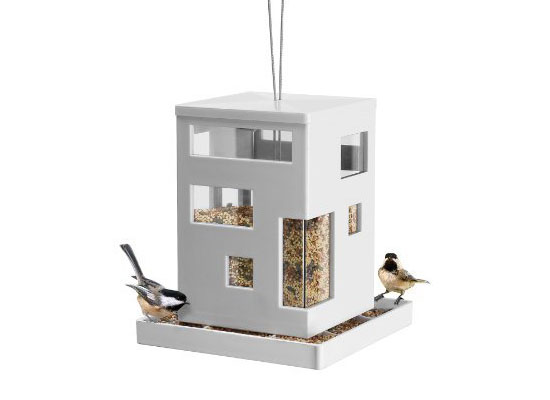 Modern and unique Artichoke Dog House by Sherry Leung. This conceptual home has been designed especially for the weather, you see, this unique dog house can be adjusted based on the current weather. This dog house is composed of iron wires and petals to cover the house. In a hot day, you can lift the petals up to provide some air to come inside the house or in a colder day, simply lower the petals. Pretty nice concept.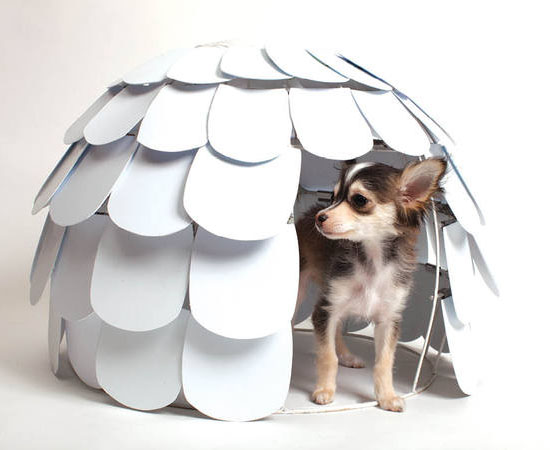 For pet owners who have multiple pets in the house, they know that food and water dispenser area can be pretty messy. If you need to use raised border to prevent any spill or crumble all over the floor, you can use Petmate Le Bistro Single Food Mat. The ribs design on the interior will keep spilled water confined in the mat, not all over your floor. We hate picking up kibble crumbs on the floor as much as you do, but if you want to prevent the mess from spreading all over the house, you have to clean them as soon as you can. This food mat is the help that you need.
K&H Kitty Sill Deluxe Cat Bed offers attractive print and easy installation bed with two models: zip off bolster or zip off hood. Yes, you probably recognize this popular Kitty Sill cat bed which has been developed to the next level with both hooded and bolstered kitty sills. With this bed, your cat will enjoy the view from the window while relaxing or enjoy the warmth of the sun in the morning. It is said that this bed is sturdy enough to hold even a big cat. The hood is also covered in cute kitty print while the inside surface is lined with soft velvety microfleece to provide optimum comfort to your feline friend.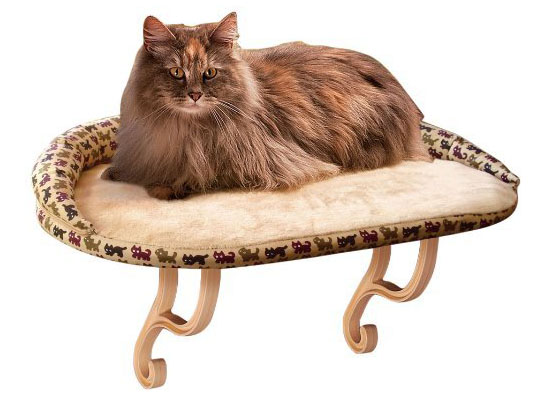 Female dogs have to go through menstrual periods twice a year or you can say estrus cycle where their bodies have to go trough menstrual periods that can result in pregnancy if the dog has mated with a male dog. In some cases, if your female dog doesn't mate with other male dog, its female hormones can mimic pregnancy which we usually call as pseudocyesis or in simple terms "false pregnancy".
So, is your dog experiencing this? In this article, we'll tell you about several false pregnancy in dogs symptoms so that you know when your dog is having it.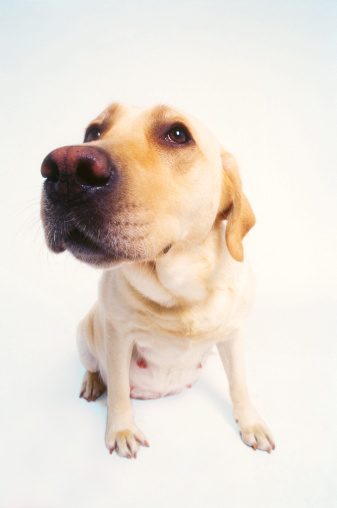 1. First symptom if your dog is experiencing false pregnancy would be your dog doesn't eat and drink as much as she should be.
2. Is your dog lactating? One of most common symptoms of false pregnancy is when your dog producing milk even when no pregnancy is present. You'll notice enlarged mammary glands and swollen teats due to her hormones.
3. You need to check her abdomen for swelling, gently, because her body will mimic everything related to pregnancy. Yes these hormones make her body to function all signs that indicate pregnancy, although your dog belly won't be as big as a female dog that is actually pregnant.
4. One of natural instincts of pregnant dog is nesting. Do you see this sign? When your dog starts to collect her blankets, toys or rug in the corner of the room, or building her own cozy spot, that mean she's read to take care her babies.
5. The other common instinct would be carrying stuffed toys or other small items as if they are puppies. Carrying stuffed toys around it's the result of her emotional stress due to false pregnancy. She's trying to use small items to replace her missing pups.
At this moment, your dog is experiencing what we call psychological distress which can affect her appetite and activity. She's no longer interested in eating her favorite food or treats, or becomes less interested in playing fetch (dog's most favorite game). If you don't plan to breed your dog, the best thing you can do to help her is to have her spayed. You need to learn to recognize false pregnancy in dogs symptoms, so that you can take immediate action to ease your dog's psychological distress.
Paul Kweton, an architect has come up with this unique furniture design that both you and your pet can enjoy. Rocking 2-gether Chair is a hybrid between a pet house and a rocking chair, yes, both of you together can enjoy soothing experience from gentle rocking movement of the chair. Started in 2011, Paul has finally finished the first full scale prototype. Rocking 2-gether Chair is made out of CNC milled birch plywood but the density and the amount of CNC milled "ribs" can be customized into different sized wooden spacers as requested. Are you interested with this project? You can contact Paul Kweton through his website.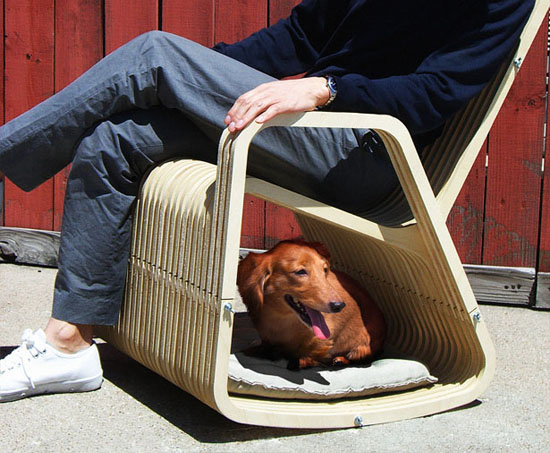 If you need to determine if your pet is actually pregnant or just pseudocyesi (fake pregnancy), you can use Witness Relaxin Pregnancy Test Kit. This kit works by measuring relaxin which is produced by developing placenta as early as 20 days after the luteinizing hormone surge. In order to get accurate result, you need to be able to draw blood sample from your pet, if you don't know how to do that, you can have it drawn at your Vet. After that, you need to spin it down to get the plasma, the clear liquid at the top. Relaxin needs only two drops to provide you with the result. It sounds easy, but if you don't know how to draw the blood, this test kit can give you false result.
If you have the ability to draw the blood, Witness Relaxin Pregnancy Test Kit is very simple and easy to use. You can ask your vet to draw the blood and spin it for little money if preferred, and you can do the test by yourself. You can do early detection of planned or unplanned pregnancy, it takes only 10 minutes to get the result.
Tweets by @pawfipet