Browsing articles in "Feeding and Watering"
Pawbo, a company owned by Acer, has launched a cool gadget for furry pal, Pawbo Munch Dog Treat Dispenser. This treat dispenser can be controlled through a remote or a smartphone, you can play with your dog wherever you are because this device includes a game and can play music. It's not just a traditional dispenser, it is also an entertainment device for your pets.
Play a little gambling with your dog, just use "Slot Machine" Game Mode. This dispenser features a LED screen that displays eye-catching icon with catchy music, it's a source of entertainment.
Green conscious dog owners prefer to use eco-friendly product for their dog as well, we think On-the-Go Fold Up Dog Bowl and Pouch would be a perfect fit. This product is made from 100% recycled plastic, a green product for your pet-friendly life. Carry this pouch when you traveling with your pet, it's a nice product on-the-go that consists of 2 travel dog bowls. You can use one bowl for pet food and the other one for water, the waterproof lining prevent spills. Everything is constructed from 100-percet certified recycled plastics. Available in 2 sizes and 3 colors, it's also a great gift for any dog lover.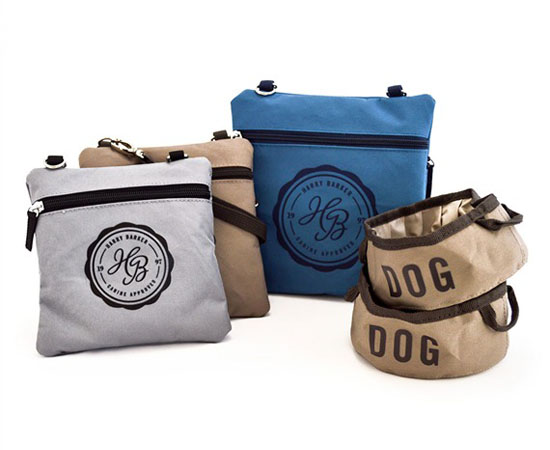 Are you an environmentally friendly conscious person and a dog lover? Well, Fire Hose Bowl should be perfect for your dog. It's a traveling bowl where you can be sure for its safety, sustainability, and style. The bowl weighs only 0.2lb but it can accommodate a capacity up to 32 fl. oz. It is collapsible, compact, and easy to clean. Each bowl is handmade in California, USA where all materials are also sourced from the same location, that is Oxgut Hose Co., it is non-toxic and food grade silicone. To clean the bowl, you can use dishwasher or hand wash with soap and sponge, then let it dry overnight.
Whether you own a dog or a cat, doesn't matter, they will enjoy Heyrex Torus Ultimate Pet Water Bowl. It's a modern pet bowl that provides fresh and cool filtered water to your furry friends, it can hold up to half a gallon or 2 liters carbon filtered water to keep your pet hydrated. This ergonomically designed water bowl is travel-friendly, you can easily carry Torus anywhere you want with your lovely furry pal since you don't need any batteries or electricity. This unit provides you pet with fresh water at all time thanks to its patented self-filing design, it is completely mobile (lockable water supply), a nice fresh water on-the-go.
The self-filing mechanism works once your pets have drunk all the water, when they are away, it refills itself before your pets can find it again. Any unused water is stored inside the ring around the bottom of the bowl, it's a great insulation as well as it makes the bottom heavy to prevent accidental tip over.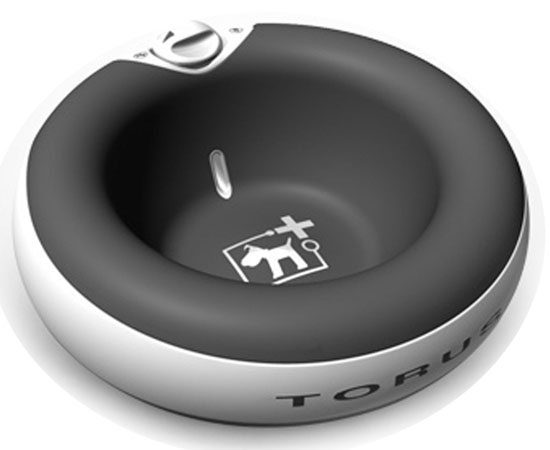 Tin Cloth Dog Bowl from Filson is a modern dog bowl that you need to carry when you take your dog for outdoor activity. Our furry friend isn't meant to just sit and sleep around the house, they love outdoor adventure and have all the fun. Your dog can be your best companion while hiking, walking, camping, or hunting, and just like you, the dog needs to have its drink after some time. This collapsible dog bowl doesn't leak, you can easily fold it down to fit in your pocket or your bag, you can also clip it onto your pocket thanks to its hanging loop. It's made from 100% cotton oil finish tin cloth or 100% acrylic blaze orange with nylon lining interior. Cleaning is easy, simply wipe or brush it clean, that's it.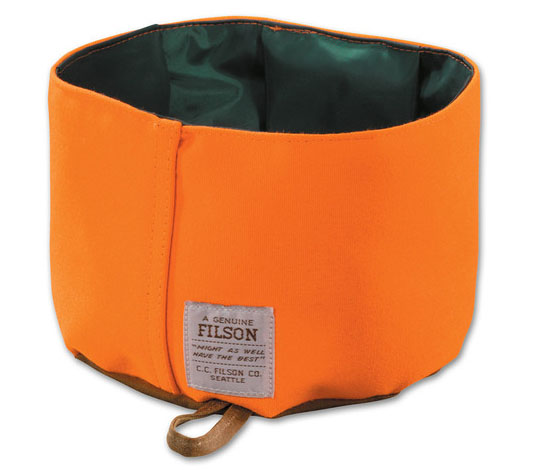 From : Filson
Having a large dog or cat, you need to ensure your furry friend gets enough daily food intake while you are away, you don't want to risk your pet to get malnutrition or overfeeding. Crestuff Automatic Portion Control Pet Feeder is a large capacity feeder that holds up to 45 cups of pet food or 10.65 liter, you can set 4 separate feeding day time and for over 90 scheduled meals. It depends on the size of your pet, you can set the portion size from ¼ to 2-1/2 cups, just make sure you get the ideal proportion to keep your pet healthy.
When your pet misses you, they can hear your voice, thanks to built-in microphone and speaker that allow you to record personal message for each feeding time. The easy-to-read LCD display provides you with clear viewing to setup the command, the clock is displayed with 2 formats: 12hr or 24hr, the alarm turns on when scheduled feeding time expires. You can also trigger it to feed your pet manually.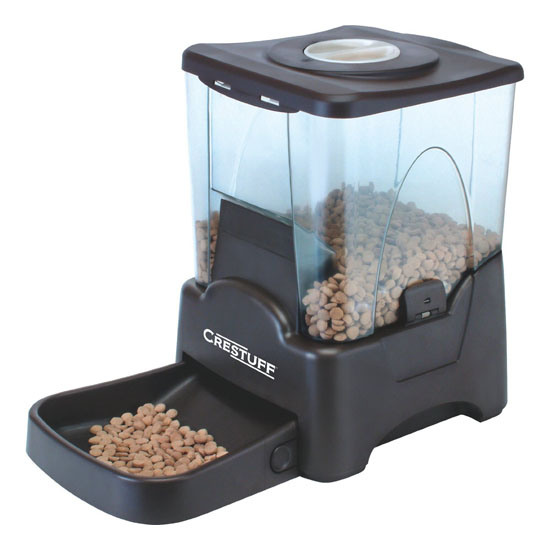 These 3 piece dog accessory set has been designed by Japanese design studio Nendo for PEN, Japanese lifestyle magazine. This accessory set consists of a unique dog bed, dishes, and toys, the artificial leather bed turns into a little hut when your dog burrows inside it and then transforms into a cushion when your dog lies on top. The dishes are also beautifully designed; they are reversible so that you can use the shallow dish for food and the deeper dish for water. The silicone rubber bone toy can be reshaped into a ball simply by tucking in the 2 ends. The toy is pretty cool, it is constructed of triangular panels connected in polygon mesh. There are 2 color options available: white or black, so, it is easy to blend with your existing home interiors.
Eating slowly and naturally is as important as feeding your dog natural food, however, some dogs eat their food in only seconds which lead to digestive issues and obesity. Slo-Bowls are smart dog feeders to force your furry friends to eat slower, the way nature intended, just like their wolf ancestors were accustomed to food scarcity. Do you know that this fast eating habit is responsible for serious health issues such as bloat that kills around 20,000 dogs/year. Eating too fast can also lead to canine obesity, thus, increasing your dog of getting cardiac disease, heat stroke, or respiratory conditions.
Bergan Gourmet Pet Refilling Water Dish is a simple water container to keep your pet hydrated while you are away. It is equipped with transparent container to allow you easily check the content level at a glance. There are 2 models available Elite (3 gallons) and Petite (1-1/2-gallons), the large opening makes you easy to re-fill as well as clean, it has a removable fill cap that won't release water until the tower is placed on the base. Whether your pet has short or large nose, they still can benefit from this product thanks to its large reservoir design.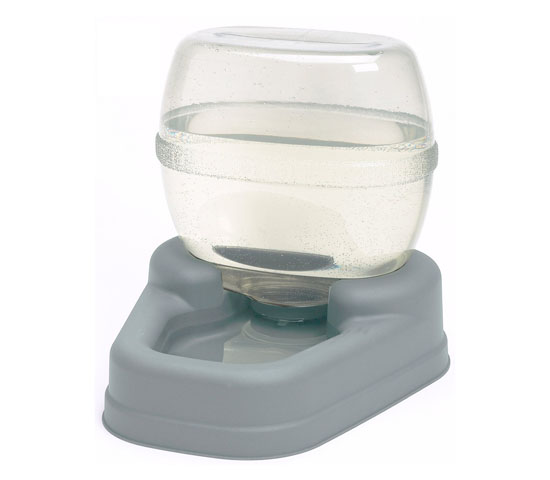 The water container stays securely in the base while the walls of the base are pretty high to contain the water inside, you won't find your dog spill the water out of it and make a mess on the floor. The wide base design is helpful to prevent tipping, unless your dog pushes it quiet hard, it will stay upright. It doesn't require any electricity, everything works naturally with its smart cap. Just in case you are looking for something more fancy, and of course more expensive, you can checkout Drinkwell pet fountain, the nice trickling water sound encourages your pet to drink more.
Similar to other Drinkwell pet fountains, Drinkwell Pagoda Ceramic Fountain offers plenty of water to your lovely pets. Just like its name suggests, it's a ceramic fountain for pet lovers that don't like using plastic as their pet's water bowl. Each fountain holds up to 70-ounces of filtered water to provide your dogs or cats with clean and fresh water to maintain their health. Yes, drinking plenty of water can keep your pets hydrated, which is an important parts to keep them healthy. The ceramic design makes this fountain easy to clean and looks gorgeous in any home. Pets are attracted to the sound of trickling water, those free-falling streams would encourage your dogs or cats to drink even more.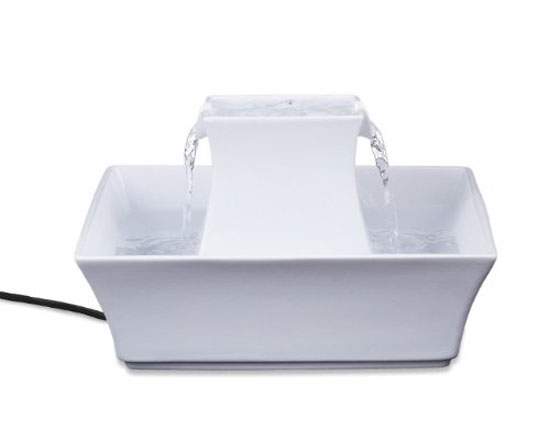 Tweets by @pawfipet