Browsing articles in "Small Pets"
Bathing your dog is an important routine to keep them clean, but not all house/apartment has the right equipment to do so, that's when you need Rinse Ace 3 Way Pet Shower Sprayer. This tool allows your pet to enjoy indoor shower anytime, it's a nice sprayer with 8ft. long hose, flexible enough to bathe your dog/cat. Featuring 3 setting modes: gentle full spray, pulsating massage spray, and concentrated spray.
Bathing time for your pet becomes easier and much more enjoyable, use full spray when you need to rinse hard-to-reach underbelly, pulsating massage spray to relax your pet, while concentrated spray mode can be used to target rinsing delicate areas. This sprayer is equipped with flow lever toggles, from pause to light to full flow, you can save water and prevent any accidental sprays.
You can safely confine your small pets in certain area of the house with Richell Wood Pet Sitter Gate. It helps to know your little dog doesn't run around in the kitchen while you are preparing meals for the family. This adjustable gate fits doorways from 28.3-inch to 41.3-inch wide with its beautiful polished wood and metal. There's small wire door that you can open both directions to let your pet pass through, for you, simply step over it, this gate is actually pretty low, but high enough to stop small pets from jumping over it.
If you own a puppy, a shihtzu, or a yorkie, this could be a perfect gate. It is really easy to set up, the rubber skid bottom and side stoppers help to protect any surfaces from scratches. What we really love about this gate is its versatility and gorgeous design, just remember, it's meant for indoor use only. [CLICK HERE to checkout details of Richell Wood Pet Sitter Gate]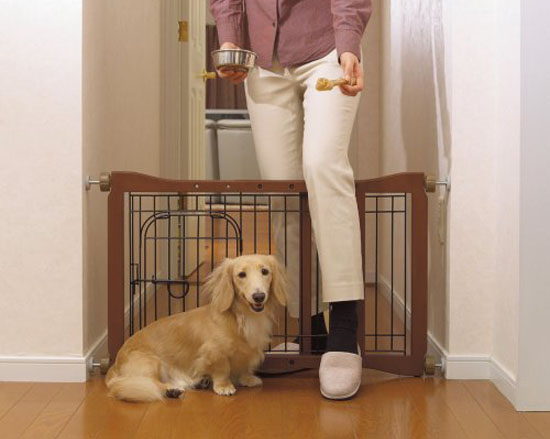 Living World Deluxe Pet Habitat is a spacious and comfortable habitat for your small pets. This hybrid cage features an upper wire frame with plastic bottom safe, a good ventilation to ensure your pet gets good air circulation. It is an ideal place to house your rabbits, ferrets, guinea pigs, or chinchillas, with those small toys such as access ramp, balcony, or other additional toys you can purchase separately to make your furry pals happy.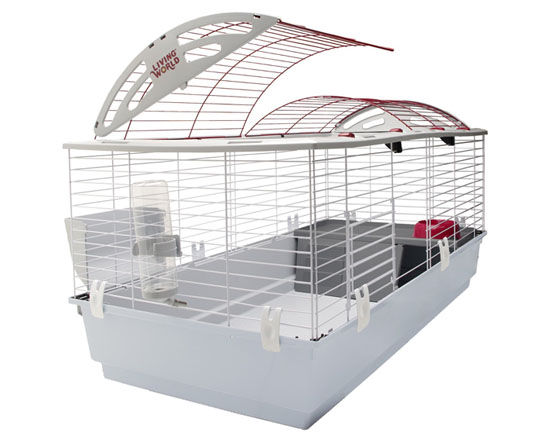 It doesn't look like plastic cheap looking cage, the wire has been elegantly styled with an arcing red wire top and white wire sides, a nice color combination. Aside from open top, there's also wire door at the front for additional accessibility. We really love that little balcony that has an access ramp, very cute, also there's a hideaway space under it where your pet can enjoy some privacy and quiet time. Every cage comes with a tip-proof food dish and a drop-proof water bottle. This unit is available in large and x-large size options so of course you can expect to get a lot of space for your pets, they will be able to stand and stretch conveniently.
where to buy Living World Deluxe Pet Habitat?
– EntirelyPets
– ThatPetPlace
– Sears
– Amazon
Adult guinea pigs need high fiber food which is available in Oxbow Cavy Cuisine. It's a complete pet food with lower level of protein, calories, and calcium, because adult guinea pigs don't work at the same level as younger one. They require balanced calcium-to-phosphorus ratio and fiber to maintain healthy body. This pet food is made of timothy grass meal that offers optimum stabilized nutrition.
Many customers agree that Oxbow Cavy Cuisine is your best choice nutritionally since there are not many companies out there that use timothy hay. If you are currently feeding your guinea pigs another brand, you might want to slowly switch to this one. We highly recommend that you read the guide written on the packaging for effectively swapping out the old food to this healthier one, please don't switch immediately just like that, your pet might stop eating.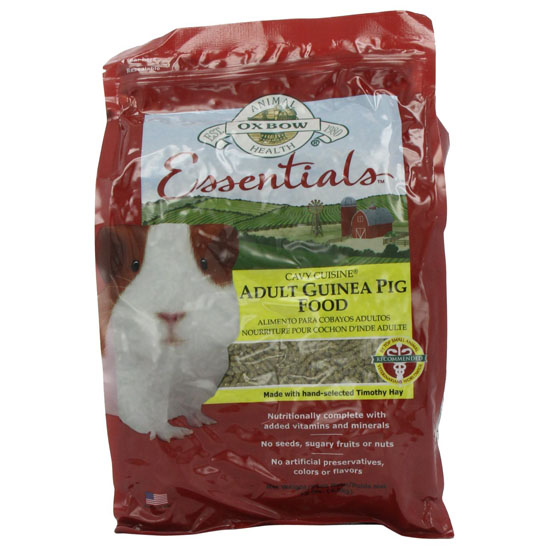 If you prefer smaller animals instead of dogs or cats, you might go with rabbits or guinea pigs. We'd like to recommend Midwest Interactive Guinea Habitat Plus to keep your small furry friends safe. This spacious 8-square feet of living space is recommended by many breeders and veterinarians, the dividing panel allows you to separate between play area and care area. The lock-in-place doors also function as ramps for passage in or out and between habitats, you can configure this cage as you like with unlimited expandability. For easy access, this unit features full removable wire mesh top, cleaning should be easy, right?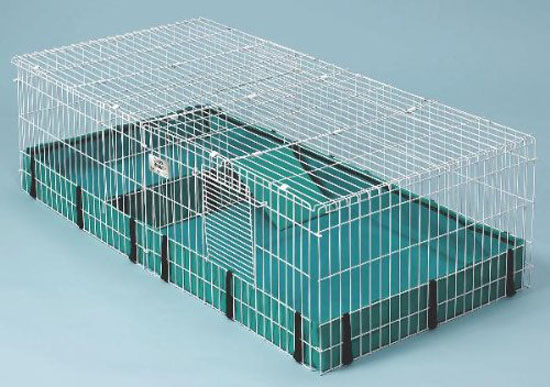 It's an ideal cage for average everyday guinea pig pet owner, your pet would have enough room to move around, eat, and exercise. It would probably take about less than 15 minutes to set this cage up, very sturdy. You can also add fleece or thick towel to cover this cage, it helps protect guinea pigs sensitive feet. Please pay attention to the dimensions (47"x24"x14") as this unit is pretty large (but not really that high), make sure you have the space for it. Midwest Interactive Guinea Habitat Plus is certainly a product that's designed by keeping guinea pigs in mind.
Super Pet Guinea Pig Igloo Hide-Out is a perfect house for your guinea pig, it encourages this animal natural nesting instincts. The plastic construction is pretty durable, watch as your pet plays inside, a perfect hide-away for ferrets, dwarf rabbits, guinea pigs or any other small animals. The material makes it pretty easy to clean and resistant to odors or stains, the igloo design makes it really cool. It's been designed with fresh air vents to make sure your pet keeps getting great circulation of air when nesting, you can also add small bed inside to keep your pet cozy and comfy. Super Pet Guinea Pig Igloo Hide-Out measures 10.5 x 12 x 6.25 inches, enough for your pet to crawl inside.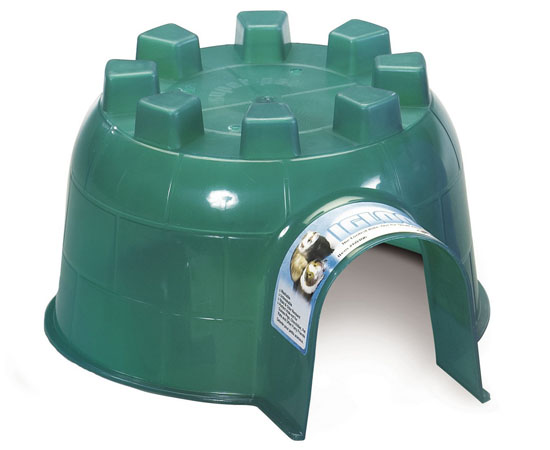 IRIS Small Animal Carrier is a perfect carrier for your dwarf rabbit or other small animals. It looks pretty adorable with its transparent ventilated roof and carrying handle, plenty of space for a dwarf bunny. Measures 10″ x 6.6″ x 7.25″, you can be sure your bunny will feel comfortable in it, it won't be a problem if your pet want to turn around and move a bit. The hinged lid top design allows for easy access, even when your pet has to sit in a car for like 5 hours straight, he or she will be just fine. It has a strap that comes within this product that you can connect to the sides, a very nice touch.
We need to remind you that if the size of your small pet is pretty big, this carrier probably can only carry 1 pet. There's a little feeding hold for smaller foods, but we don't recommend you to fill the water bottle during a car trip, it will spill all over the car, you should use a travel bowl.
CLICK HERE to purchase IRIS Small Animal Carrier, this compact pet carrier is easier to handle if you have small sized pet.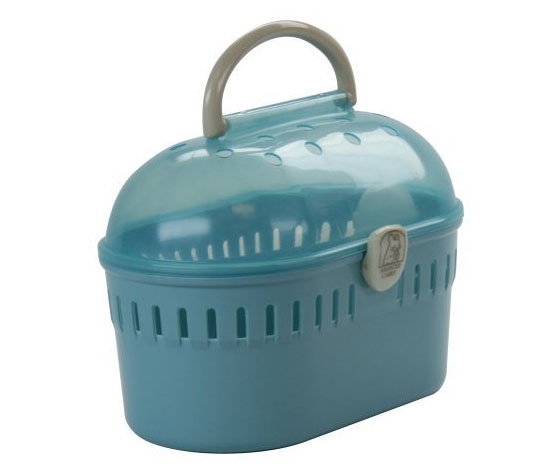 Trimming small pet's nails can be difficult without the proper tool, that's why Super Pet Small Animal Pro-Nail Trimmer is a big help. This trimmer offers an easy way to cut nails of your guinea pigs or ferrets, no more breaking and snagging, nice little tool. Please don't cut your pet's nails using scissors, we can assure you that it's a very bad idea. Measures 2-1/2-Inch long, 3-1/4-inch wide, 6-1/4-inch high, this trimmer can be too small if you have big hands, perhaps you can ask your friend who has small fingers to finish the job.
Super Pet Small Animal Pro-Nail Trimmer delivers smooth nails and no sharp edges, if you own small animals as your pets, then you should have this tool in the house.
Super Pet Crinkle Tunnel creates unique crinkle sound as your rabbits, ferrets or guinea pigs explore the tunnel. Your bunnies would love this new toy since rabbits do make tunnels in the wild, it's a lot of fun for them. This expandable tunnel stretches up to 23-inch long and between the fabric layer, it has crinkle material, yes, this is the material that makes unique funny sound. The diameter is only 6-inch, we don't recommend you to use this tunnel for dwarf rabbit, we don't think the rabbit can fit in it.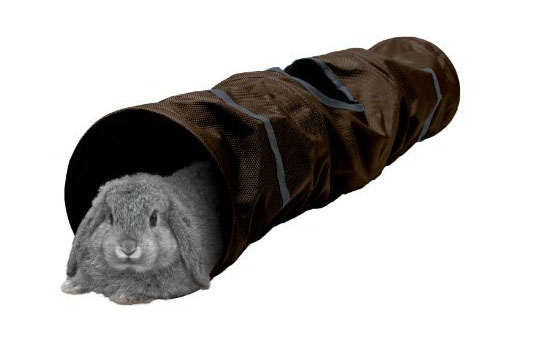 Get only premium products for your small friends, Timothy Gold Hay offers 100% premium all natural hay. This product is not messy and chopped kind of hay, it comes in whole grass form, very easy to grab when it's a meal time for your small pets, nothing will fall apart. You can provide extra fiber which is essential for animal digestive system, even picky eaters will love the soft texture and flavor.
Your small pets will love Timothy Gold Hay because it's their instinct to chew due to their constantly growing teeth, chewing activity helps in wearing down their teeth. Just for your information, this hay will not come in a package that you see here, not sure why, but you'll be receiving a cardboard package where inside there's a transparent bag filled with fresh hay.
Tweets by @pawfipet