Browsing articles in "Reptiles & Amphibians"
Pet reptiles require certain humidity just like in their natural habitat, Zoo Med Reptile Fogger Terrarium Humidifier can help increasing humidity inside their terrarium. This fogger creates a lot of fog fast for extended period of time, but you can always adjust the output as needed. Everything you need for installation is included such as a liter bottle, no-spill valve, and other important fittings, you can increase the tank's humidity in no time. The no-spill valve allows you for easy refill the water bottle as well as easy to remove, this unit is ready to operate once you get it out of the box.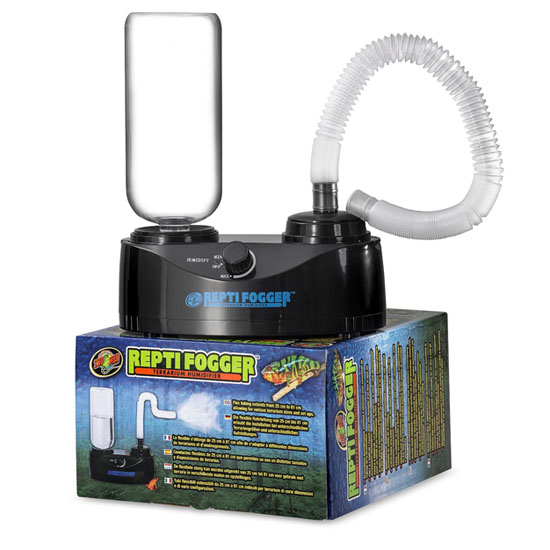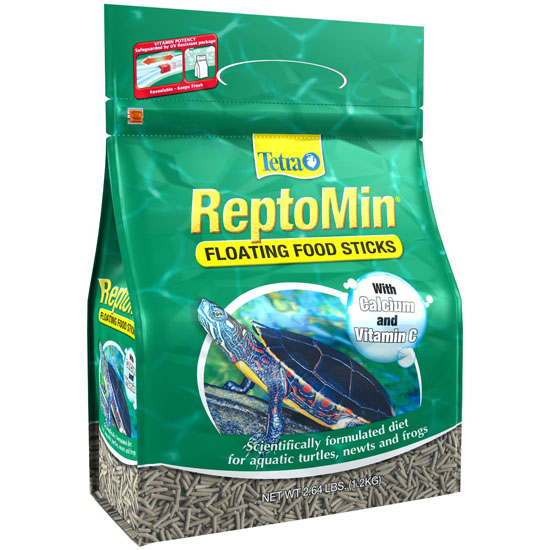 Tetra ReptoMin Sticks Reptile Food is loved by newts, frogs, all aquatic turtles. These floating food sticks have been a long standing favorite among breeders and pet turtle enthusiasts, they provide vitamin and calcium to your aquatic pets. ReptoMin products are known for their great formula and protein rich, they keep your pets healthy thanks to great nutritional value and high quality ingredients. Available in different package sizes, we highly recommend you to buy in bulk for cheaper price.
Once you drop these sticks in the water, your pets will swim to go get them. Based on customer reviews, turtles seem to love this food, it's like delicious cake for them. Each stick is pretty long in size, for small turtle, you might want to break the stick to smaller pieces. These sticks float for few hours if not immediately eaten, but don't worry, due to its delicious taste, your aquatic pets most likely eat them right away. Give Tetra ReptoMin Sticks Reptile Food a try, your turtles will be happy and healthy.
This reptile food is available in these merchants:
– EntirelyPets
– UnbeatableSale
– Amazon
Reptiles require precise temperature and humidity to maintain its health, that's why, having Zoo Med Economy Analog Dual Thermometer and Humidity Gauge in your terrarium is one of crucial elements. Just like its name suggests, this device allows precise monitoring for both temperature and humidity, there's Velcro backing for easy removal such as cleaning or relocation. For the price here, you can't go wrong, many customers have found the easiness to remove and reattach this device.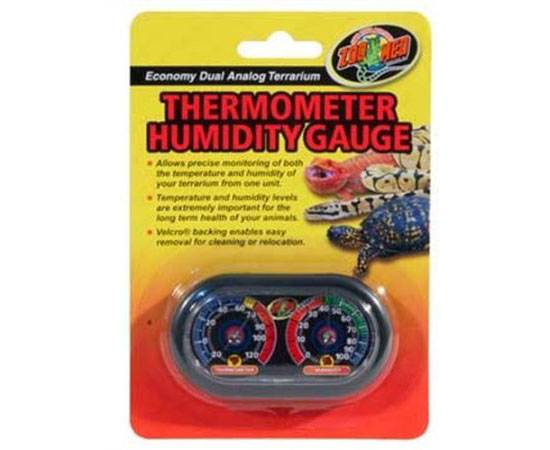 Purchasing Zoo Med Mini Combo Deep Dome Lamp Fixture means you'll get 2 fixtures in one for optimum convenience. Just in case you didn't know, polished aluminum dome helps increase light and UV output up to 30% to keep your reptile pet warm. Many customers love the fact that you can have 2 separate light options (100W PowerSun UV lamp and nightlight heat lamp) under the same fixture with on/off switch for each light. The deep Dome design extends further than the face of the lamp, it prevents anything from sticking out.
Just to remind you, this product comes without the bulbs, you need to purchase them separately.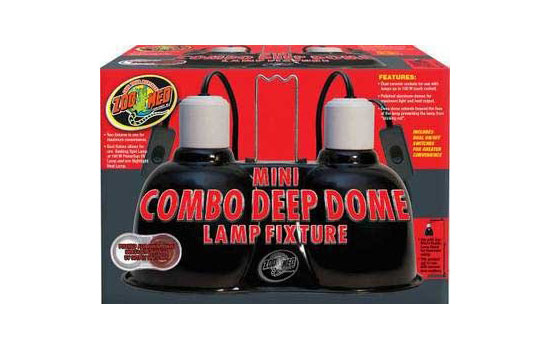 Zoo Med Wood Tortoise House provides privacy for your tortoise, it keeps your aquatic pet safe and secure. Its deluxe design makes this unit is chosen by many professional tortoise keepers. If you place this house outside in the garden, your tortoise can bask under the warmth of the sun. Yes, morning natural sunlight is good for your pet. During colder weather, you can keep your tortoise indoor to escape any bad weather. You'll happy to know this product features private weatherproof sleeping area as well as lockable wire safety cover. If you want to create larger area, you can remove the end panel and connect the second tortoise house.
Assembly Zoo Med Wood Tortoise House is quiet easy, just follow the instructions. Once you're done, your tortoise will enjoy its new space, there's a plenty of room to roam while your aquatic pet is still protected.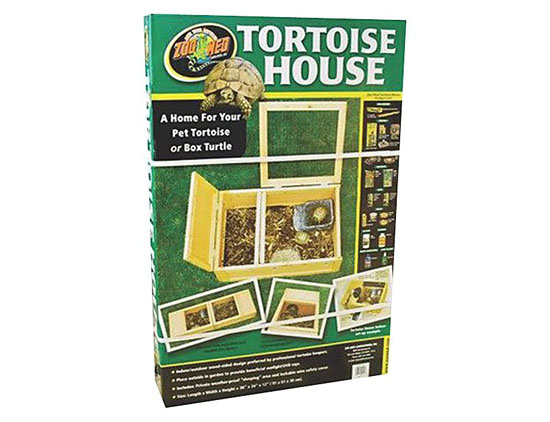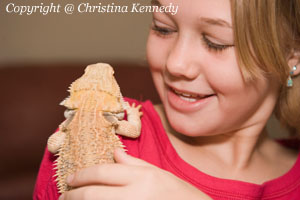 Most parents are usually glad when their children choose to have a reptile as their first pet. Why? because reptiles are easier to maintain, unlike dogs or cats. If you watched Parenthood in the episode where Max chose a turtle to be his first pet, his father almost jumped in joy and whispered to his mom "ok good choice, turtle, easy to maintain". Reptiles are exotic animals although compared to dogs, they have less fans, still you will find there are many positive aspects of having a reptile as a pet.
Just like other pets, you need to prepare a suitable habitat for your reptile, you can checkout our reptile supplies category to find affordable and high functional products. We also realize that many of you probably choose reptile as pet because your children ask you to. Please remember your children are still at the stage of learning to be responsible to their pet, in the end, you are the one who should be responsible for the reptile's daily care, you need to participate in feeding, training and supervising your children reptile pet.
Here are Top 5 Positive aspects of having a reptile as a pet:
1. Low Maintenance and Responsibility
Isn't it obvious? Just like we have explained above, having a reptile as a pet means you don't need to walk your pet outside the house or clean its mess since your reptile will stay inside its habitat. Unlike dogs or cats that probably run loose inside your house.
2. Long lifespan
Most reptiles live longer than 15 years, but it depends on the breed as well. Do you know turtles have average lifespan of 50-100 years? Yes, they do live that long, unless you don't provide proper care for them.
3. Skill to adapt\to its habitats
Reptiles' skill to adapt to a wide range of habitat is very impressive. They are cold blooded animals (it doesn't mean that they are cruel, it's just their lifestyle) that can live high in mountains or below sea level. You will also find there are many reptiles live in desert.
4. Training
Reptiles can be trained to have good behavior. Just like mammals, they can recognize smell, voice and people. So, if you know how to train your reptile, then this ability is certainly one of positive aspects of having a reptile as a pet.
5. Low Cost
Most reptiles' supplies are cheap. That's why most people consider that reptile is a great pet for beginner pet owner like children. Reptiles basic needs such as food, habitat and accessories won't cost you as much as if you had a mammal pet.
Those 5 positive aspects of having a reptile as a pet look pretty amazing right? However, being cheap, we really sad that most people consider reptiles are disposable. You need to teach your children to be responsible for their pet, because they need to learn to appreciate other living creatures. If you are interested to become a reptile owner then you should learn more about its environment, behavior, proper habitat and reproductive strategy. In this way, you can provide proper care and ensure your reptile's health and happiness.
You can create basking area in your aquarium with Tetra Decorative ReptoFilter. It's also a great addition to hide the aquarium filter away as your amphibians friends usually love to explore dark areas such as filter housings which could cause them trouble. This product is an innovative combination of filtration and decoration, so if you own frogs, newts or turtle tanks, you would want to purchase ReptoFilter to complete your aquarium décor with beautiful waterfall.
This reptile filter is equipped with three-stage whisper filtration that uses replaceable bio bags to keep your water clean and odorless. We love the large intake holes that prevent clogging while the locking cover helps keep animals away from the filtration area.
Tetra Decorative ReptoFilter dimensions are 8.8" x 12.8" x 10.6", you can place it inside your standard aquarium or bigger, up to 55-gallons aquarium. Your amphibian pets would love to play in it or simply climb out the water just to hangout. To replace the filter cartridges, all you need to do is just lift the top of the rock, there's no reason to tear apart this decoration. The height dimension is tall enough to allow you to maintain adequate water level in the aquarium to keep your amphibians healthy.
Where to buy Tetra Decorative ReptoFilter for Aquariums?
– EntirelyPets
– Amazon
Zoo Med Natural Grassland Tortoise Food has a special long-stem fibers formula to maintain Tortoises natural diet. It contains important fibers that are usually not found in any other commercial tortoise food, therefore you can be sure your aquatic pets get what they need to keep healthy.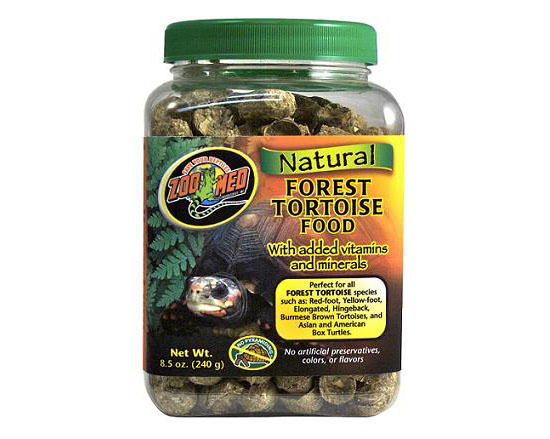 ReptiCare Ceramic Infrared Heat Emitter is the perfect heat source for your reptiles such as snakes, green iguana, and bearded dragons. Why we need to provide heat emitter to our pet reptiles? Well, reptiles are animals that live at high temperature areas such as desert. By providing the similar heat, it enables your pet reptiles to maintain their body temperatures. However, since each species has its own required body temperatures, therefore it's important to provide variation in temperature between one vivarium and the other. That's why Zoo Med offers several different units starting from 60w heat emitter, 100w heat emitter, and 150w heat emitter.
Rep-Cal Adult Iguana Food will make sure your iguana is having the complete nutrition to maintain its health and proper growth. This reptile food is specially formulated to provide optimum levels of vitamins and minerals with great flavor which will be loved by all iguanas. You can double check with your veterinarian about the product.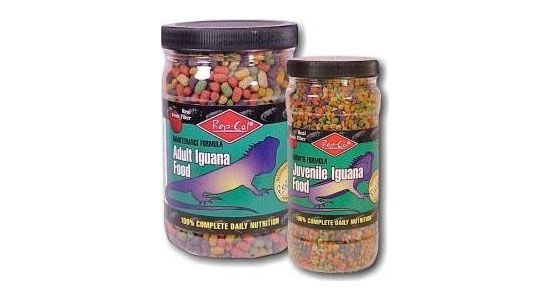 Tweets by @pawfipet