Browsing articles in "Habitats and Accessories"
Pet reptiles require certain humidity just like in their natural habitat, Zoo Med Reptile Fogger Terrarium Humidifier can help increasing humidity inside their terrarium. This fogger creates a lot of fog fast for extended period of time, but you can always adjust the output as needed. Everything you need for installation is included such as a liter bottle, no-spill valve, and other important fittings, you can increase the tank's humidity in no time. The no-spill valve allows you for easy refill the water bottle as well as easy to remove, this unit is ready to operate once you get it out of the box.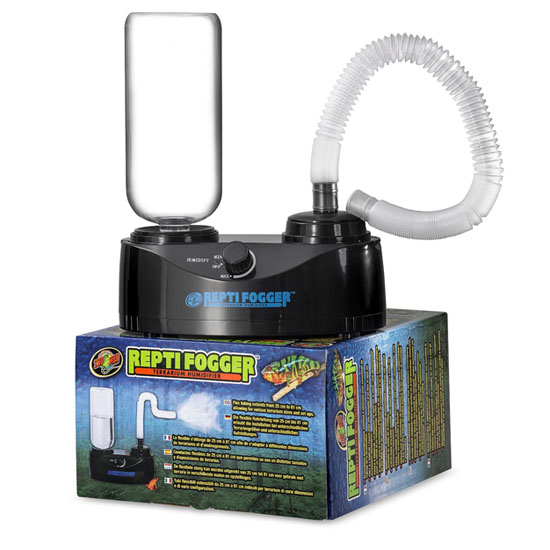 Reptiles require precise temperature and humidity to maintain its health, that's why, having Zoo Med Economy Analog Dual Thermometer and Humidity Gauge in your terrarium is one of crucial elements. Just like its name suggests, this device allows precise monitoring for both temperature and humidity, there's Velcro backing for easy removal such as cleaning or relocation. For the price here, you can't go wrong, many customers have found the easiness to remove and reattach this device.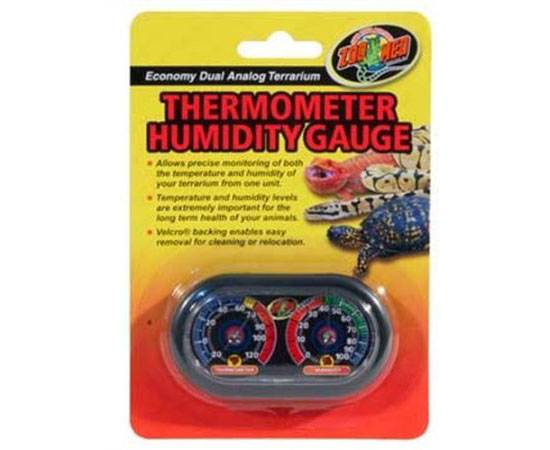 Purchasing Zoo Med Mini Combo Deep Dome Lamp Fixture means you'll get 2 fixtures in one for optimum convenience. Just in case you didn't know, polished aluminum dome helps increase light and UV output up to 30% to keep your reptile pet warm. Many customers love the fact that you can have 2 separate light options (100W PowerSun UV lamp and nightlight heat lamp) under the same fixture with on/off switch for each light. The deep Dome design extends further than the face of the lamp, it prevents anything from sticking out.
Just to remind you, this product comes without the bulbs, you need to purchase them separately.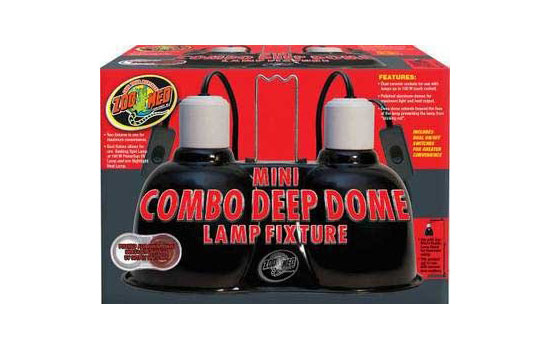 Zoo Med Wood Tortoise House provides privacy for your tortoise, it keeps your aquatic pet safe and secure. Its deluxe design makes this unit is chosen by many professional tortoise keepers. If you place this house outside in the garden, your tortoise can bask under the warmth of the sun. Yes, morning natural sunlight is good for your pet. During colder weather, you can keep your tortoise indoor to escape any bad weather. You'll happy to know this product features private weatherproof sleeping area as well as lockable wire safety cover. If you want to create larger area, you can remove the end panel and connect the second tortoise house.
Assembly Zoo Med Wood Tortoise House is quiet easy, just follow the instructions. Once you're done, your tortoise will enjoy its new space, there's a plenty of room to roam while your aquatic pet is still protected.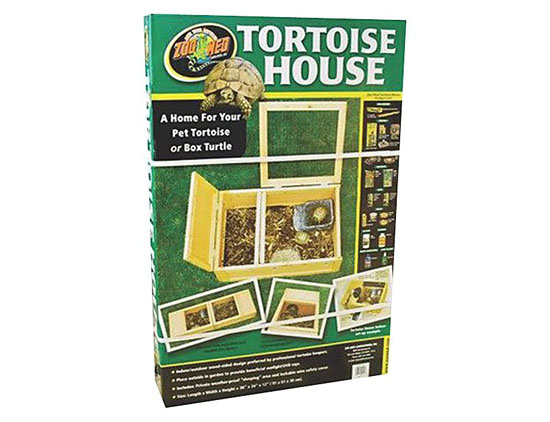 You can create basking area in your aquarium with Tetra Decorative ReptoFilter. It's also a great addition to hide the aquarium filter away as your amphibians friends usually love to explore dark areas such as filter housings which could cause them trouble. This product is an innovative combination of filtration and decoration, so if you own frogs, newts or turtle tanks, you would want to purchase ReptoFilter to complete your aquarium décor with beautiful waterfall.
This reptile filter is equipped with three-stage whisper filtration that uses replaceable bio bags to keep your water clean and odorless. We love the large intake holes that prevent clogging while the locking cover helps keep animals away from the filtration area.
Tetra Decorative ReptoFilter dimensions are 8.8" x 12.8" x 10.6", you can place it inside your standard aquarium or bigger, up to 55-gallons aquarium. Your amphibian pets would love to play in it or simply climb out the water just to hangout. To replace the filter cartridges, all you need to do is just lift the top of the rock, there's no reason to tear apart this decoration. The height dimension is tall enough to allow you to maintain adequate water level in the aquarium to keep your amphibians healthy.
Where to buy Tetra Decorative ReptoFilter for Aquariums?
– EntirelyPets
– Amazon
ReptiCare Ceramic Infrared Heat Emitter is the perfect heat source for your reptiles such as snakes, green iguana, and bearded dragons. Why we need to provide heat emitter to our pet reptiles? Well, reptiles are animals that live at high temperature areas such as desert. By providing the similar heat, it enables your pet reptiles to maintain their body temperatures. However, since each species has its own required body temperatures, therefore it's important to provide variation in temperature between one vivarium and the other. That's why Zoo Med offers several different units starting from 60w heat emitter, 100w heat emitter, and 150w heat emitter.
Tweets by @pawfipet