There are millions of dogs in United States that suffer from anxiety attacks that create behavior problem such as barking, urinating in the house, howling and so on. Thundershirt Dog Anxiety Treatment Wrap has been designed especially to help dogs to overcome their anxiety, stress, fear or over-excitement. This dog apparel is easy to put on and take off, available sizes range from extra extra small to extra extra large, so you definitely would find the perfect size for your dog.
The company claims that this product has helped ten of thousands dogs to reduce their anxiety issues all over the country. Based on their surveys, 80% of their two thousands customers said that their dogs show significant improvement after wearing the Thundershirt Dog Anxiety Treatment Wrap. This product wraps comfortably and fits well (not tight) which is an essential factor for its effectiveness in treating noise anxiety. It applies constant and gentle pressure to your dog's torso, this is the key to significantly calm most dogs. If your dog barks excessively every time he hears thunders or fireworks, then this is one of anxiety symptoms. This product has been recommended by many veterinarians and dog trainers due to its high success rate in reducing stress and anxiety in most dogs.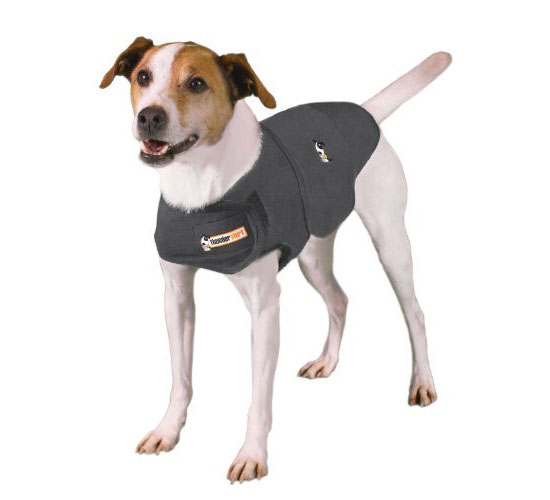 Thundershirt Dog Anxiety Treatment Wrap helps in your relationship with your dog as many dog owners give up their dog to a shelter because of this issue. This is something that your dog just can't help it, he needs you, please don't turn away from him. Thundershirt is a great possible solution to put your dog at ease, it strengthens the bond between you and your best friend. The design is pretty attractive with durable fabric that resists collecting hair, for added convenience, it's machine washable.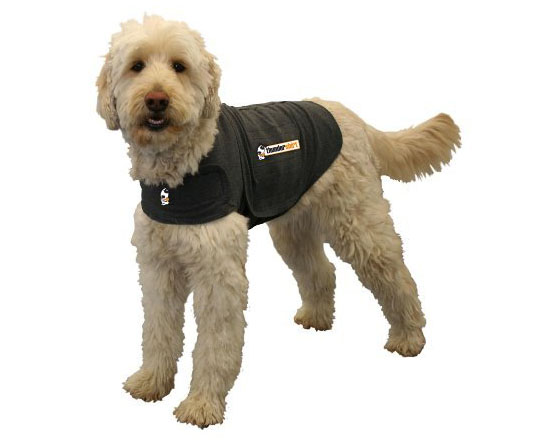 We must remind you that this product doesn't offer instant result like magic. It gradually reduces your dog's anxiety, so for example if your dog usually trembles, whines or pants whenever he hears the storms, you will notice slowly he will just lay down although he might still look unhappy. However, this new reaction is certainly much better compared to bark excessively or urinating on your couch. Click here if you are ready to try Thundershirt Dog Anxiety Treatment Wrap.
Posts in this website may contain affiliate links. If you purchase a product through an affiliate link, your cost will be the same but Pawfi will automatically receive a small commission. Thank you for supporting us!
Tweets by @pawfipet
What others are searching for