Browsing articles tagged with " sized birds"
Installing Lixit Quick Lock Bird Bath on wire cages is really simple, it takes only seconds to do that. Your bird can enjoy its bath anytime of the day, while you can clean the bathing dish easily by twisting it on/off. The material is heavy duty durable plastic design, it's very ideal for small to medium sized birds such as parakeets, canaries, cockatiels, lovebirds. You can choose to install this birth bath inside or outside the cage.
Based on a customer review, once he installed Lixit Quick Lock Bird Bath, his bird knew right away what do with it. The body is deep enough for a parakeet to bath in excitement; a well made product and affordable.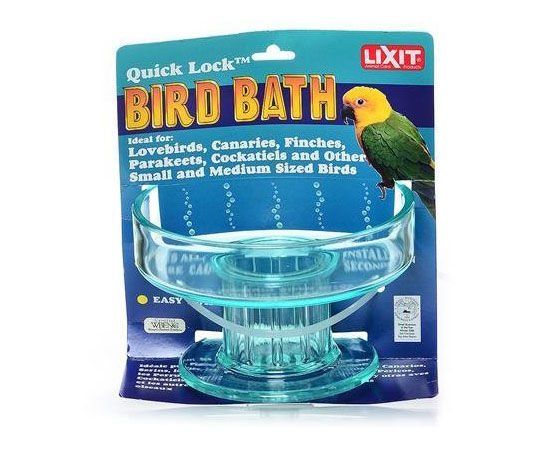 Havana Flight Cage offers high quality cage with such an affordable price. With dimensions of 31"W x 22"D x 35"H, you can place multiple medium-sized birds where they still have plenty of space to stretch up. This bird cage is very well constructed, although there are many complains about bad instruction guide, but in the end, you'll get a sturdy and durable bird cage.
Square Playtop cage is constructed of durable wrought iron with white powder coated finish. It's a beautiful cage with .75" bar spacing that makes it a perfect cage for small birds such as lovebirds, cockatiels, small parrots, parakeets. This cage features 2 wooden perches as the perfect spot for your birds to hang out while the top cage can be opened to create a play area.
Tweets by @pawfipet