Browsing articles tagged with " sensitive stomach"
Merrick Before Grain #1 Chicken Dry Cat Food is one of not so many cat food which all ingredients are from USA, the company processes everything from their own facilities in Texas. It's a great cat food to choose when you plan to transition from raw food, it's easy on your cat's stomach, also the price is a lot cheaper when you buy in bulk. Usually when you choose grain free cat food, it is offered with much expensive price, this doesn't happen with Merrick.
Cats love this food, all ingredients are certified as human food grade. If you have cat with sensitive stomach foods, you might want to try this product. Most cats that have sensitive stomach usually prefers raw meat, especially when the cats have a corn allergy, you can choose to make their food by yourself, but not all of us have the time for that. This cat food is a great replacement, you'll find your cat happy and healthy, have shiny coat and better life quality. That statement is based on great reviews from many cat owners who have successfully changed from raw meat to this dry cat food, it is more convenient for owners and healthy for cats.
Dogs or cats can have very sensitive stomach and refuse to eat anything. Nutramax Proviable DC for Cats and Dogs is a great supplement to restore your pet's digestive system. This medication works by reestablishing proper balance of good microorganisms in the intestines, it's better than antibiotics. Nutramax Proviable DC contains a multi-strain probiotic maintains your pet's health when diarrhea which is usually caused by stress, food sensitivities, antibiotics or simply a weakened immune system.
This medication is recommended by veterinarians to deal with vomiting or diarrhea. Please pay attention to your pet when he doesn't eat for days, because that can be a sign of bored or sensitive stomach. You can do some researches about this probiotic, you'll find out that this medicine is just one few products that contains active organisms and has passed all lab testing. Consult your vet about the dosage, you'll see improvement usually after a week or less, no more vomit or diarrhea. Nutramax Proviable DC can save you a lot of money due to sensitive stomach in dogs or cats, you should give this product a try.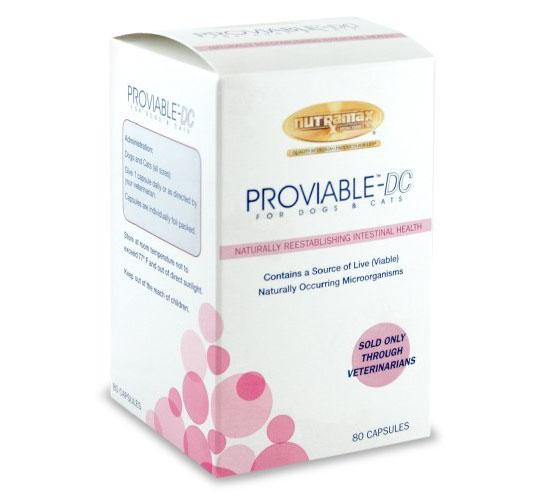 Tweets by @pawfipet