Browsing articles tagged with " pets"
Some people prefer to groom their pets by themselves, this Cutie Pet Small Pet Nail Clipper would be a great addition to their grooming collection set. You can save a lot of money by grooming your pet yourself, but we have to remind you that you need to learn a thing or two about trimming the nails of your pets (cutting the nails too deep can cause your pet's paw bleeding). The stainless steel blades make a perfect cut every single time, don't forget the read the free "How to …" guide which is included with every single purchase.
Trimming your pet's nails also means maintain their health, you should trim the nails regularly. The sturdy and ergonomic grip has been designed for easy handling, the safety guard helps prevent hurting your pet accidentally. It comes with fun blue and pink color combination, so cute. Your pets trust you, so when you are the one who cut their nails, they usually feel more comfort and secure in your hand, the process is less stressful on them, and you can do it from your home.
You can save more money by buying pet food in bulk. However, don't let those ugly bags occupy your kitchen, keep those pet food inside Vittles Vault Stackable Pet Food Container. It's perfect to have when you have multiple animals in the house, the easy access allows your kids to feed your pets even when you're not home. This container has been designed to be the best in its class, it keeps pet food dry and fresh without giving nasty plastic smell. The "lock-down" double gaskets really trap the smell inside, so you won't have to deal with your dogs or cats try to chew into it.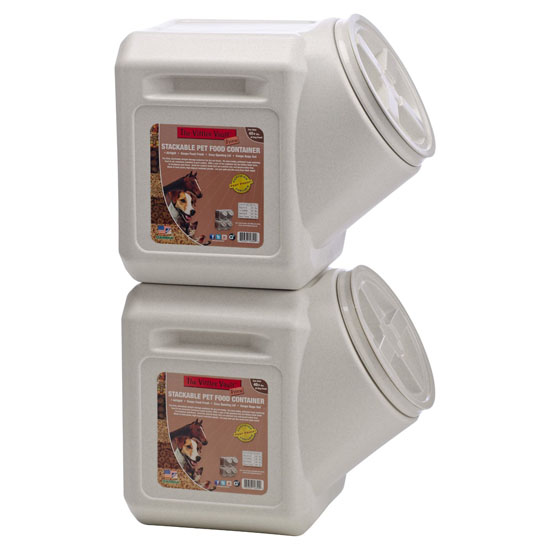 You can keep large pet away from certain areas while smaller pet to pass through when you install Carlson 0930PW Extra-Wide Walk-Thru Gate with Pet Door. It's a handy walk-thru gate to keep children away from dangerous areas such as kitchen, but there's a small gate to let your little pet to walk through. This gate is convenient way to protect both your home and pet, since it's made of steel, you can be sure this gate is chew-proof. Installation is easy, this safety gate features a pressure-mount system it is also ideal for extra-wide openings when needed.
The gate features one-touch release lever-style handle design to enable you passing through with only one hand, just in case you are carrying things. The small 10" x 7" pet door lets small dog or cat pass through while everyone else stays put. The durability and strength of Carlson 0930PW Extra-Wide Walk-Thru Gate is unquestionable, it keeps your pet safely contained in certain area in your house, and avoid any mess.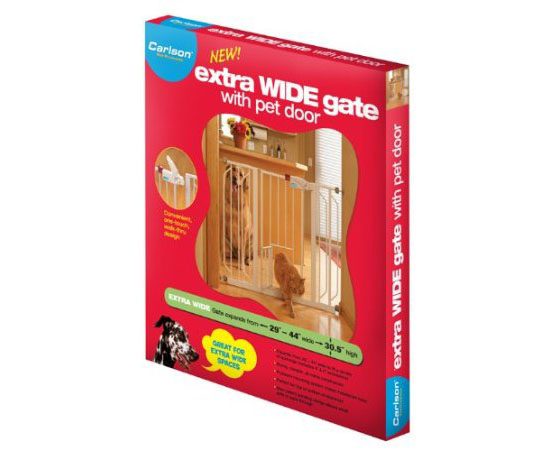 PetFusion Elevated Pet Bowl Holder comes in natural pine would look really good in your kitchen. For design conscious pet lovers, it's really important for their pets also own stylish products, if you are one of them, then you should check this out. Elevated bowl promotes healthy digestive, mealtime is also more comfortable for your pets since they don't have to bow their heads too low to eat or drink. The base of this holder is completed with anti-slip feet to keep everything neat and tidy. Cleaning shouldn't be an issue here, the natural wood material is finished with water resistant seal, wipe it with damp cloth and it looks like new, even those 2 stainless steel bowls are dishwasher safe for your convenience.
If you own multiple pets in your home or a very large dog, then you should consider purchase Drinkwell Big-Dog Pet Fountain. It's the biggest pet fountain model from Drinkwell which holds up to 2.25 gallons of water to ensure your big pet hydrated. Its patented watering system features 5-inch free falling continuous stream of water to attract your pet to drink from this fountain instead of your sinks or toilets. There's a large replaceable charcoal filter to ensure the water is fresh and odorless. You can also use the flow control lever to adjust a stream that's perfect for your dog or cat, there's a handy splash guard to keep water off your floor. It is completed with rubber feet to keep from moving around when used.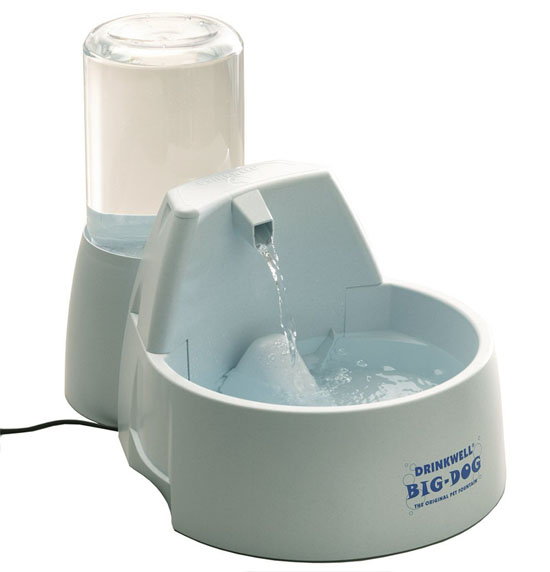 During winter, your cat won't leave Slumber Pet Thermal Cat Mat. It's a mat that will keep your cat warm and comfortable without having to spend money on electricity. It works by reflecting the cat's own body heat back to the animal, so don't be surprised when all your cats gather around and sleep on it. This mat is ideal for aging pets, kittens, animals recovering from injury, it provides soothing comfort to them. Available in gray and blue color with leopard-print motif, the pad is machine washable for added convenience. Each mat measures 22" (L) x 18.5" (W), the surface is so soft and comfortable, we pretty sure your cat would love both sides equally.
Seungji Mun has designed Dog House Sofa for pet furniture brand M.Pup. It's a unique furniture design that brings harmony between human and pet. As dog person, we really love how this company understands our need to give space for our best furry friends. This sofa is a tool to communicate and share our feelings with our pets. Made of composed solid wood, this sofa is ideal to bond with your pet while relaxing on the sofa.
Chasing Our Tails Elk Rack Snack is a nice dog toy made in USA out of natural materials. It was shed and foraged by hand straightly from Colorado, you can be sure no animal was harmed during the process. This is due to the natural Elk behavior when they naturally shed their antlers after the rut and continue through out winter. These antlers are a great source of calcium, phosphorus, zinc, manganese to keep your dog tartar knocked down on teeth, many wild animals usually consume these antlers as they are the most easily digested forms of calcium in the wild. It won't leave any greasy mess on your precious floors, it doesn't develop any weird odor in your house.
Mambe Pet Blanket is 100-percent waterproof, a perfect blanket to protect your furniture from your pet dirt, scratches or even urine. There are various sizes available, therefore you can choose which one suits your furniture, from king-size bed to an individual seat cushion, the color options are also pretty nice. If you own multiple pets, this blanket is definitely something you should have, it features warm mid-weight fleece on one side and soft black micro fleece on the other side, of course, there's a100% waterproof membrane between layers, no more liquid can get through this blanket. Never risk your furniture with conventional non water resistant blanket, it's a great investment that pays for itself in a few months.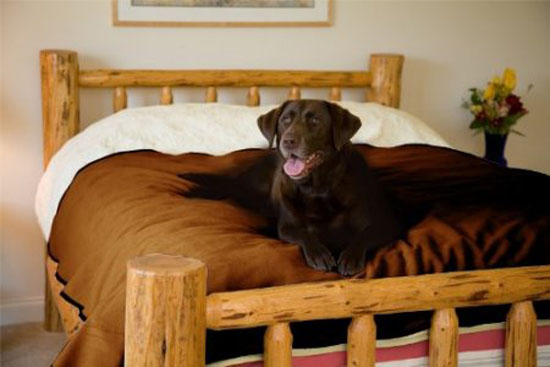 Drinkwell Platinum Pet Fountain Starter Set features innovative and patented watering system. It provides your dog or cat with 5-inch free falling water stream, very attractive to keep them drinking and hydrated while you are away. Since this unit is a starter set, you will also get a cleaning kit and a package of filters, the fountain itself can hold up to 168 ounces of water. Cats usually jump on the sink or toilet to drink some water, using this unit, it won't happen again, the sound of trickling water attracts pets to drink from this fountain. In order to ensure the freshness of water, this fountain features replaceable charcoal filter.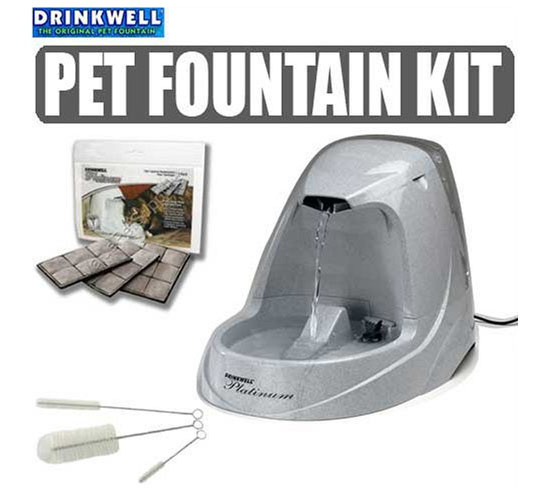 Tweets by @pawfipet