Browsing articles tagged with " pet bed"
During colder weather, your dog or cat can be found snuggle in K&H Lounge Sleeper Self-Warming Pet Bed. Yes, this self-warming pet bed provides comfort and warmth anytime your pet wants it to, the material radiates your pet's body heat back to themselves. It's soft and fluffy, it invites your pet to relax in it, and soon it will be warm without any electricity needed. The non-slip bottom provides stability to ensure the bed stays still. Due to its size, we recommend you to use this bed for small sized pet only, as larger pet won't fit in it.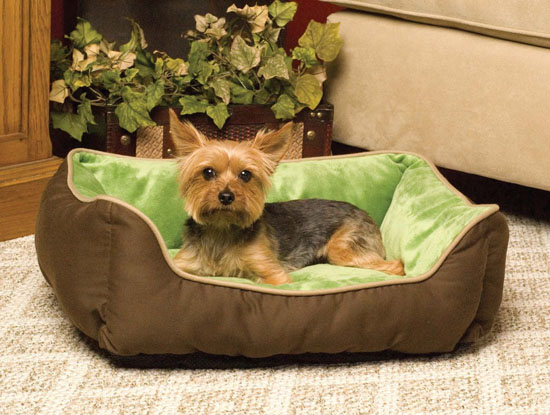 Cozy and comfy with soft micro-suede exterior, Brinkmann Pet Paw Print Pet Bed offers your pet 21-inch x 25-inch warm plush sleep area. There's cute paw print on the bed for added touch of detail. This bed is filled wit eco-first recycled fiber fill to provide ultimate comfort to your dog, we're pretty sure you want the best for your furry friend as they are part of your family.
Finding comfortable bed for your lovely furry friend can be a difficult task. Based on many customer reviews, we'd like to recommend you to check Brinkmann Pet Paw Print Pet Bed. We believe your dog will absolutely like it, the padding is soft, the walls are high, pretty good to keep your dog feel safe curling up and snuggling in. This bed is also machine washable for added convenient.
You can provide a separate sleeping area for your pet with Arm's Reach Co-Sleeper Duplex Pet Bunk Bed. It's a cool bunk bed for two best friends, they can sleep together without fighting for space, also it allows you enjoy your bed for yourself while your furry friends are just right next to you. There are 3 bed sizes available from medium (up to 30 lbs), large (up to 50 lbs) and extra large (51 – 100 lbs). The main structure is constructed from strong metal frame covered with durable polyester fabric.
This pet bed comes with removable and washable pillow or mattress to ensure the optimum comfort of your pet.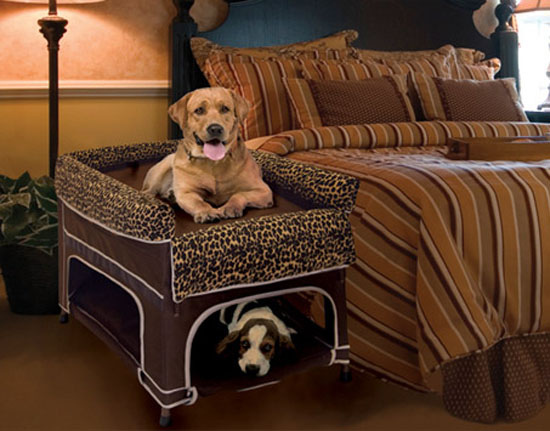 Your dog can go green as well, checkout this Eco Drop Dog Bed. It's a cozy double-stuffed dream bed for your best furry pal, it surrounds him or her with comfort for relaxing hours. This thick cushion is filled with 100-percent recycled PETE, wrapped in 100-percent recycled fabric. It will be a nice spot for your dog to relax, a sanctuary. Each dog bed has been certified safe by Oeko-Tex, so you can be sure this green dog bed is safe for your pet. Made in the USA, there are several color options you can choose: light porcelain/bungee, bungee, or emberglow/bungee.
Eco Drop Dog Bed is very easy to clean since the cover is removable and machine washable.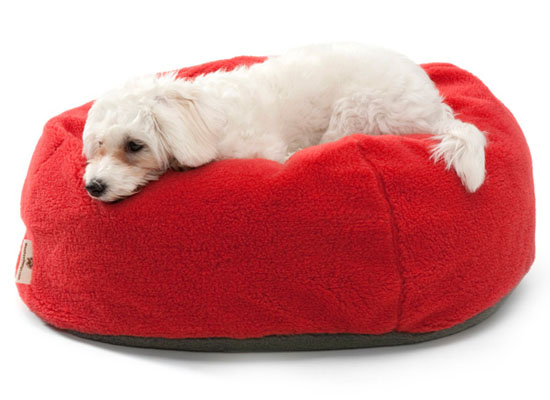 Petmate Microban Deluxe Pillow Pet Bed is a large bed with Microban antimicrobial product protection. It measures 27-inch x 36-inch, ideal for large sized dog. We really love the modern chenille stripe top and bottom with plush terry top, nice color combination. The cover is removable and machine washable, therefore, cleaning is a breeze. As a customer mentioned that the picture itself didn't do any justice, the product was much better. It is constructed from high quality material, soft and comfortable, pretty thick even the pillow inside feels like wool to the touch. However, we also need to remind you, this dog bed doesn't seem can stand a chewer, so if you have one, it might not be a perfect bed for your furry pal.
We highly recommend this product if you have a laid-back dog who doesn't chew, Petmate Microban Deluxe Pillow Pet Bed is the perfect dog bed that your furry friend will love.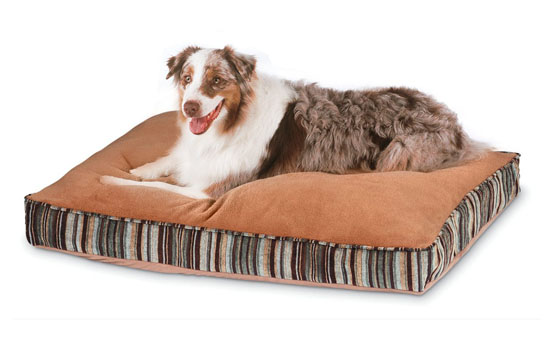 Your dog should be able to feel eco heaven with Eco Slumber Bed. Yes, this bed is an eco-friendly product uses eco fabric which is made from 100% recycled PETE fibers with 100% recycled fiber fill. If you are green conscious dog owner, you can now relax knowing that even your dog can rest comfortably without harming our environment. Each Eco Slumber Bed has been meticulously tested for more than 100 potential harmful substances, therefore you can be sure this product is 100% safe. Made in USA, there are a wide variety of sizes you can choose from, the patterns are available in 2 models: bright stripe and porcelain patches.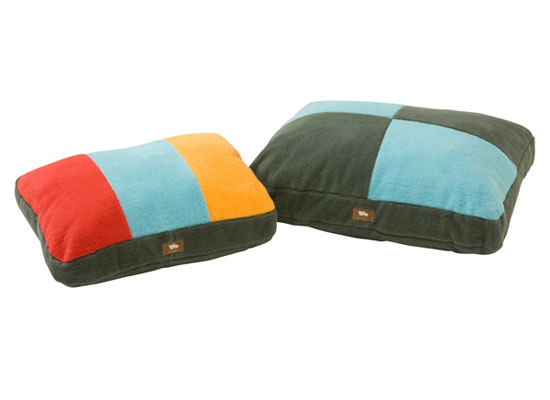 Integrate your furniture collection with your pet bed, just like Tavolato pet bed from Petsmood. If you are a modern conscious pet owner, then this furniture is the perfect complement to your modern lifestyle, we're pretty sure your pet would love this furniture as well. It integrates perfectly with your existing interior décor, elegant and stylish, a clever approach to preserve your design sensibility while providing a functional and comfortable bed for your furry pal.
Tavolato pet bed doubles as a coffee table. You can enjoy the company of your pet while enjoying your afternoon tea or a cup of coffee, alone or with guests. This pet bed is custom made in France and comes with removable cushion for easy cleaning.
What a cozy and luxury bed for your best pal! K&H Bolster Couch Pet Bed offers luxurious microsuede while the inside cushion is tufted in order to securely keep the premium polyfill made from recycled plastic bottles in place. You can give your dog or cat its own private couch, the surrounded bolster also provides secure feeling to your pet. Available in 2 sizes and 2 colors, your pet will love this bed for napping or just relaxing, the large size is big enough for large breed dog to stretch out.
For pet owners, you'll be happy to know that K&H Bolster Couch Pet Bed has been designed with removable cover and liner, therefore, simply toss them in your washing machine to clean. The reasonable price is also another reason to grab this cozy and comfortable couch bed for your furry friend.
K&H Bolster Couch Pet Bed (Small) measures 24″ back width x 14″ front width x 19″ deep (sleeping surface)
K&H Bolster Couch Pet Bed (Large) measures 32″ back width x 19″ front width x 24″ deep (sleeping surface)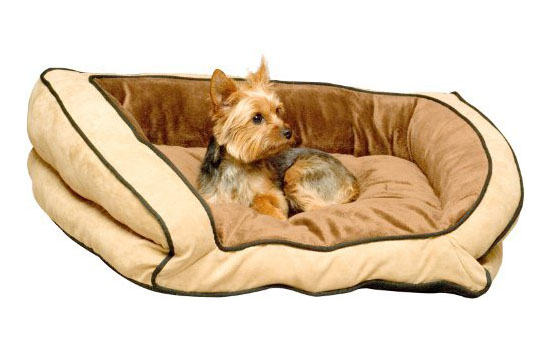 Dogs usually love to burrow, by purchasing Snoozer Cozy Cave Pet Bed for your best furry friend, you give a great gift to your dog. The sherpa lining provides warmth during winter but cool in the summer, don't be surprised when you always find your dog snuggle inside this cozy and comfy bed. Some dog breeds just like to burrow, this cave style nesting dog bed is definitely going to be their sanctuary. The cover is removable and washable, it's easy to clean. There's internal wire that ensures the hood up so that your dog can peek outside, it's a great bed to nap or just relax.
Snoozer Cozy Cave Pet Bed comes with heavy duty brass zipper, there are different sizes available, from small to extra large, make sure that you purchase the right size for your dog to ensure he has plenty of space to crawl into and out.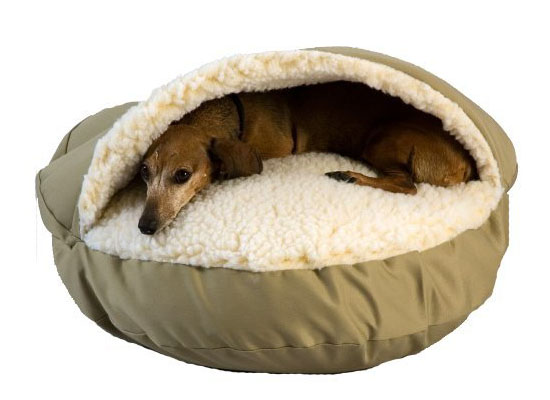 Talk about multifunctional furniture, Bloq Pet Bed also functions as side table, visually attractive and highly functional, for both of you and your pet. Place this furniture next to your bed, your best furry friend can sleep tight in it, right next to you. There's comfortable washable cushion in each Bloq that water and stain repellent. This pet furniture can be integrated easily to your existing interior décor, it has modern style and a variety of color choices in high glossy finish, or you can prefer to have natural colored pet bed.
As modern pet owner, you'll love the high quality furniture piece that Bloq Pet Bed offers. It's a product that fit your home and lifestyle.
Tweets by @pawfipet