Browsing articles tagged with " natural instinct"
You and your cat would love the idea behind Kitty City 46-inch Mega Kit Cat Perch. It's a pet furniture which can be expanded and built upon (hint: you don't have to build the same structure just like the photo here, be creative) in order to keep your cat entertained and from getting bored. You attach additional panels and connect it to multiple units to expand this playing pen into larger area and more spacious. The material is soft but durable, it is ideal for playing and resting, also its heavy duty coated fabric is tearing resistant. This unit features 4 scratching posts to satisfy your cat's natural instinct to scratch, cute 3 plug 'n play catnip filled plush toys to tease your cat, 3 level platforms, and 2 cube homes.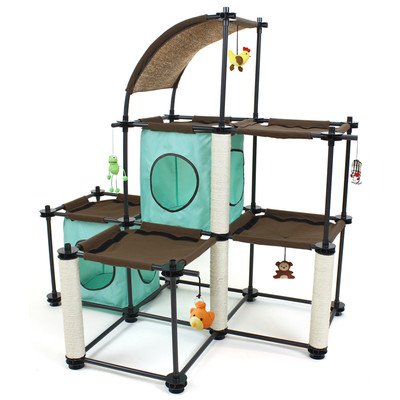 Super Bird Creations Lost in Space bird toy is a large sized bird toy ideal for small Cockatoos, Mini Macaws, African Greys or Eclctus. Birds have natural instinct to chew, this toy is the perfect object for them to satisfy their instinct. You can hide treats to entice your birds even more. For safety, you can be sure your avian pal is going to be okay as this toy uses only selection of stimulating bird-safe materials, it won't danger the mental and physical well being of your pet birds.
Super Bird Creations Lost in Space bird toy consists of unique half mood birdie bagels with chunky wooden blocks, notice adorable giant plastic beads, gear wheels and bumpy links around a large ball which is filled with wood goodies. An ideal toy to keep your bird entertained for hours.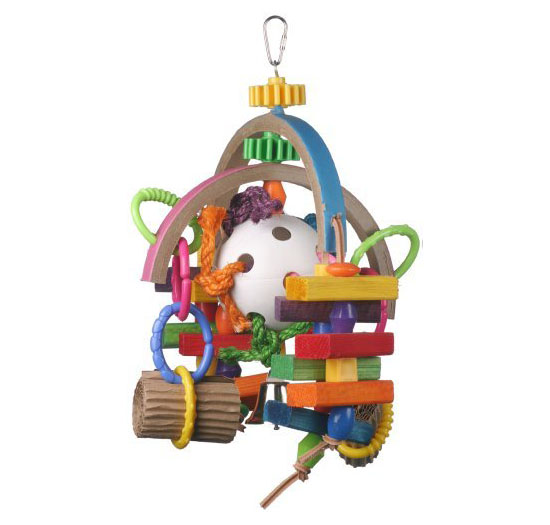 Kitty Cactus Scratch Post with Pom Pom is a great scratching post instead of your precious furniture. Entice your cat with cat nip, this durable and attractive scratch post can handle a rough play, both of you and your cat will love it. It satisfies your cat natural instinct to scratch, available in a wide variety of styles and sizes to fit your cat's height and your budget as well. This model measures 10-1/2-inch width by 11-inch depth by 16-inch height, it's ideal to keep your kitty active for hours, a great way to make your cat exercise. The post is covered with long lasting carpet and with its durable construction, it lasts for years.
Where to buy Kitty Cactus Scratch Post with Pom Pom?
– GRPet
– Amazon
– Newegg
This cardboard is the perfect alternative for your cat to scratch on besides your beautiful furniture. Bergan Turbo Scratcher cat toy is a safe and affordable toy to keep your cat entertained while at the same time you'll be glad that your cat is no longer interested in the furniture. This cat toy comes with catnip and ball, simply place the ball in circular track, your cat will be busy playing with it for hours, watch as your cute cat bath the ball around and around. Measures 16" in diameter, the scratch pad is replaceable, hence, you can replace it anytime when you feel the cardboard pad is no longer decent for your cat's paws to scratch on.
It is cat's natural instinct to dig and deposit in sand, CatGenie 120 Automatic Cat Litter Box uses litter-like washable granules in order to satisfy this particular cat's instinct. This cat litter box will automatically flush the waste away and clean itself, which mean, no more touch and smell the litter again. Many veterinarians have recommended this unit to their clients especially because it's been designed with biodegradable and recyclable SaniSolution cartridge, making this product eco-friendly.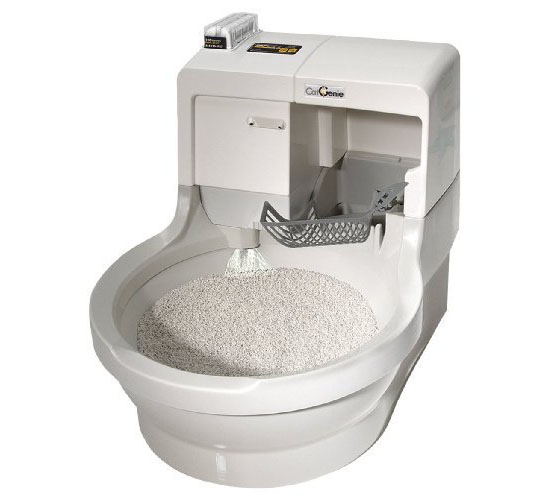 Tweets by @pawfipet