Browsing articles tagged with " Litter"
Tidy Cats Breeze Litter Box might not be an automatic fancy cat litter box, but it changes the way you collect waste as well as litter that you use. You can collect your cat waste easier, therefore litter box is easier to maintain. You can choose to use Pine Pellets instead of Tidy Cats clay pellets, it works just as great but combined with Tidy Cats Breeze Cat Pads, it contains odor much better. The unique system separates the urine and solid waste, in this way, it creates optimum odor control. The company claims that the disposable pad located inside a pull out tray absorbs urine odor up to one week.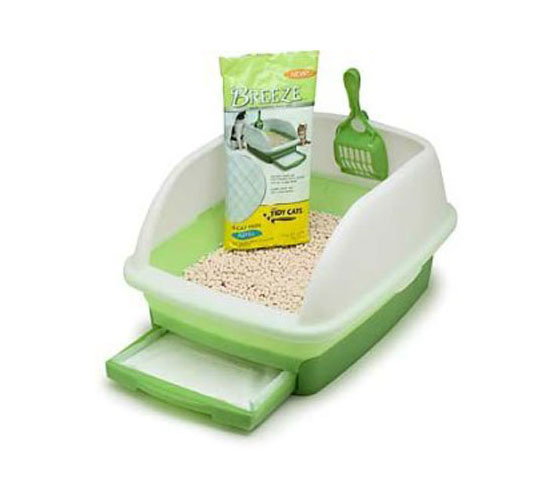 Litter Champ Premium Pet Waste and Odor Disposal System from Lucky Champ features triple sealing system that ensures your home is odor-free. This is a cat waste disposal system that you really should checkout, the safety-door mounted cutter design prevents any odor to escape and pollute the air in your house. The elegant design looks awesome in any modern home décor, it's not something you want to hide from your guests.
When cleaning your cat litter, simply use the hands-free foot pedal to open this disposal system, yep, disposing your cat waste doesn't have to be messy. This container offers 4-gallon capacity with pre-installed biodegradable bag liner that provides around 2-3 month supply per cat. The eco-friendly bag will completely degrade in landfill, it's safe for our environment.
Petco Jumbo Enclosed Litter Box can accommodate multiple cats in your house yet not so large to take much space in the room. It's a great solution when you don't want to purchase those expensive automatic litter boxes. We love the high design that offers spacious feeling for the cat and the cover helps in controlling odors, your cat won't have any problem with the cover since the opening is pretty adequate, besides the enclosed litter box provides your cat with additional privacy.
No more scattered litter in the house, the odors will also drastically reduce thanks to the snap-on cover. This litter box has been designed for simple use by a variety of felines, it would be easy for you cat to come and go as he likes.
Litter Locker II Hygenic Soiled Litter Disposal System is the perfect solution for all cat owners to get rid of litter clumps easily and keep their homes odor free. Cleaning up is quick and easy, simply use scoop litter as you usually do and dispose it in this disposal system, it hygienically seals soiled litter clumps when you pull and release the handle. Trust us, if you scoop cat litter on daily basis and leave it in your home trash, your house will smell so nasty, however having to dispose the soiled litter outside on daily basis can also be irritating to some people. If keeping your home odorless and clean litter box are your primary concerns, you should consider purchasing this disposal system.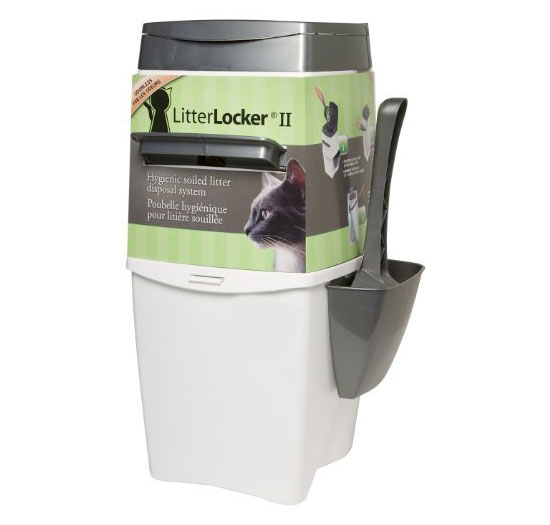 Omega Paw litter box is one of the top self-cleaning litter boxes in the market. If you have big cats or multiple-cat households, you might want to consider this cat litter box as this device not only self-cleans quickly but also control dust and contain odors. It requires you to roll the litter box to the right until the top part touches the floor, then roll it back to the upright position. In this way, the patented internal mechanism deposits the clumped waste into the pullout waste tray, thus providing you an easy disposal without the need to scoop the waste or changing out bags and filters. You might wonder why you have to do this manually when you can just go with the automatic one, well, consider this, you don't need electricity to make this unit works!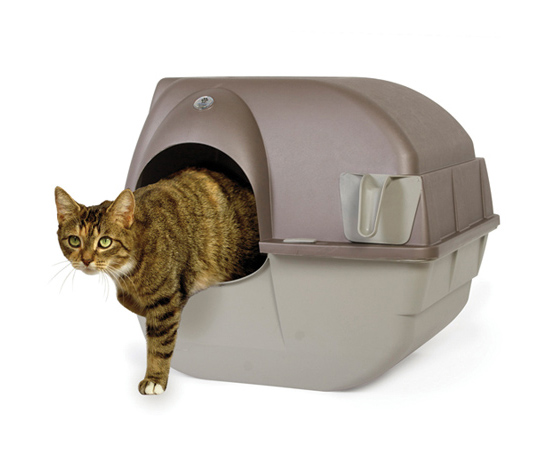 Petsafe Simply Clean Litter Box could be your secret weapon to keep your house fresh and odor free although there are multiple cats in your house. This self-cleaning litter box system can handle cats up to 12 pounds and work around the clock to serve a clean house all the time. The system is pretty quiet, it cleans and removes waste continuously and automatically, even the cat won't get disturbed while he's taking care of his business.
For every 24 hours, the litter box rotates slowly to scat out of the kitty litter with its internal filtering system. You don't need additional tool assemble this unit, there are no dangerous moving parts that usually can catch the cat's fur. When you traveling and take your cat with you, this unit packs along easily on your trip, setting it up takes only minutes, yet it's pretty handy for cats on-the-go.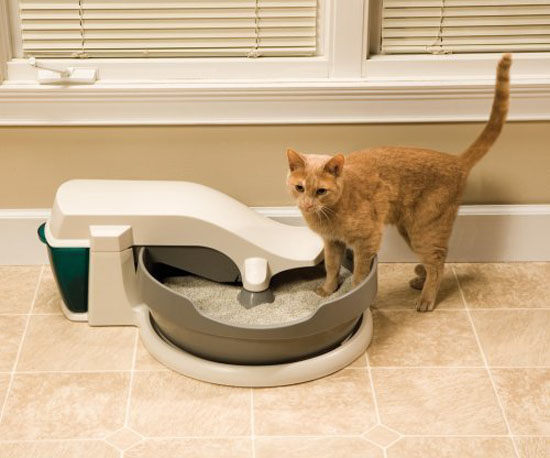 If you have multiple cats in the house, I'm pretty sure you're dealing with odor, germs, cat waste. LitterMaid Elite Mega is an automatic self-cleaning litter box that keeps your house free from all those troubles. This litter box can detect when your cat leaves the box to automatically remove the waste into sealable container under the box using a durable steel rake. It's not just that, the sensor will activate ionic air cleaner to absorb any odor, thus, refreshing the air. The company claims this device will decrease the nasty odor by more than 50%. Sounds too good to be true?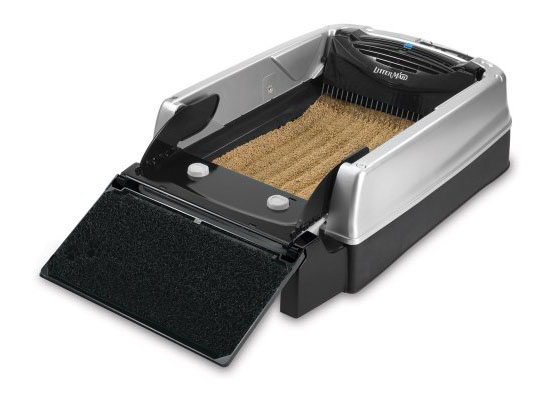 Ideally, this litter box is used in a house with multiple cats or a large cat since they're create messy house. Cleaning is easy; you can detach the rake easily. At night, the ionic air cleaner cycles for around 10 minutes in every hour to make sure you'll have fresh air when you wake up in the morning. The rake mechanism has been designed to provide the optimal safety to your cats, thus a slightest touch will make it stop immediately. LitterMaid Elite Mega litter box is equipped with removable ramp which can clean any litter from the cat's paw as they exit the box.
Now, after all those good things mentioned above, we need to tell you the truth about the downsides too. Based on other people who have bought this unit, they say that the instructions are not pretty clear, most of them don't succeed at first try. The other thing would be the pretty loud sound when this unit works. We suggest you to place this unit outside the house or away from your bedroom, the annoying sound won't be a problem anymore. We also think by covering the litter box might help to cut down the noise a little bit.
Each LitterMaid Elite Mega litter box comes with disposable plastic receptacles and air cleaners, however when you need to replace them with the new ones, you might find they are pretty costly. The trick to save more money is to line the plastic receptacles with plastic shopping bags. So, instead of throwing away the receptacles, you can just throw the plastic bags.
The maintenance need to be done on weekly basis, but it also depends on how many cats use this unit. Please pay attention to the level of litter, because too much can make the unit bogged down while too less can make the sticky clumps stay at the bottom.
Where to buy LitterMaid Elite Mega litter box
– EntirelyPets
– Amazon
– TAB.com
Merry Pet cat washroom or night stand pet house is multi-functional pet furniture that looks beautiful with any room décor. It's very practical, you can place it next to your bed or in the bathroom or in the kitchen near the cat's water bowl. Each product has been designed with clean lines, elegant look wainscoting paneling details, a stainless steel door knob and a towel bar attached on the side.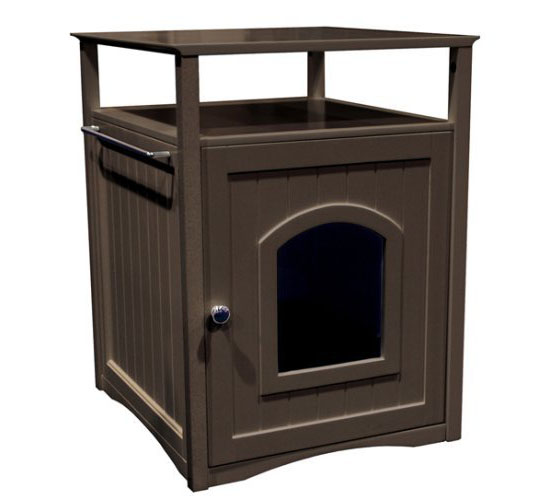 Litter Robot II Bubble Unit is an automatic self cleaning litter box perfect for a house with multiple cats. As a modern cat owner, we're pretty sure you would hate to see cat's waste all over the house, everybody wants a clear and odorless house, but it doesn't mean you have to get rid your feline friends. This litter box comes to the rescue. This unit has been designed with odor management technology and huge carbon filter to reduce bad odor coming from those cat's litter.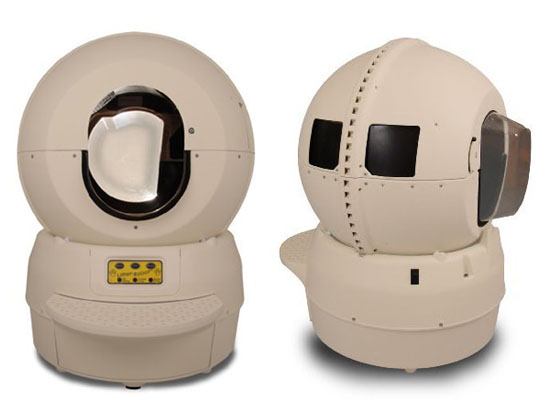 Tweets by @pawfipet