Browsing articles tagged with " feline friend"
Cats love to race inside a tunnel, that's why it makes sense to have Cat Tunnel Collapsible 3 Way Tunnel to entertain your feline friend. It comes with 3 bonus toys, even when Christmas is over, your cat will still think it's Christmas. This tunnel is a great thing to have especially when you have overweight cat, as your cat running around inside the tunnel, your cat is getting great exercise and happy. It's easy to set up as well as store, you can simply fold it away when not in use or wash it down with garden hose to clean it.
This tunnel features 50-inch length with 10-inch diameter. Don't be surprised when you watch your cat just can't stop racing through this tunnel, it's a great toy for an active cat, because unlike those straight tunnel toys, this one is split to 3 entrances/exits, it would be fun to watch.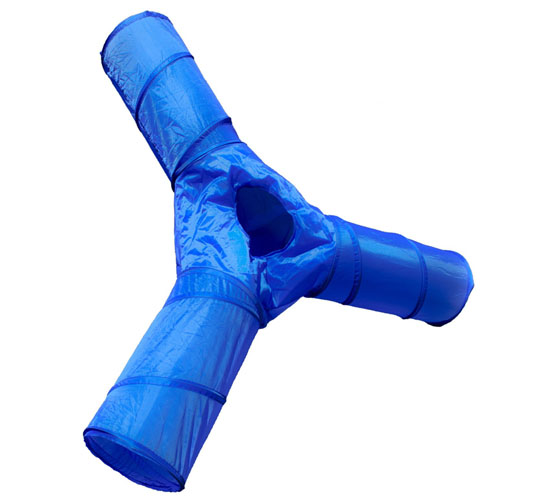 Kitty Tube Fully Insulated Outdoor Cat House is newly improved insulated cat house that provides your cat everything he or she needs, safety, comfort, and warmth. Its innovative door design protects your feline friend from predators, the pillow inside the house gives a cozy and comfy base for your cat to relax. It's an ideal outdoor cat house for any weather, it cools in the summer and warm in winter, in fact, it can accommodate 2-3 medium sized cats.
What's new in this version? Well, you can see some improvements such as built-in lifting handles that you can use to adjust the ventilation, open it during summer or close it during winter to retain heat, better quality for the exterior, increased R-value insulation, including fully insulated floor at the bottom of custom pet fluffy pillow. The company even claims the shell is guaranteed to never chip, crack or fade, for life!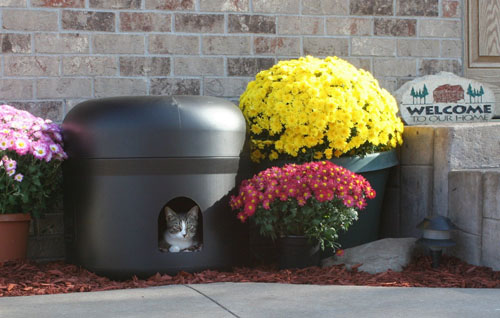 You and your cat would love the idea behind Kitty City 46-inch Mega Kit Cat Perch. It's a pet furniture which can be expanded and built upon (hint: you don't have to build the same structure just like the photo here, be creative) in order to keep your cat entertained and from getting bored. You attach additional panels and connect it to multiple units to expand this playing pen into larger area and more spacious. The material is soft but durable, it is ideal for playing and resting, also its heavy duty coated fabric is tearing resistant. This unit features 4 scratching posts to satisfy your cat's natural instinct to scratch, cute 3 plug 'n play catnip filled plush toys to tease your cat, 3 level platforms, and 2 cube homes.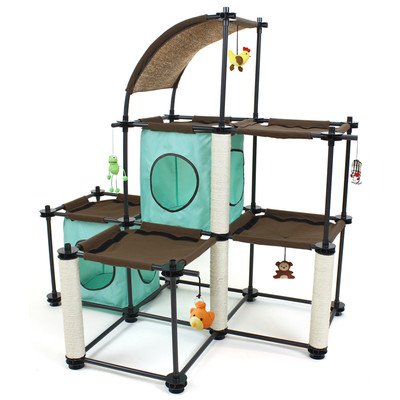 Designed by Tiziana Agnello, Energy Pyramid Cat House provides eco-friendly house for your feline friend. It could be the center of your cat universe, it's a four sided pyramid shaped play house that comes with 3 unique diamond cutout toys. As we all know, cats are attracted to cardboard, this product provides your cat a place to take a nap as well as scratch surface that they just can't resist.
Aside from cats, this pyramid is also a great place for rabbits, ferrets, or other small animals including dogs. Made in Brooklyn with love, each cat house is printed with soy based inks, acrylic coated, thus making cleaning is as simple as wipe it.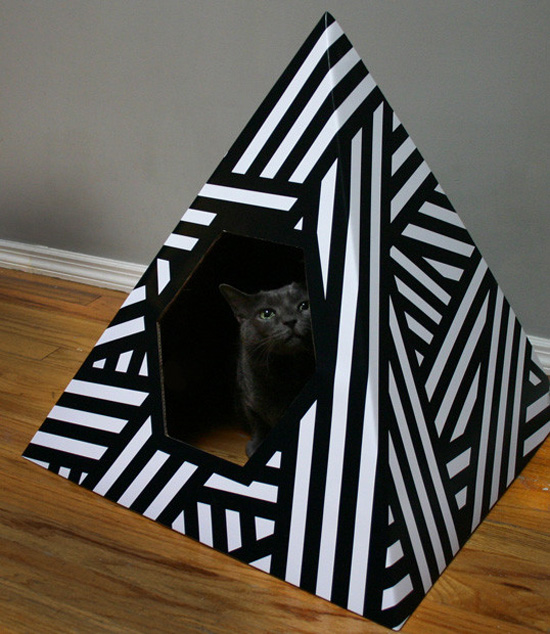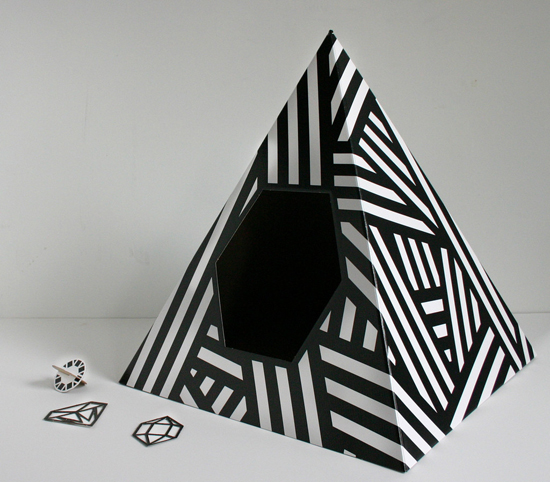 There's our beautiful feline friend, relaxing inside her own castle, yes The Refined Feline Catemporary Cat Castle looks awesomely great in the room. If you are a design-conscious cat owner, then you would love to own this cardboard tower, treat your cat like a princess as she's been really good to us, agree?
This cool heavy duty cardboard cat tower comes with glossy full color print, multiple levels for your cat to climb and perch. Measures 24″ x 60″ x 24″, don't be so surprised when you often find your cat hanging out in the tower.
Where to buy The Refined Feline Catemporary Cat Castle?
– PetShopUSA
– Amazon
Play with your feline friend and tease your cat with Zanies modern eco-friendly cat teaser. This cat toy is a combination of natural canvas, twine and wood. As a modern pet owner, we are sure you are green conscious person, this modern cat toy is eco-friendly since it's made of natural materials. Watch as your kitty having fun with a mice dangles from a 49cm pole.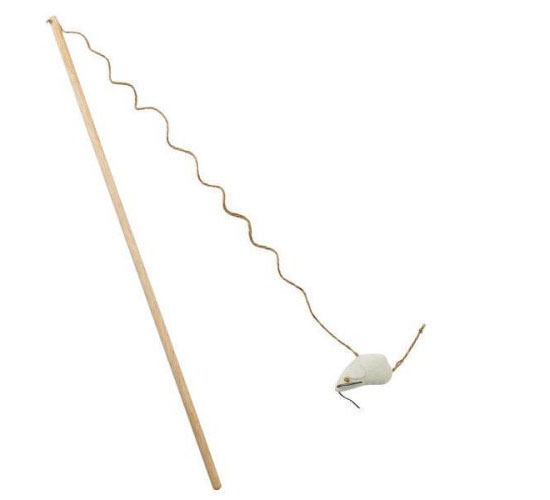 It's a cat's instinct to hunt a mouse, therefore Kong Natural Mice cat toy would be a perfect gift to your cat. This toy is made from eco-friendly materials, natural and renewable, it's very safe for cat. You can use this toy to stimulate the cat's hunting and stalking instinct, watch how your cat reacts when you throw these mice.
Tweets by @pawfipet