Browsing articles tagged with " dishwasher"
PetFusion Elevated Pet Bowl Holder comes in natural pine would look really good in your kitchen. For design conscious pet lovers, it's really important for their pets also own stylish products, if you are one of them, then you should check this out. Elevated bowl promotes healthy digestive, mealtime is also more comfortable for your pets since they don't have to bow their heads too low to eat or drink. The base of this holder is completed with anti-slip feet to keep everything neat and tidy. Cleaning shouldn't be an issue here, the natural wood material is finished with water resistant seal, wipe it with damp cloth and it looks like new, even those 2 stainless steel bowls are dishwasher safe for your convenience.
Eating too fast is dangerous to your dogs, they can vomit or develop bloat, therefore, making them eating slower is a must. You can do this when using one of those special bowls such as Green Interactive Feeder. The feeder is not a bowl actually, but it revolutionizes the way your dog eat into a challenging game. You can scatter their food across this feeder, your dog needs to do some "works" to get its food out between those plastic grass, it's definitely going to slow your dog down. Many dogs lack mental stimulation that can lead to boredom and develop bad behavior, using this feeder, you can stimulate your dog mentally and avoid those bad behavior issues.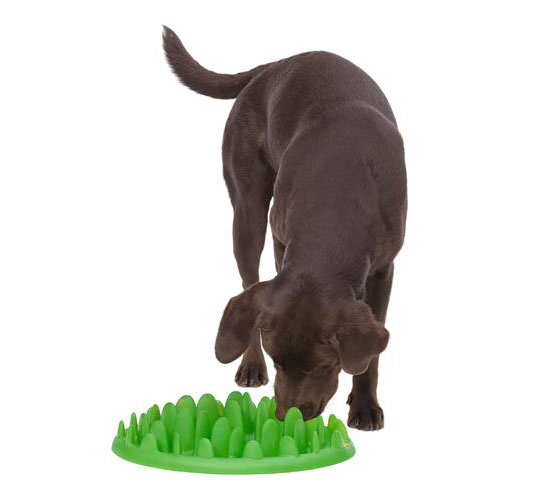 This product is the metal version of Brake-Fast dog food bowl as some dog owners are worried that their dogs might eat out of plastic. If you want our dog to slow down the eating process, you might want to get this bowl as it helps reduce the risk of bloat caused by eating too fast. The bowl has been designed to intentionally slide on the floor, because it will further slowing the eating process, however the metal version would be a bit heavier than the plastic, so it might stay in place. If your dog or cat normally takes a minute to eat, using this bowl, the dog or cat might need a few minutes to finish.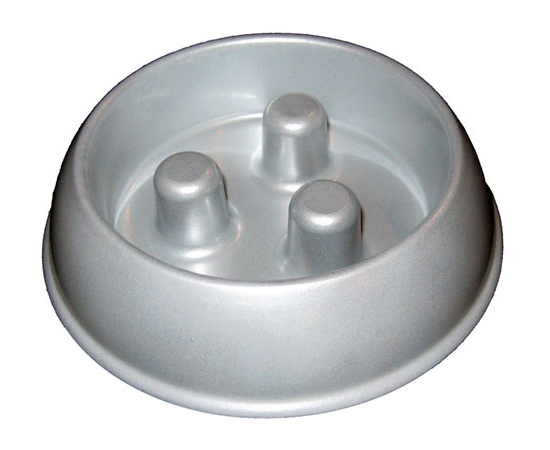 Tweets by @pawfipet