Search results for "pet bed"
Lion + Wolf presents you with colorful, modern dog bed that would bright up the room. It's not another boring pet bed, they have cool collection of beds not just for dogs and cats but also for design conscious pet owners. The creative and colorful prints feature geometric patterns with bright colors, instead of making a mess in your décor, these pet beds would complement your space while meeting your pet's everyday life. Handmade in USA, these pet beds would be a cozy and comfy place for your dog or cat to relax yet stylish enough to display in your home.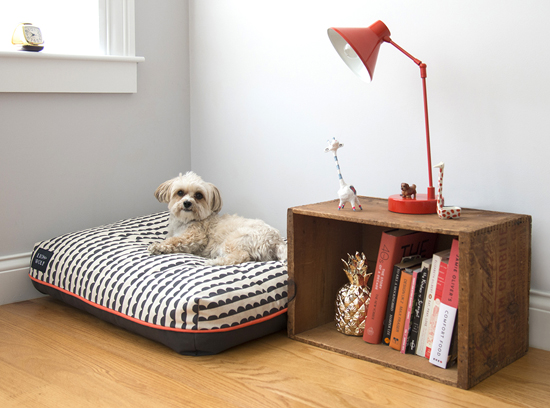 Betsy Ultra Plush Deluxe Ortho Pet Bed is an ultra plush orthopedic bed for your dog or cat. The mattress is not just another mattress, it is designed with a solid slab of convoluted foam. The cover is zippered for easy removal, so don't worry when it's laundry day, simply take off the cover for laundering. The bottom part is water resistant, but please remember that this product is not chew-resistant.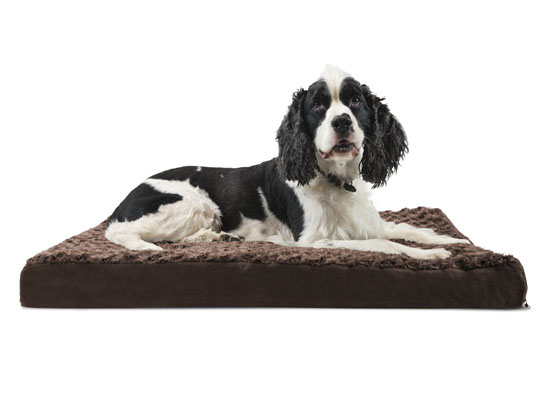 Comfy Pooch Ultra Soft Pet Bed features not only comfort but also style. Design conscious dog owners would love to have this bed in their house for their furry friends, well, what's not to like? Look at those stylish patterns and colors, available in brown, red, yellow, navy blue, and sea blue. It's a modern pet bed that you don't want to hide, in fact, you might want to show it off to your guests.
The design features a bolstered microtect center along with luxurious printed microfiber sides and backing. It can be used in your home, crate, dog house, or even car when you travel with your best pal. Please make sure that you measure your dog to get the perfect bed size, your dog should be able to stretch out in the bed. Once you open the box, your dog might not want to leave the bed all day long.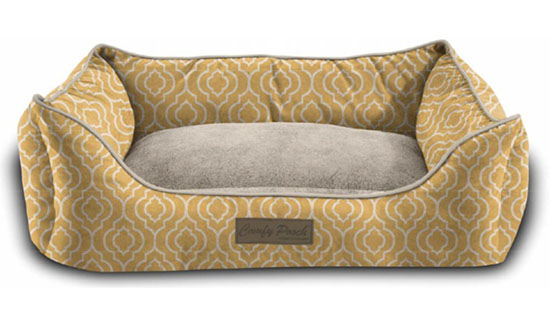 During colder weather, your dog or cat can be found snuggle in K&H Lounge Sleeper Self-Warming Pet Bed. Yes, this self-warming pet bed provides comfort and warmth anytime your pet wants it to, the material radiates your pet's body heat back to themselves. It's soft and fluffy, it invites your pet to relax in it, and soon it will be warm without any electricity needed. The non-slip bottom provides stability to ensure the bed stays still. Due to its size, we recommend you to use this bed for small sized pet only, as larger pet won't fit in it.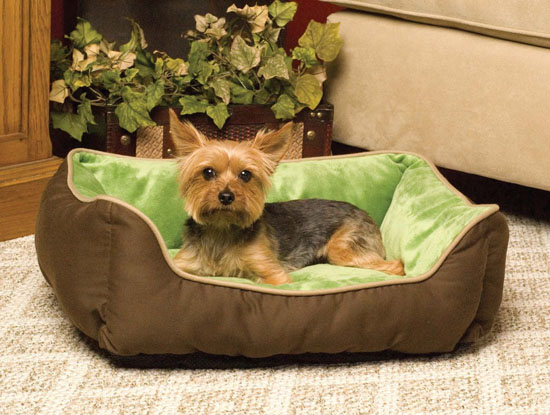 Cozy and comfy with soft micro-suede exterior, Brinkmann Pet Paw Print Pet Bed offers your pet 21-inch x 25-inch warm plush sleep area. There's cute paw print on the bed for added touch of detail. This bed is filled wit eco-first recycled fiber fill to provide ultimate comfort to your dog, we're pretty sure you want the best for your furry friend as they are part of your family.
Finding comfortable bed for your lovely furry friend can be a difficult task. Based on many customer reviews, we'd like to recommend you to check Brinkmann Pet Paw Print Pet Bed. We believe your dog will absolutely like it, the padding is soft, the walls are high, pretty good to keep your dog feel safe curling up and snuggling in. This bed is also machine washable for added convenient.
Your dog can go green as well, checkout this Eco Drop Dog Bed. It's a cozy double-stuffed dream bed for your best furry pal, it surrounds him or her with comfort for relaxing hours. This thick cushion is filled with 100-percent recycled PETE, wrapped in 100-percent recycled fabric. It will be a nice spot for your dog to relax, a sanctuary. Each dog bed has been certified safe by Oeko-Tex, so you can be sure this green dog bed is safe for your pet. Made in the USA, there are several color options you can choose: light porcelain/bungee, bungee, or emberglow/bungee.
Eco Drop Dog Bed is very easy to clean since the cover is removable and machine washable.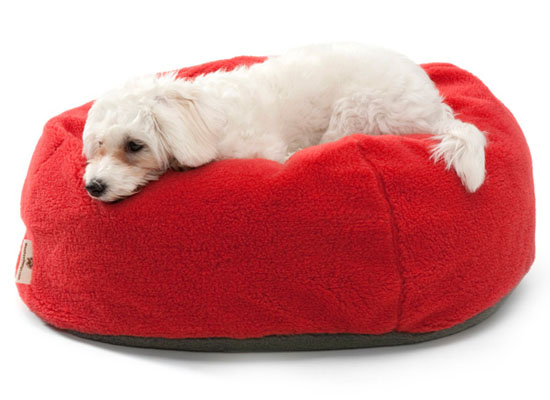 Petmate Microban Deluxe Pillow Pet Bed is a large bed with Microban antimicrobial product protection. It measures 27-inch x 36-inch, ideal for large sized dog. We really love the modern chenille stripe top and bottom with plush terry top, nice color combination. The cover is removable and machine washable, therefore, cleaning is a breeze. As a customer mentioned that the picture itself didn't do any justice, the product was much better. It is constructed from high quality material, soft and comfortable, pretty thick even the pillow inside feels like wool to the touch. However, we also need to remind you, this dog bed doesn't seem can stand a chewer, so if you have one, it might not be a perfect bed for your furry pal.
We highly recommend this product if you have a laid-back dog who doesn't chew, Petmate Microban Deluxe Pillow Pet Bed is the perfect dog bed that your furry friend will love.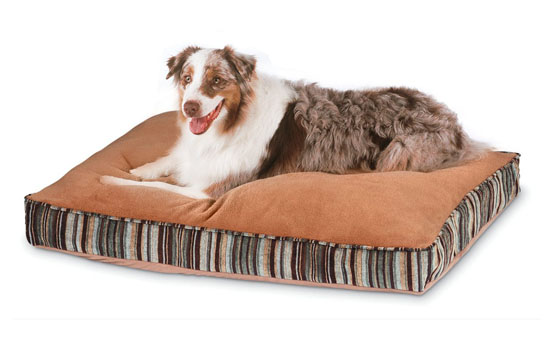 Your dog should be able to feel eco heaven with Eco Slumber Bed. Yes, this bed is an eco-friendly product uses eco fabric which is made from 100% recycled PETE fibers with 100% recycled fiber fill. If you are green conscious dog owner, you can now relax knowing that even your dog can rest comfortably without harming our environment. Each Eco Slumber Bed has been meticulously tested for more than 100 potential harmful substances, therefore you can be sure this product is 100% safe. Made in USA, there are a wide variety of sizes you can choose from, the patterns are available in 2 models: bright stripe and porcelain patches.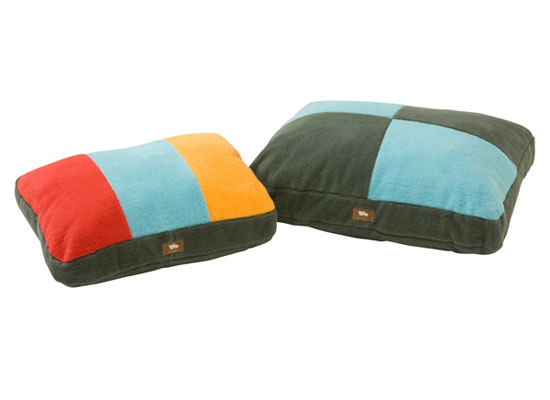 Integrate your furniture collection with your pet bed, just like Tavolato pet bed from Petsmood. If you are a modern conscious pet owner, then this furniture is the perfect complement to your modern lifestyle, we're pretty sure your pet would love this furniture as well. It integrates perfectly with your existing interior décor, elegant and stylish, a clever approach to preserve your design sensibility while providing a functional and comfortable bed for your furry pal.
Tavolato pet bed doubles as a coffee table. You can enjoy the company of your pet while enjoying your afternoon tea or a cup of coffee, alone or with guests. This pet bed is custom made in France and comes with removable cushion for easy cleaning.
Relaxing by the pool or in the backyard, your dog will love this Coolaroo Elevated Pet Bed. Instead of having to lay on hard and cold floor, your dog can stay on this elevated pet bed that features breathable knitted fabric. The fabric is easy to maintain, you can simply spray it down with a hose and mild soap. Not only this fabric is very comfortable, it is also fleas, mites and mold resistant, with its 3-year UV degradation warranty, you can have a peace of mind.
This pet bed is available in variety of sizes to accommodate your dog. The black steel frame is pretty solid and durable, you can fold it in half for easy storage when not in use or traveling. Yes, you can carry this pet bed when you go camping with your best pal.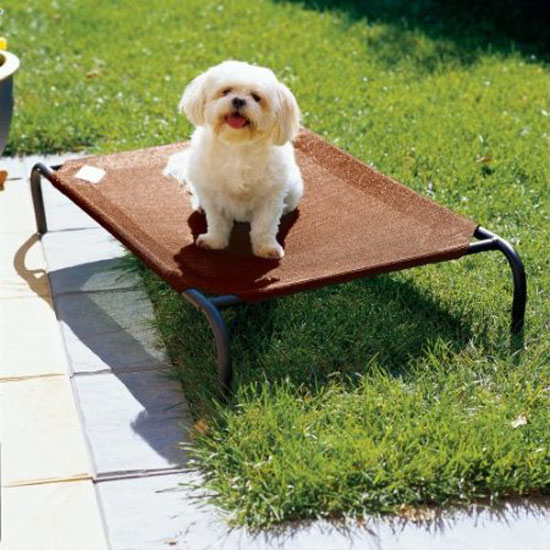 Tweets by @pawfipet