Precision Pet Soft Side Play Pen provides safety while still gives the freedom for your pet to move around. You know that pets are not supposed to be restricted no matter what. Walking, running, playing are great activities to keep your pet happy and healthy. However, most owners don't feel comfortable to let their pets run around during trip or in unfamiliar places. This is where a playpen comes in handy.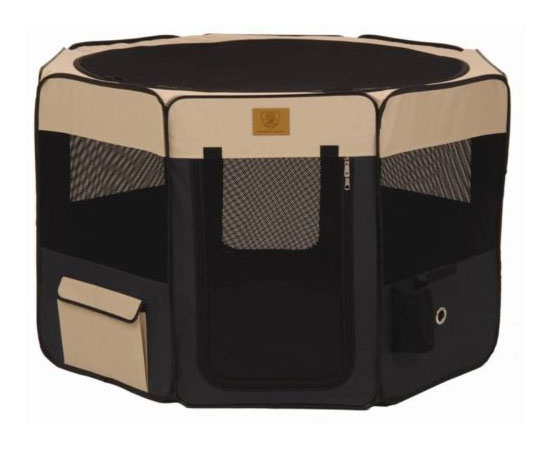 Coming in two sizes mainly small and large (29x29x17 inches and 46x46x28 inches respectively), this Precision Pet soft side play pen is really handy for a lot of pet owners. It is lightweight and the material is waterproof as well. This soft side play pen can definitely be used both indoors and outdoors. Those that travel a lot can surely use one of these to let their pets move around while the owner is driving provided that there is enough space in the car for the play pen to fit in.
The play pen can be set up within seconds and has a steel wire frame that acts as the foundation of the product. This means that the product is strong enough to bear with any force that the pets might give to it.
This soft play pen also features a holder that the owner can use to put a water bottle for their beloved pet. When not needed, the play pen can be dissembled within seconds and can be stored easily as well. Provided with the play pen is a carrying case that the user can use to keep it.



Precision Pet Soft Side Play Pen is great for those that have a single pet of any size. The large version should be sufficient for a couple of puppies although it would be a little crowded for the pets. The product however, is not suitable for dogs that are known to bite and scratch a lot as there have been a few complaints regarding this. The material is not durable enough to resist these bites and scratches caused by the dogs and in some cases, this may injure the pets as well.
The base of the product is connected with Velcro. This might be a problem especially for smart pets as they can crawl their way through the sheet. However, applying some tape should prevent this from happening.
This unit is a great product for multiple purposes. It can act as a play yard, a training pen and many more. It is definitely easy to set up and is lightweight as well. Those that are interested can check out their local or online pet stores to get the price information. Precision Pet soft side play pen may be a bit more expensive than its competitors but it is a solid rock investment for any beloved pet.
Posts in this website may contain affiliate links. If you purchase a product through an affiliate link, your cost will be the same but Pawfi will automatically receive a small commission. Thank you for supporting us!
Tweets by @pawfipet
What others are searching for