Most design conscious homeowners will love Umbra FishHotel Aquarium design as this modern aquarium will look awesome in any room. This aquarium has been designed to provide your fish an elegant, modern and stylish home, you can even stack 2 aquariums to create good looking condo and more space for your little friend. This design was a winner of Canada's Build A Better competition, so by purchasing this aquarium, you don't just purchase the function of this product but also the design value. Designed by Teddy Luong, each aquarium is constructed from a square glass bowl surrounded by a paintable ABS plastic façade with small asymmetrical windows.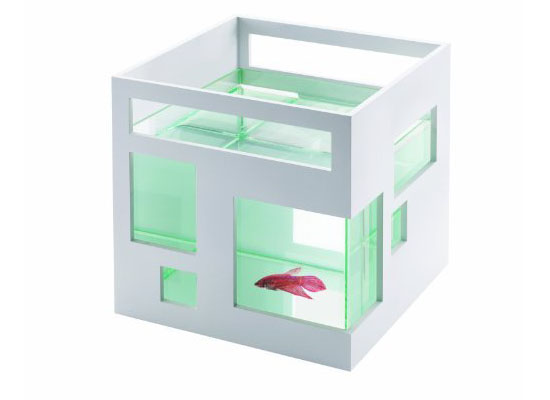 If preferred, you can also remove the plastic façade and just enjoy the glass
Umbra FishHotel Aquarium
. Measures 7.5"x7.5"x8", the top part is uncovered, that's why you can stack another aquarium to create tall-like condo appearance, well, it was modeled after a contemporary condominium in the first place.
Maintenance
is easy, all you need to do is to take the glass part out, wash it gently with your hands and let it dry.
You can place a betta in Umbra FishHotel Aquarium, in fact, you'll be able to fit small filter in the corner when needed. This unique aquarium design also provides several hiding areas for the fish, even an empty aquarium will still look cool. Since this aquarium doesn't have any lid, therefore, you might want to reduce the water level if you have jumpy fish. Our recommendation is for you to change the water for every two weeks to keep your fish healthy.
This condo-style Aquarium is a nice alternative compared to the standard fish tank you might have seen hundreds of time.
Where to buy Umbra FishHotel Aquarium?
– Amazon
– Organize
Posts in this website may contain affiliate links. If you purchase a product through an affiliate link, your cost will be the same but Pawfi will automatically receive a small commission. Thank you for supporting us!
Tweets by @pawfipet
What others are searching for