Habitrail OVO Loft offers spacious environment and endless entertainment for your small animals, the modern and colorful design is a bonus. In order to keep litter inside, this loft has been designed with deep base, however it's still easy for you to clean. The sleek steel door adds modern touch and look of the overall product design. If you are a new hamster owner, this loft should be enough to get you started. Inside this all-in-one box, you'll get a cage with opaque white bottom, cool orange retractable roofs, orange wheel, stairs, water bottle in turquoise color, feeding bowl, chewable cardboard maze for your hamster to play with, 2 windows and 1 lock connector.
Although the cage looks complicated, it's actually easy to assembly and disassemble Habitrail OVO Loft for cleaning. Since there's no wires, this loft is pretty secure when closed, you can be sure your hamsters are safe inside, except if you have other bigger pet such as cat or dog that might knock this cage over.
You can play along with your hamster using the cardboard maze, like hiding the food for the hamster to find. We've heard that some hamsters are having trouble with the water bottle which is too unwieldy for Syrians, therefore we suggest you to purchase additional metal tube water bottle and install it on existing hole which is supposed to be for the built-in water bottle.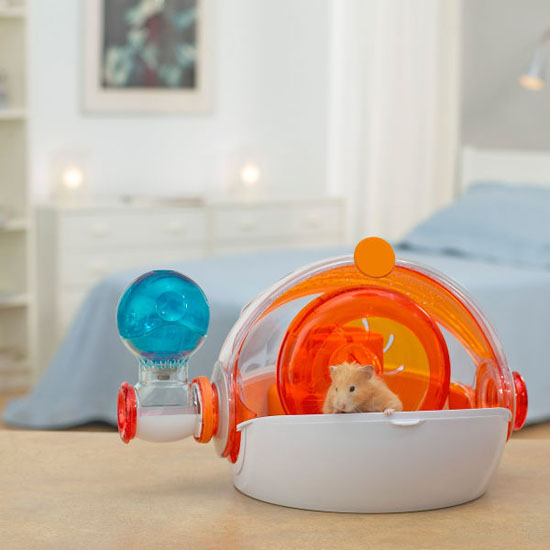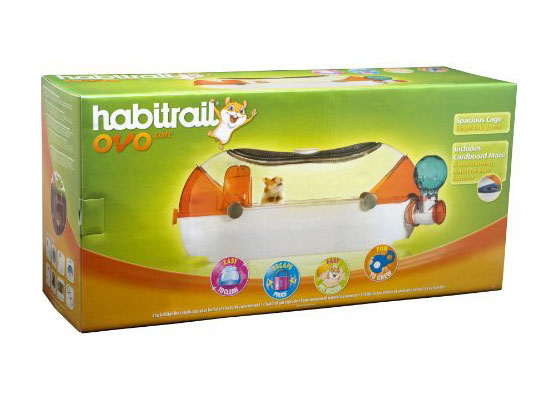 There are many add-ons you can install onto Habitrail OVO Loft to provide even more entertainment space for your hamster. By installing Habiltrail OVO Adventure Pack you can expand the space for your little furry friend to roam and play or installing Habitrail OVO Club Trainer to provide a cool way for your hamster to exercise. This wheel features silent operation, we strongly suggest you to purchase this add-on, you can watch as your hamster enjoys his or her daily exercise.
Where to buy Habitrail OVO Loft?
– Entirelypets
– Amazon
– ThatPetPlace
Posts in this website may contain affiliate links. If you purchase a product through an affiliate link, your cost will be the same but Pawfi will automatically receive a small commission. Thank you for supporting us!
Tweets by @pawfipet
What others are searching for