Having trouble with fleas and ticks on your lovely dogs? Merial Frontline Plus Flea and Tick Control comes to the rescue. This product has been proven can kill up to 100% fleas in just under 24 hours and continue. This product is not only effective to kill fleas but also flea eggs and larvae, this way you can be sure they won't develop new blood suckers that can hurt your best pal.
Merial Frontline Plus Flea and Tick Control offers 4 variety of products in different colors for different dogs:
How to apply Merial Frontline Plus Flea and Tick Control for dogs and puppies? Just follow these 3 simple steps:
First, open the plastic tab and peel down the foil, you can choose to use scissors if you're having trouble in opening it manually.
Open the applicator and hold it up right, gently using your fingers snap the tip away.
You can start applying this medicine on your dog's skin, just place the applicator tip through the dog's hair to the skin. You can also choose to use a single dose for a single spot, just squeeze the applicator till run out.
On dogs with layered and thick coat such as Chow Chow or Golden Retriever, it's really hard to spot ticks or fleas; you don't want to handle this problem too late. Merial Frontline Plus Flea and Tick Control can also be used as a protection for outdoor dogs. It takes only 5 minutes applying this product once a month, you'll keep fleas and ticks off your dog, better safe than sorry. For Frontline Plus 3-dose supply, use 1 dose for each month, read the instructions for more information.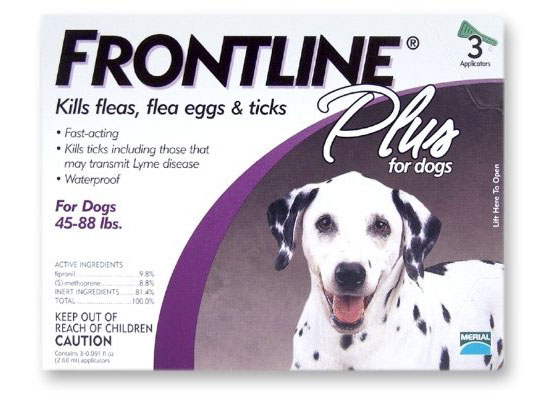 Some people don't like the idea of using chemical on their dogs, however we suggest you to try this product if natural treatment doesn't seem to give you any result. Don't let your dog suffer from those blood suckers. You can also contact your veterinarian to consult on how to apply flea control medication on your dog without do any harm to them.
Where to buy Merial Frontline Plus Flea and Tick Control for Dogs and Puppies
– PetCareChoice
– Amazon
Posts in this website may contain affiliate links. If you purchase a product through an affiliate link, your cost will be the same but Pawfi will automatically receive a small commission. Thank you for supporting us!
Tweets by @pawfipet
What others are searching for