Many people think that Kitty Kat Condo is for outdoor use only, it's usually used to house stray cats. In this way, the cats can come and go as they please. However, we can tell that Kitty Kat Condo works great for indoor and outdoor use. The idea of having a cat's house is to keep your cat warm in winter, well, this one can also keep your cat cool in summer. It measures 26" x 25.3" x 18.5", pretty spacious to house 2 cats, some people feel reluctant to buy this product due to its size when they only have 1 cat. Therefore, it's important to make sure you have the space needed for this unit.
Kitty Kat Condo is the perfect shelter for stray cats during winter, the carpeted floor offers warmth and encourages scratching (scratching can strengthen cat's claws, it's a good activity for the cat). If you happen to have medium sized Dogloo dog house, we can say that these two products are similar except that this cat house is carpeted and while the Dogloo features a vent on top, this cat house doesn't have it. Each unit is constructed with structural foam insulation to provide great comfort for your feline friends, the smart hood design diverts rain from entryway.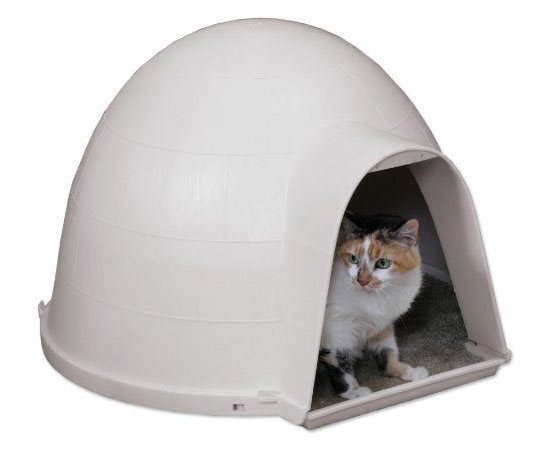 If at first your cat seems to reject its new house, you might want to place one or two toy inside to lure the cat into try Kitty Kat Condo. Soon, your cat realize that this condo is actually a good thing.
Some simple assembly is needed when you receive Kitty Cat Condo. Relax, all you need to do is using included 4 screws to put everything together. We think that the company should improve the design by adding a flap cover for the entrance and adding more color options instead of just plain white.
Where to buy Kitty Kat Condo?
– Chewy
– Wayfair
– Walmart
– Amazon
Posts in this website may contain affiliate links. If you purchase a product through an affiliate link, your cost will be the same but Pawfi will automatically receive a small commission. Thank you for supporting us!
Tweets by @pawfipet
What others are searching for