For the past 6 years, CitiKitty Cat Toilet Training Kit has proven itself to transition your cat from its litter box to completely using the toilet. There are many happy customers who have claimed that this disappearing litter box technique actually works to make your cat use the toilet. It eliminates the need of cleaning the litter box. The 5 steps training program claims that it can accommodate cats of all personalities, however, cats have different personalities, some are stubborn, very picky, or simply don't have the brain to understand your training goal, so don't blame everything on this product alone.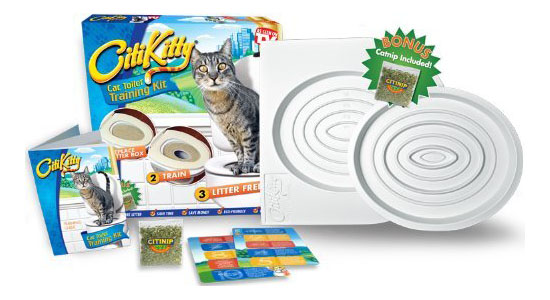 When this system works, you'll be able to live litter free lifestyle, the system provides clean, cost-effective and eco friendly alternative to your current litter box. Don't expect your cat to be able to adapt in only few weeks, expect at least a few months to get your cat fully trained to use CitiKitty Cat Toilet Training Kit. Each kit comes with specially-designed training seat, training insert, training guide, insider tip card and citinip.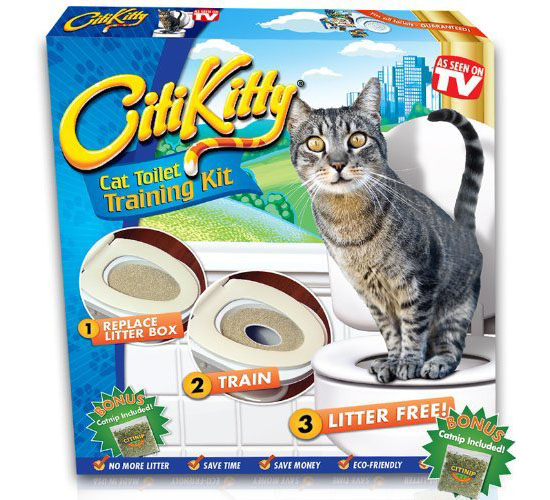 The specially-designed training seat can accommodate almost cats of all size, breed and age. The company guarantees the seat fits all toilet designs from round to elongated, and it's pretty stable. The training insert enables you to move forward and backward during the transition process. A customer recommend you to use flushable litter first, it would be easier for you to clean with this type of litter. The CitiKitty Cat Toilet Training Kit training guide is pretty easy to follow, written by cat toilet training experts, it will increase your successful rate of training your cat. If you have some questions, before contacting the support team, you might want to check out the insider tip card. It answers all your common training questions. Rewarding your cat is an important part of the training. Citinip provides you premium naturally-grown catnip to motivate your cat during the training process.
When your cat finally adapted to its new behavior, you need to gradually punch out the holes in the middle. Slowly your cat will get used to sit on the toilet seat and do his or her business and go straight in the water. All you have to do is flush. The progress might seem slow, but when CitiKitty Cat Toilet Training Kit works, no more smelly litter in your house or apartment.
Posts in this website may contain affiliate links. If you purchase a product through an affiliate link, your cost will be the same but Pawfi will automatically receive a small commission. Thank you for supporting us!
Tweets by @pawfipet
What others are searching for