If you have read our Drinkwell 360 Pet Fountain review and want to look something simpler due to limited space, you might want to consider Drinkwell Original Pet Fountain. It provides constant stream of water for your pet to encourage him or her to drink more as you know, drinking plenty of water is one of crucial points to keep your pet's health. Somehow, pets are always attracted to water fountain, I guess the sound of trickling watering sound attracts not only birds but also dogs and cats.
Drinkwell Original Pet Fountain features:
Patented 5" free-falling stream. This is the main feature that attracts your pets in the first place.
This fountain holds up to 50-ounces of flowing water to ensure your dog or cat gets plenty of water all the time.
Charcoal filter guarantees the water to be odorless and fresh. To maintain water from bad tastes, you need to replace the filter after sometime.
CLICK HERE to checkout this pet fountain. This product is great if you plan to place it against a wall instead of in the middle of the room due to limited space.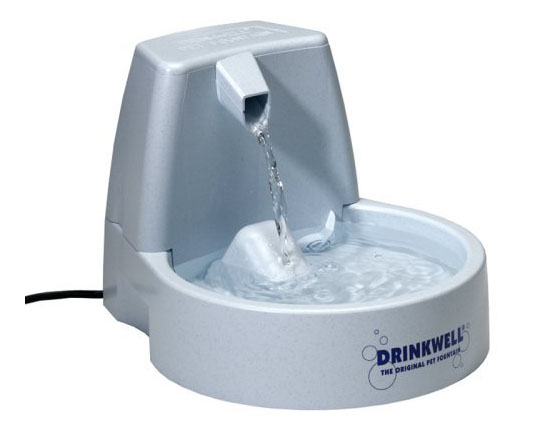 If your pet didn't drink much, well, it would change with Drinkwell Original Pet Fountain. This fountain makes drinking more fun to your pets as they don't need to use traditional water bowl and more convenient for you because your cat doesn't need to hop on the kitchen counter to drink from the sink. The rubber feet helps keeping this fountain in its place while the curved ramp design prevents falling water from splashing and making mess on the floor. The submersible pump is pretty quiet, you won't hear any noise or annoying buzzing sound.
The negative parts of this Drinkwell Original Pet Fountain based on customer feedback are some people don't like trickling watery sound, however, this shouldn't be an issue because you can always turn down the flow to eliminate it. Although it holds enough water, you would have to refill it after every few days, otherwise the pump will spin in the air and make weird noises. Cleaning can be a bit difficult although it won't take much of your time, there are hard-to-reach areas that you won't be able to clean, but we suggest that you use white vinegar that kills most bacteria.
Aside from those negative parts, this pet fountain works very well. The price is affordable and does what it is meant to. Don't let those minor issues become a deal breaker, as we already provide you with the solution as well. Overall, we highly recommend this product.
Where to buy Drinkwell Original Pet Fountain?
– Newegg
– PetSupplies
– Amazon
– EntirelyPets
– eBay
Posts in this website may contain affiliate links. If you purchase a product through an affiliate link, your cost will be the same but Pawfi will automatically receive a small commission. Thank you for supporting us!
Tweets by @pawfipet
What others are searching for