Browsing articles tagged with " Puppy"
Four Paws Wee-Wee Housebreaking Pads for dog feature super absorption to protect your floors and carpets from mess. It's been especially designed and formulated to attract puppies when nature calls, you can use it for training or alternative when your dog is housebound or during poor weather. There are variety sizes you can choose to suit the size of your dog, buy bulk for cheaper price.
By training your dog to use wee-wee pad, you can be sure that your dog won't make a mess on your floor, for example if you are late from work, and can't make it home in time to get your puppy out, it will use the wee-wee pad. It also means that elderly people can benefit from the pad since there maybe times when they can't take their dog out. We also read that even though Four Paws Wee-Wee Housebreaking Pads are meant for dogs, some customers use it for their cat, under the litter box to be exact, to catch any accidental over shooting.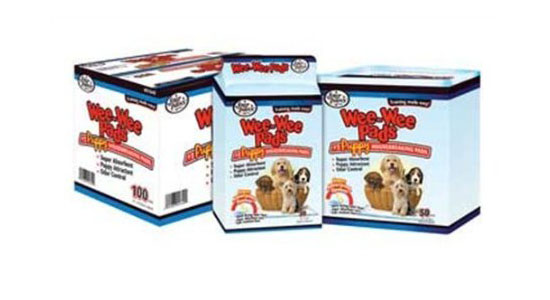 Just like baby, puppy is also teething, this is a constant need that your puppy just can't resist. Puppies do this to ease any teething discomfort or simply to play, the problem is, they can chew things that they shouldn't such as your furniture or shoes. Nylabone Puppy Teething Rings Chew Toy is durable interlocking rings that perfect for puppy chewers. You probably think this toy is too hard for your little furry friend, well, don't get wrong, your puppy will love it. The dental nubs help clean teeth and reduce tartar at the same time satisfies puppy's natural urge to chew. Your little pal can flip this toy over and over again and having fun chewing it instead of your precious stuff.
Tweets by @pawfipet