Browsing articles tagged with " modern dog house"
This minimalist dog house from Bad Marlon features unique angular structures. It's called Deuville, the design features ventilated roof with elongated window, the overall design pays good attention to make sure that your dog gets cozy and comfy resting space. Even though it is good for outdoor, please remember that the roof is ventilated, therefore, when the rain comes, you need to keep this unit inside the house.
Your dog would enjoy Deuville, they will be greeted with the warmth of morning sun and refreshing peaceful night.
Adorable dog bed, Bohemian Workbench offers you a Retro-Modern Dog Bed which is handmade in details from walnut. Don't expect for a cheap rice, this dog house is designed and hand crafted with attention to details, you can even smell the rich mahogany material. Featuring retro design, this dog house represents beautiful piece of premium grade materials, crafted without any help from computer-assisted machinery by Charles Lushear . There are many cool furniture design you can also browse in his store, you'll be amazed by many unique and high quality furniture pieces.
A good dog house has its price. For $3,650.00, you can get a modern and elegant dog house designed by RAH:Design. For the love of dogs, the company has designed MDK9 Dog Haus, a beautiful pet house that you don't want to hide, using the same techniques and materials that are used in modern homes nowadays. This concept dog house will certainly stand out among the crowds. Partnered up with Modern House Numbers and Jax and Bones, RAH:Design has created modern name plaque and a range of custom dog bedding to make sure your dog gets only the best.
Made from Brazilian teak and powder coated steel, MDK9 dog house would fit nicely inside your modern home. No need to hide it in your backyard.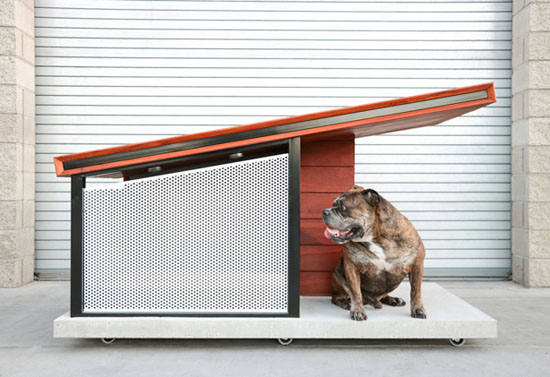 Pyramd Design Co. presents you with a modern dog house called Puphaus. It features minimalist design with modern touch, it's nothing like plastic dog house. If you are a design conscious dog owner, you'll be happy to know that this beautiful dog house is designed by industrial designers and dog lovers Roy Fleeman and Zach Griggs. They both wanted to design and build something unique and stylish for our best furry friend. Inspired by modern home design, only natural derived materials are used, making the final product looks and feels like home in any outdoor setting while making a head-turning architectural statement.
Made in America, this dog house is constructed from western red cedar and Portland cement board. The adjustable feet make it easy for leveling while the floating roof provides great air circulation. It comes with integrated food and water bowls. The unique construction allows to flatpack design for affordable shipping, you can easily assemble this unit in 5 steps without any additional tools.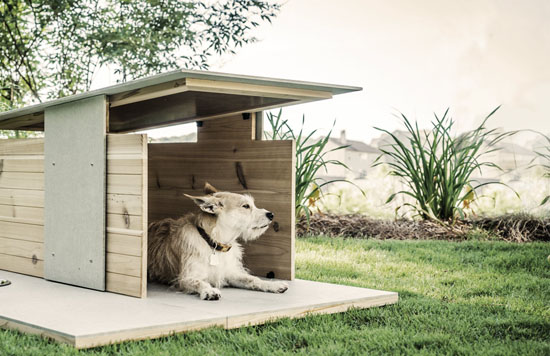 Pets love hiding, The Missy Cave from PUP and Kit will let your little furry friend hide in style. It's a modern pet cave for small cat or dog, the unique geometric shape is for pet owners where they can place this pet furniture in the living room proudly. It's a little table/small pet house that can be a focal point in any room, so yeah, both of you can enjoy this piece of furniture. Inside this cave, there's a cushion made with Sunbrella fabric or a modern canvas print, stuffed with a polyfiber fill. Your dog or cat would love to hide and take their own time inside this cave.
Constructed with wood veneered plywood and sealed with eco-friendly lacquer, you can be sure that this furniture is safe for your pet. You can also request custom finishes to match your existing interior décor.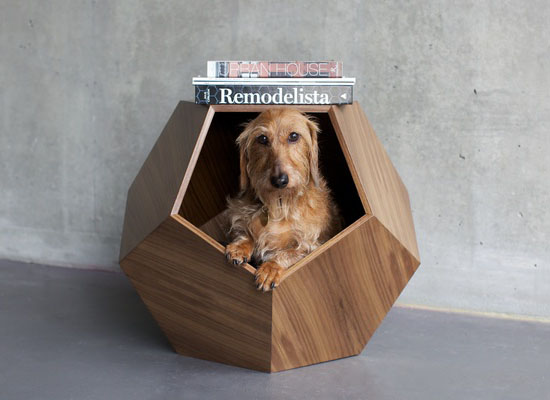 Check out this cool modern pet furniture from Korean design studio called POTE. BBung-a House Original looks like fishbones, it's made out of plywood where your dog or cat can hide and relax during the day. The unique shape is inspired by the structure of fishbones, one of the furniture even has the color of a clown fish, perhaps they accept customization request as well. Due to its structure, this pet house looks like having a nice air circulation, your dog or cat might enjoy laying on its comfy bed inside. The lightweight material allows you to easily pick this unit and move it from one room to another.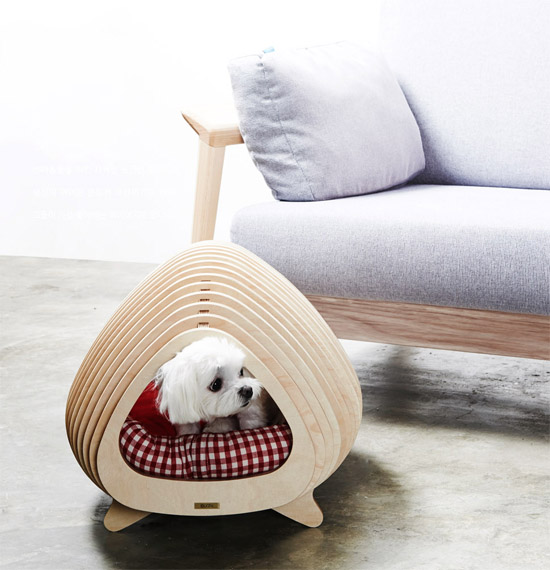 For Gimli Dog Den is a modern and beautiful dog house, a perfect hideaway for your furry pal. Each house has been crafted from solid walnut with solid brass detailing for elegance touch along with bright color panel option. The form of this product is pretty unique, it plays on the iconic pyramid combined with teepee shape, your dog will be comfortable in style inside its stylish house.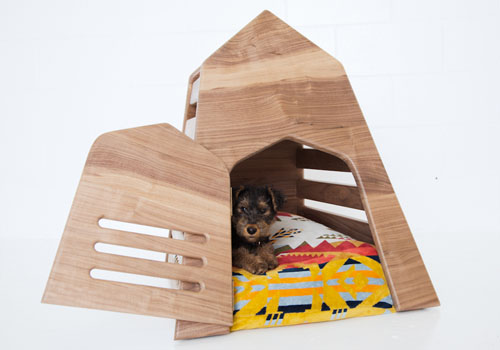 Tweets by @pawfipet
Recent Searches