Browsing articles tagged with " heavy duty"
There's our beautiful feline friend, relaxing inside her own castle, yes The Refined Feline Catemporary Cat Castle looks awesomely great in the room. If you are a design-conscious cat owner, then you would love to own this cardboard tower, treat your cat like a princess as she's been really good to us, agree?
This cool heavy duty cardboard cat tower comes with glossy full color print, multiple levels for your cat to climb and perch. Measures 24″ x 60″ x 24″, don't be so surprised when you often find your cat hanging out in the tower.
Where to buy The Refined Feline Catemporary Cat Castle?
– PetShopUSA
– Amazon
Need a great bed for your dog while camping? Checkout Coleman Bone Dog Lounger, this portable dog bed is great for traveling, the medium sized bed is ideal for dog weighing up to 50lbs while the large sized bed can accommodate up to 100lbs. The material is durable with heavy-duty polyester and strong steel frame, it's been designed for dog on-the-go, therefore, it easy to open and fold in seconds for great portability. You can setup this bed to become the spot for your dog to relax, whether you are in a camp ground, backyard or just anywhere. When it's time to clean it, simply remove the cover, it's 100-percent washable, no shrinkage and no stain.
You can choose to purchase the large size if your dogs love to sleep together in one Coleman Bone Dog Lounger. The sleeping surface is soft and comfortable, the lounger is off the ground for more support to your dog. So, no matter where you and your dog go, you can always provide familiar place for your best furry friend to lie down and relax.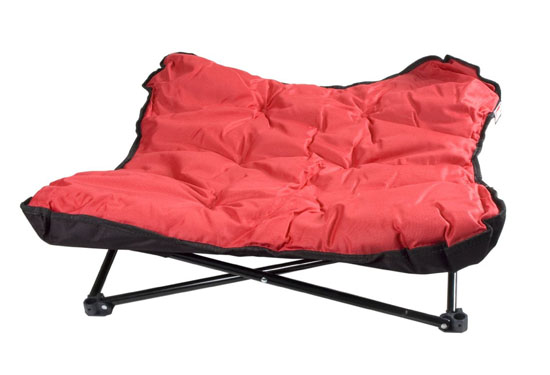 Walk your dog and let him carry his own treats, toys and water with Kurgo Wander Pack Dog Backpack. You can take your dog with you while hiking, camping or just walking around the park, with this backpack, you give extra exercise for your dog to make him work harder, but not that much. This backpack is made from heavy-duty polyester that can withstand any rugged outdoor conditions. Your dog will feel comfortable carrying this bag, the adjustable saddle bag system ensures snug fit, however please only use this bag for dogs 30 – 85 pounds.
The reasonable price is also pretty attractive point, yeah, backpacks from other brands could come with a price tag higher than a college backpack.
Tweets by @pawfipet