Browsing articles tagged with " dog house"
Place Quik Shade Outdoor Instant Pet Shade next to the swimming pool or in the garden, it's a great spot for your dog to relax, enjoy outdoor without suffer from the hot weather too much. The elevated mesh bed keeps your pet cool and dry, the steel frame and durable PVC backed polyester are durable enough to hold your pet. You can easily set this shade in seconds thanks to the folding frame and locking mechanism, this means, you can easily keep it in the storage room when not in use. The matching carry bag makes it even more easy to transport aside from being lightweight.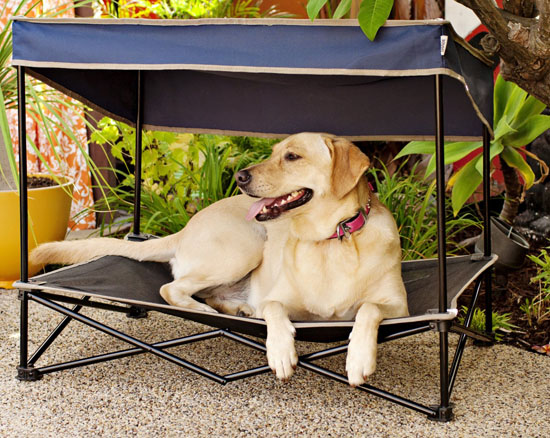 These 3 piece dog accessory set has been designed by Japanese design studio Nendo for PEN, Japanese lifestyle magazine. This accessory set consists of a unique dog bed, dishes, and toys, the artificial leather bed turns into a little hut when your dog burrows inside it and then transforms into a cushion when your dog lies on top. The dishes are also beautifully designed; they are reversible so that you can use the shallow dish for food and the deeper dish for water. The silicone rubber bone toy can be reshaped into a ball simply by tucking in the 2 ends. The toy is pretty cool, it is constructed of triangular panels connected in polygon mesh. There are 2 color options available: white or black, so, it is easy to blend with your existing home interiors.
This dog house set from the Six Hands is pretty unique, it's a combination of a dog bed and a little house. The wooden house or roof is made from Douglas Fir Plywood without any harmful stain or paint, while the bed is made from natural cotton canvas and water proof inner cover. Let's just say that when your dog loves his bed, he would love the house as well, as it provides him with more privacy, perfect place to relax. The bed dimensions are 55" x 65" x 20" while the wood house dimensions are 55" x 65" x 60", enough to accommodate small to medium sized dog.
The bed cover is removable and machine washable, each product is build to order. Currently they are on sale, so you might want to checkout this dog house set, it could be a nice gift to your furry pal. the design is also modern and minimalist, perfect for different kind home decor.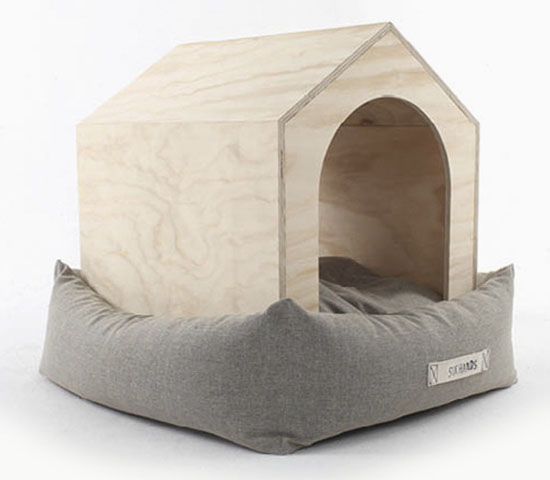 Checkout this cool DIY project to build a cool geometric dog house. HomeMade Modern EP13 Geometric Dog House features faceted, angular appearance, but don't be fooled by its design, it is actually pretty easy to construct. First, you would need to create triangles about the same height of your sitting dog. Start measuring off those triangles and create markings, use RYOBI circular saw to follow the lines and cut the triangles. Checkout the site for details step by step.
Seungji Mun has designed Dog House Sofa for pet furniture brand M.Pup. It's a unique furniture design that brings harmony between human and pet. As dog person, we really love how this company understands our need to give space for our best furry friends. This sofa is a tool to communicate and share our feelings with our pets. Made of composed solid wood, this sofa is ideal to bond with your pet while relaxing on the sofa.
Petmate Dogloo Xt Dog House brings you an adorable igloo-shaped dog house with high winds to promote great air circulation. Winter won't be an issue as this igloo keeps your pet warm, yet it cools during summer, thank you to its structural foam construction. Your dog would love this house, it is also a great shelter when your dog loves to hide. You might want to place some treats and toys to attract your dog or cat (yes, it's a great house for cat as well), once your furry friend knows how cozy and comfortable this igloo is, you would have problem in calling them out.
Dog bench is a modern bench that doubles as dog house, completed with food and water bowls. If a guest visits you, simply close the door for awhile if you don't want your guest to see what's inside. Well, actually you don't have to feel embarrass, it's a modern and stylish bench even the interior, that cushioned bed provides comfort to your dog. Unfortunately, it's only a concept, it's not commercially available yet, but let's keep our fingers crossed.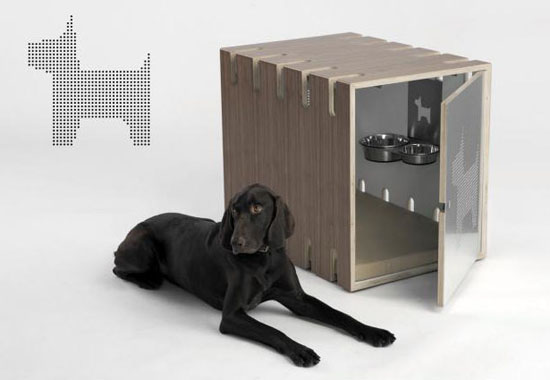 From : Springtime
Modern and unique Artichoke Dog House by Sherry Leung. This conceptual home has been designed especially for the weather, you see, this unique dog house can be adjusted based on the current weather. This dog house is composed of iron wires and petals to cover the house. In a hot day, you can lift the petals up to provide some air to come inside the house or in a colder day, simply lower the petals. Pretty nice concept.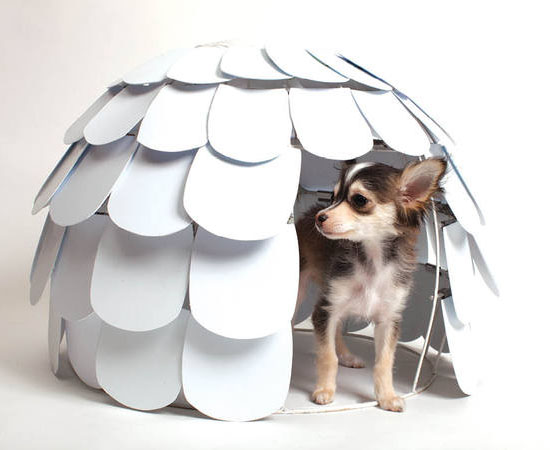 Modern pet owners, you will be happy knowing there's a new luxury modern dog house in the market, Kooldog House. It's minimalist yet fashionable house for your pet, suitable for any modern home décor. The manufacturer offers a wide variety color schemes, you can choose different wood finishes for the exterior and different colors for the slip cover of the cushion. Kooldog House is not gonna be a dog house that you want to hide from your guests.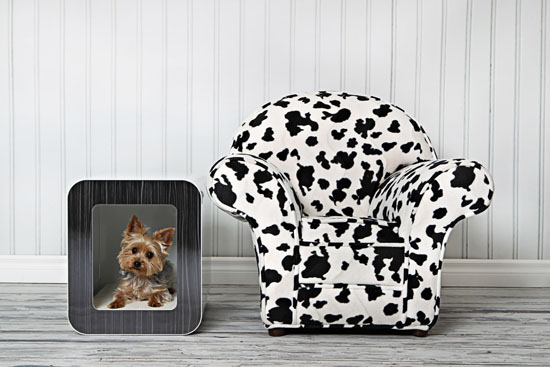 ZenHaus is a aleek and modern dog house from DenHaus that features opaque shatterproof glass on top. It's constructed of extremely durable fiberglass to create beautiful and elegant indoor pet house that blends very well with your modern home décor. The oval shape design creates a bold architectural profile while at the same time provide plenty of space for your modern pet. The glass on top brings the light into the pet house while the removable swing door offers practicality.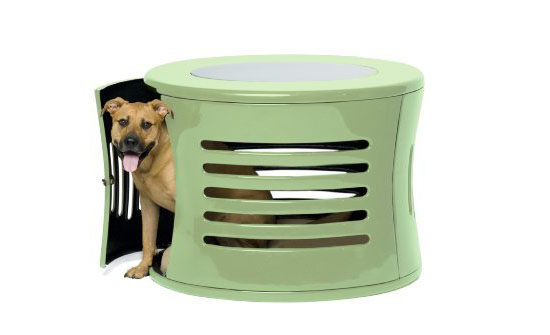 Tweets by @pawfipet