Browsing articles tagged with " color combination"
Some people prefer to groom their pets by themselves, this Cutie Pet Small Pet Nail Clipper would be a great addition to their grooming collection set. You can save a lot of money by grooming your pet yourself, but we have to remind you that you need to learn a thing or two about trimming the nails of your pets (cutting the nails too deep can cause your pet's paw bleeding). The stainless steel blades make a perfect cut every single time, don't forget the read the free "How to …" guide which is included with every single purchase.
Trimming your pet's nails also means maintain their health, you should trim the nails regularly. The sturdy and ergonomic grip has been designed for easy handling, the safety guard helps prevent hurting your pet accidentally. It comes with fun blue and pink color combination, so cute. Your pets trust you, so when you are the one who cut their nails, they usually feel more comfort and secure in your hand, the process is less stressful on them, and you can do it from your home.
Petmate Microban Deluxe Pillow Pet Bed is a large bed with Microban antimicrobial product protection. It measures 27-inch x 36-inch, ideal for large sized dog. We really love the modern chenille stripe top and bottom with plush terry top, nice color combination. The cover is removable and machine washable, therefore, cleaning is a breeze. As a customer mentioned that the picture itself didn't do any justice, the product was much better. It is constructed from high quality material, soft and comfortable, pretty thick even the pillow inside feels like wool to the touch. However, we also need to remind you, this dog bed doesn't seem can stand a chewer, so if you have one, it might not be a perfect bed for your furry pal.
We highly recommend this product if you have a laid-back dog who doesn't chew, Petmate Microban Deluxe Pillow Pet Bed is the perfect dog bed that your furry friend will love.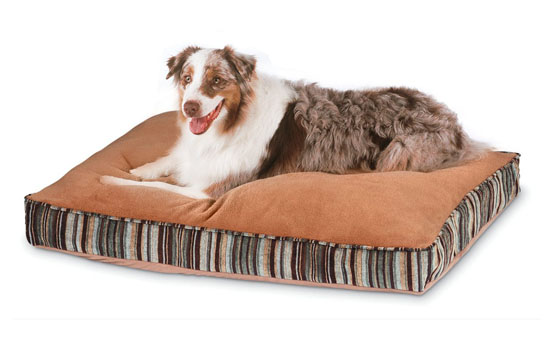 This Best Pet Supplies oval dog bed comes in two models: brown stripes and orange stripes. It looks cozy and comfy for your dog to just relax or take a nap, you can also choose different size to suit your dog: Medium (10"H x 24"W x 22"D) and Large (11"H x 30"W x 25" D). If you have multiple dogs, they might enjoy curling up together on this bed. The color combination makes this dog bed a trendy and stylish bed, a fashionable spot for any dog.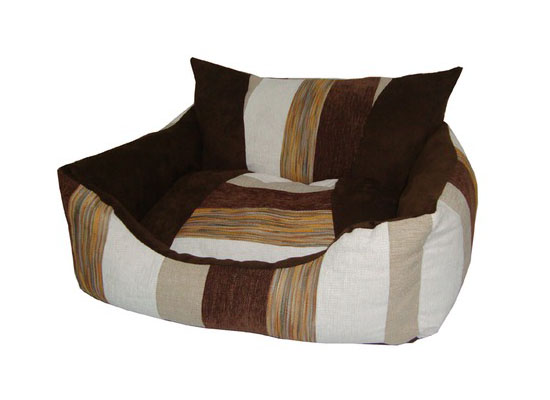 Tweets by @pawfipet