Browsing articles in "Houses, Beds and Furniture"
Your dog should be able to feel eco heaven with Eco Slumber Bed. Yes, this bed is an eco-friendly product uses eco fabric which is made from 100% recycled PETE fibers with 100% recycled fiber fill. If you are green conscious dog owner, you can now relax knowing that even your dog can rest comfortably without harming our environment. Each Eco Slumber Bed has been meticulously tested for more than 100 potential harmful substances, therefore you can be sure this product is 100% safe. Made in USA, there are a wide variety of sizes you can choose from, the patterns are available in 2 models: bright stripe and porcelain patches.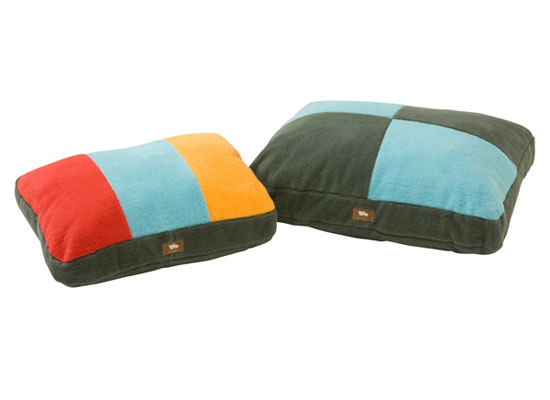 Dog bench is a modern bench that doubles as dog house, completed with food and water bowls. If a guest visits you, simply close the door for awhile if you don't want your guest to see what's inside. Well, actually you don't have to feel embarrass, it's a modern and stylish bench even the interior, that cushioned bed provides comfort to your dog. Unfortunately, it's only a concept, it's not commercially available yet, but let's keep our fingers crossed.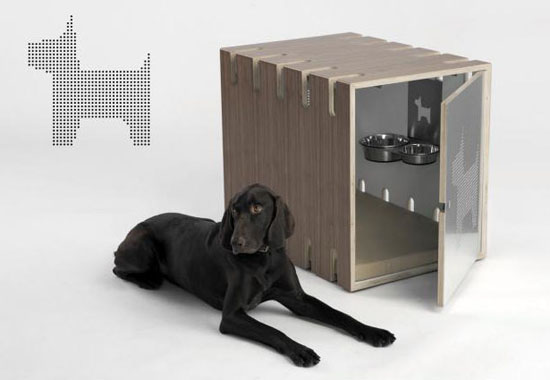 From : Springtime
Integrate your furniture collection with your pet bed, just like Tavolato pet bed from Petsmood. If you are a modern conscious pet owner, then this furniture is the perfect complement to your modern lifestyle, we're pretty sure your pet would love this furniture as well. It integrates perfectly with your existing interior décor, elegant and stylish, a clever approach to preserve your design sensibility while providing a functional and comfortable bed for your furry pal.
Tavolato pet bed doubles as a coffee table. You can enjoy the company of your pet while enjoying your afternoon tea or a cup of coffee, alone or with guests. This pet bed is custom made in France and comes with removable cushion for easy cleaning.
Do you want to add comfortable bed to your dog existing crate? Try Midwest Paw Print Reversible Fleece Stuffed Bed. This high quality reversible bed adds comfort to the crate with its ultra soft synthetic fur on one side and plush sheepskin on the other, your dog will love it. There are many sizes available for you to choose from, don't worry, each size fits standard crate size. When you carry your dog crate, your dog will be happily jump into the crate and then lay down to relax. This bed keeps your dog or cat to stay warm during cool weather and warm during winter.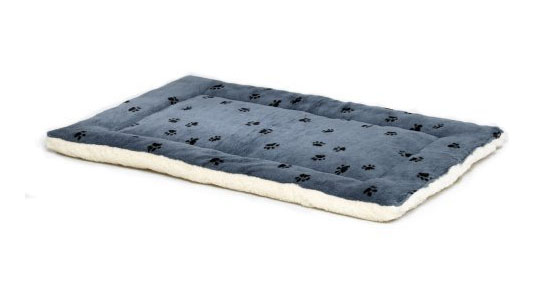 Modern and unique Artichoke Dog House by Sherry Leung. This conceptual home has been designed especially for the weather, you see, this unique dog house can be adjusted based on the current weather. This dog house is composed of iron wires and petals to cover the house. In a hot day, you can lift the petals up to provide some air to come inside the house or in a colder day, simply lower the petals. Pretty nice concept.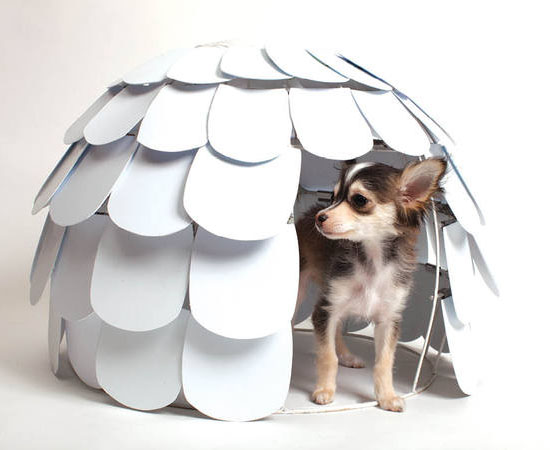 Paul Kweton, an architect has come up with this unique furniture design that both you and your pet can enjoy. Rocking 2-gether Chair is a hybrid between a pet house and a rocking chair, yes, both of you together can enjoy soothing experience from gentle rocking movement of the chair. Started in 2011, Paul has finally finished the first full scale prototype. Rocking 2-gether Chair is made out of CNC milled birch plywood but the density and the amount of CNC milled "ribs" can be customized into different sized wooden spacers as requested. Are you interested with this project? You can contact Paul Kweton through his website.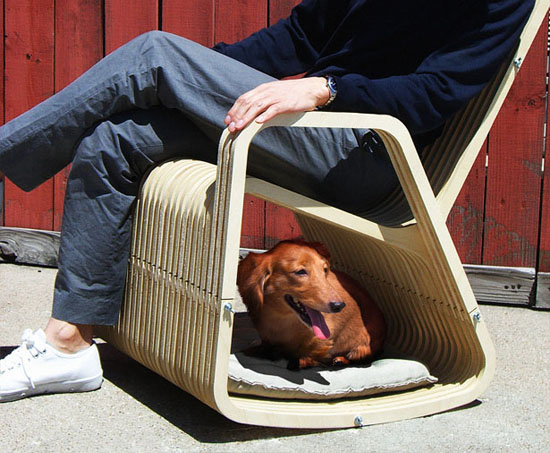 Checkout Chimere Modern Pet Furniture 2012 collection by Frederic Stouls and Marc Ange. This is the first manufacturer of contemporary and modern furniture dedicated to pets. This furniture set not only offers comfort but also beyond it's functionality, it provides decorative element in our home. Impressive soft and noble materials combined with high quality manufacturing, each of these furniture pieces is not an ordinary pet furniture, it's a beautiful creation with timeless soul.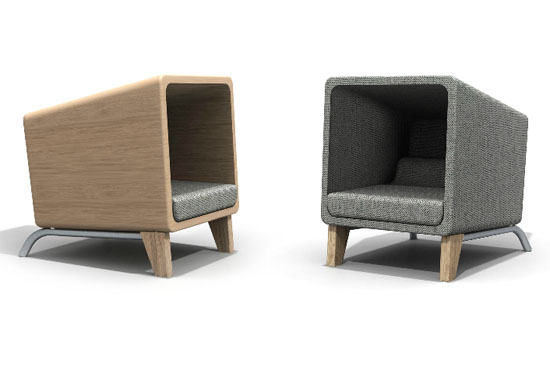 Relaxing by the pool or in the backyard, your dog will love this Coolaroo Elevated Pet Bed. Instead of having to lay on hard and cold floor, your dog can stay on this elevated pet bed that features breathable knitted fabric. The fabric is easy to maintain, you can simply spray it down with a hose and mild soap. Not only this fabric is very comfortable, it is also fleas, mites and mold resistant, with its 3-year UV degradation warranty, you can have a peace of mind.
This pet bed is available in variety of sizes to accommodate your dog. The black steel frame is pretty solid and durable, you can fold it in half for easy storage when not in use or traveling. Yes, you can carry this pet bed when you go camping with your best pal.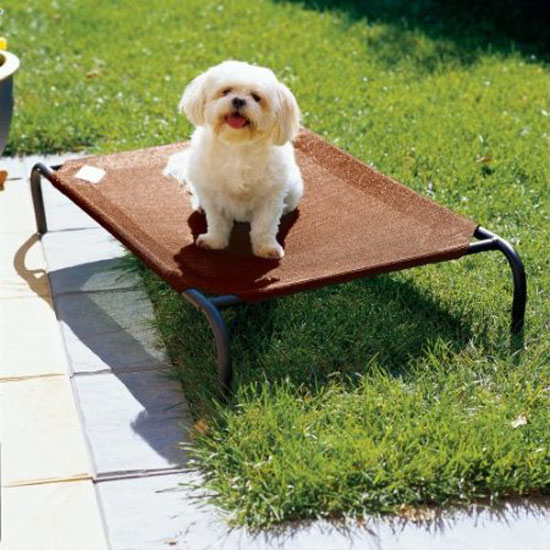 What a cozy and luxury bed for your best pal! K&H Bolster Couch Pet Bed offers luxurious microsuede while the inside cushion is tufted in order to securely keep the premium polyfill made from recycled plastic bottles in place. You can give your dog or cat its own private couch, the surrounded bolster also provides secure feeling to your pet. Available in 2 sizes and 2 colors, your pet will love this bed for napping or just relaxing, the large size is big enough for large breed dog to stretch out.
For pet owners, you'll be happy to know that K&H Bolster Couch Pet Bed has been designed with removable cover and liner, therefore, simply toss them in your washing machine to clean. The reasonable price is also another reason to grab this cozy and comfortable couch bed for your furry friend.
K&H Bolster Couch Pet Bed (Small) measures 24″ back width x 14″ front width x 19″ deep (sleeping surface)
K&H Bolster Couch Pet Bed (Large) measures 32″ back width x 19″ front width x 24″ deep (sleeping surface)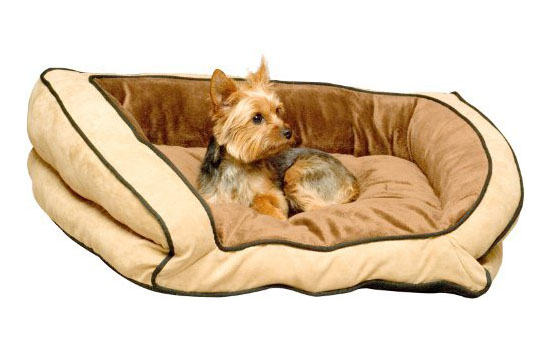 Dogs usually love to burrow, by purchasing Snoozer Cozy Cave Pet Bed for your best furry friend, you give a great gift to your dog. The sherpa lining provides warmth during winter but cool in the summer, don't be surprised when you always find your dog snuggle inside this cozy and comfy bed. Some dog breeds just like to burrow, this cave style nesting dog bed is definitely going to be their sanctuary. The cover is removable and washable, it's easy to clean. There's internal wire that ensures the hood up so that your dog can peek outside, it's a great bed to nap or just relax.
Snoozer Cozy Cave Pet Bed comes with heavy duty brass zipper, there are different sizes available, from small to extra large, make sure that you purchase the right size for your dog to ensure he has plenty of space to crawl into and out.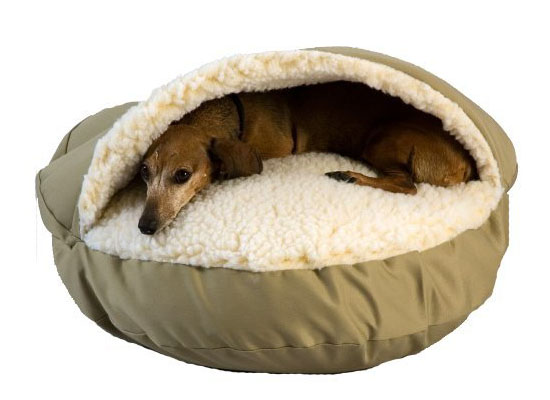 Tweets by @pawfipet
Recent Searches