Browsing articles in "Houses, Beds and Furniture"
During colder weather, your dog or cat can be found snuggle in K&H Lounge Sleeper Self-Warming Pet Bed. Yes, this self-warming pet bed provides comfort and warmth anytime your pet wants it to, the material radiates your pet's body heat back to themselves. It's soft and fluffy, it invites your pet to relax in it, and soon it will be warm without any electricity needed. The non-slip bottom provides stability to ensure the bed stays still. Due to its size, we recommend you to use this bed for small sized pet only, as larger pet won't fit in it.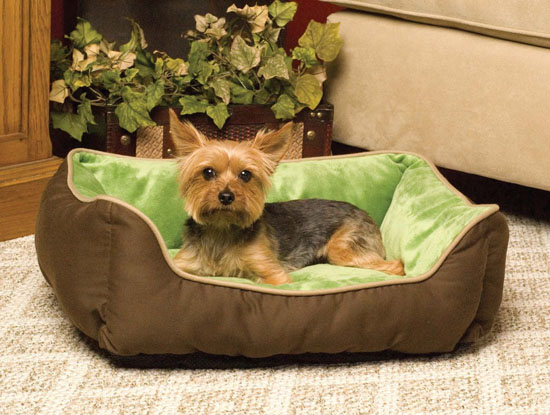 Dogbed Sleepy Deluxe Plaid is a modern dog bed from Cloud7, perfect for any modern homes. The duvet cover is made from organic natural cotton canvas, while the mattress cover is made from organic white cotton batiste, and the mattress is filled with latex and polyester flakes mix. We really love the genuine leather handles, a nice touch to complement the overall look. There are many gorgeous products for your furry friends here, and all of them feature modern and stylish look.
You can keep large pet away from certain areas while smaller pet to pass through when you install Carlson 0930PW Extra-Wide Walk-Thru Gate with Pet Door. It's a handy walk-thru gate to keep children away from dangerous areas such as kitchen, but there's a small gate to let your little pet to walk through. This gate is convenient way to protect both your home and pet, since it's made of steel, you can be sure this gate is chew-proof. Installation is easy, this safety gate features a pressure-mount system it is also ideal for extra-wide openings when needed.
The gate features one-touch release lever-style handle design to enable you passing through with only one hand, just in case you are carrying things. The small 10" x 7" pet door lets small dog or cat pass through while everyone else stays put. The durability and strength of Carlson 0930PW Extra-Wide Walk-Thru Gate is unquestionable, it keeps your pet safely contained in certain area in your house, and avoid any mess.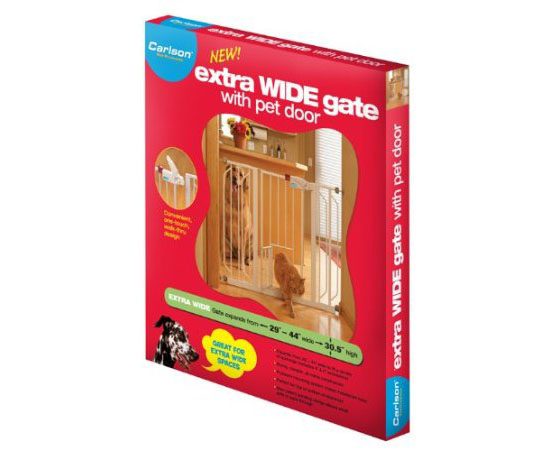 Pet Parade Pet Cave dog bed is an ideal bed if your pet loves to burrow, it surrounds your furry friend with warmth and comfort, especially in colder weather. Your dog would enjoy its new bed and hide under the blanket, don't be surprised when you always find your dog hanging out in it. This dog bed features large 25-inch diameter, pretty nice for 2 small dogs, it's like a luxurious sleeping bag to keep them warm, you can choose to use the top zippered dome or not. The ultra plush 5-inch thick bed provides comfort with less price compared to the same products from other brand.
Seungji Mun has designed Dog House Sofa for pet furniture brand M.Pup. It's a unique furniture design that brings harmony between human and pet. As dog person, we really love how this company understands our need to give space for our best furry friends. This sofa is a tool to communicate and share our feelings with our pets. Made of composed solid wood, this sofa is ideal to bond with your pet while relaxing on the sofa.
Mambe Pet Blanket is 100-percent waterproof, a perfect blanket to protect your furniture from your pet dirt, scratches or even urine. There are various sizes available, therefore you can choose which one suits your furniture, from king-size bed to an individual seat cushion, the color options are also pretty nice. If you own multiple pets, this blanket is definitely something you should have, it features warm mid-weight fleece on one side and soft black micro fleece on the other side, of course, there's a100% waterproof membrane between layers, no more liquid can get through this blanket. Never risk your furniture with conventional non water resistant blanket, it's a great investment that pays for itself in a few months.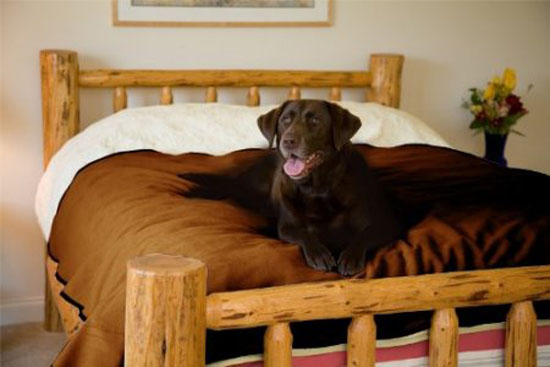 Cozy and comfy with soft micro-suede exterior, Brinkmann Pet Paw Print Pet Bed offers your pet 21-inch x 25-inch warm plush sleep area. There's cute paw print on the bed for added touch of detail. This bed is filled wit eco-first recycled fiber fill to provide ultimate comfort to your dog, we're pretty sure you want the best for your furry friend as they are part of your family.
Finding comfortable bed for your lovely furry friend can be a difficult task. Based on many customer reviews, we'd like to recommend you to check Brinkmann Pet Paw Print Pet Bed. We believe your dog will absolutely like it, the padding is soft, the walls are high, pretty good to keep your dog feel safe curling up and snuggling in. This bed is also machine washable for added convenient.
You can provide a separate sleeping area for your pet with Arm's Reach Co-Sleeper Duplex Pet Bunk Bed. It's a cool bunk bed for two best friends, they can sleep together without fighting for space, also it allows you enjoy your bed for yourself while your furry friends are just right next to you. There are 3 bed sizes available from medium (up to 30 lbs), large (up to 50 lbs) and extra large (51 – 100 lbs). The main structure is constructed from strong metal frame covered with durable polyester fabric.
This pet bed comes with removable and washable pillow or mattress to ensure the optimum comfort of your pet.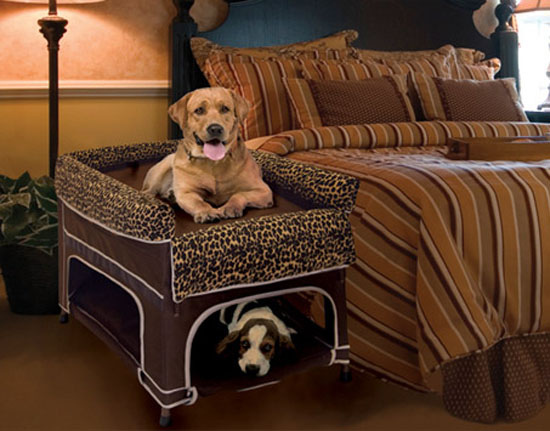 Petmate Dogloo Xt Dog House brings you an adorable igloo-shaped dog house with high winds to promote great air circulation. Winter won't be an issue as this igloo keeps your pet warm, yet it cools during summer, thank you to its structural foam construction. Your dog would love this house, it is also a great shelter when your dog loves to hide. You might want to place some treats and toys to attract your dog or cat (yes, it's a great house for cat as well), once your furry friend knows how cozy and comfortable this igloo is, you would have problem in calling them out.
Need a great bed for your dog while camping? Checkout Coleman Bone Dog Lounger, this portable dog bed is great for traveling, the medium sized bed is ideal for dog weighing up to 50lbs while the large sized bed can accommodate up to 100lbs. The material is durable with heavy-duty polyester and strong steel frame, it's been designed for dog on-the-go, therefore, it easy to open and fold in seconds for great portability. You can setup this bed to become the spot for your dog to relax, whether you are in a camp ground, backyard or just anywhere. When it's time to clean it, simply remove the cover, it's 100-percent washable, no shrinkage and no stain.
You can choose to purchase the large size if your dogs love to sleep together in one Coleman Bone Dog Lounger. The sleeping surface is soft and comfortable, the lounger is off the ground for more support to your dog. So, no matter where you and your dog go, you can always provide familiar place for your best furry friend to lie down and relax.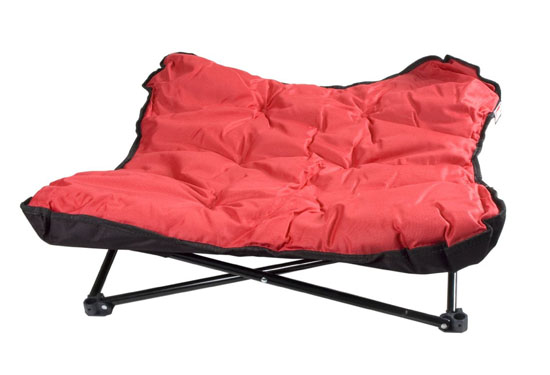 Tweets by @pawfipet
Recent Searches