Browsing articles in "Houses, Beds and Furniture"
Place Quik Shade Outdoor Instant Pet Shade next to the swimming pool or in the garden, it's a great spot for your dog to relax, enjoy outdoor without suffer from the hot weather too much. The elevated mesh bed keeps your pet cool and dry, the steel frame and durable PVC backed polyester are durable enough to hold your pet. You can easily set this shade in seconds thanks to the folding frame and locking mechanism, this means, you can easily keep it in the storage room when not in use. The matching carry bag makes it even more easy to transport aside from being lightweight.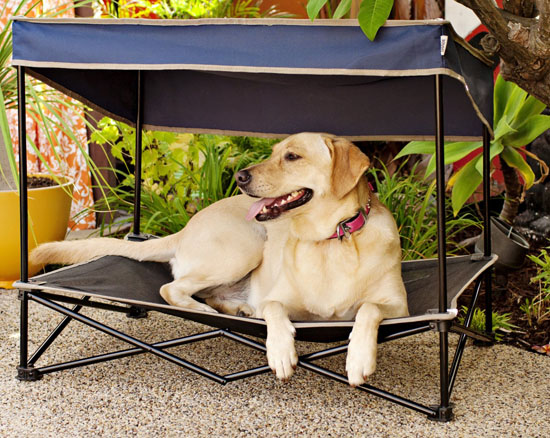 Camping with your dog would be a lot easier, thanks to Boulderlite 2-in-1 NobleCamper Travel Dog Bed. It's a compressible dog bed that transforms into a sleeping bag, so practical to carry around for camping trips, hunting trips, hiking, or any other outdoor adventures with your furry pal.
The bottom zipper is very convenient that allows the sides of the bed to unfold and transforms into a sleeping bag, a great protection to keep your dog from colder weather. When not in use, you can compress this pet bed into its stuff sack and simply toss it into your backpack. Two main materials used for this product are Ripstop nylon shell and Taslan nylon liner. The Ripstop nylon shell is lightweight, durable and waterproof, it protects the bed from tears, rips, or moisture from the ground while Taslan nylon liner is breathable, cotton-like bed to ensure your pet feels comfortable while sleeping. This travel dog bed is machine washable, you need to hang it dry or use tumble dry gentle on low heat.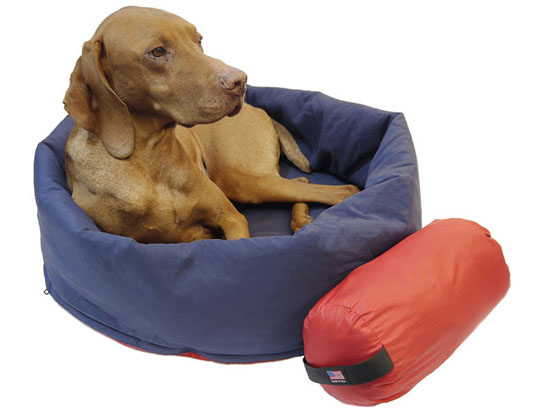 You can give your pet a comfortable blanket to keep your furry companion warm and cozy, try American Kennel Club Pet Throw. This blanket measures 40-inch x 50-inch with 2 different reversible fabric textures for added features. You can cover your furniture and upholstery with it, keeping them off your pet's hair yet your pet would still enjoy sitting on it. This nice blanket is machine washable for lasting enjoyment, the super soft fabric at one side and sherpa at another makes this throw a great cover.
Unlike other pet blankets in the market that comes out mangled shape when you wash them, this one coming out of your washing machine looks like new. Don't be surprised once you place this blanket on your pet's bed, they immediately snuggle up to it. It's really soft and comfortable, even your pet knows it.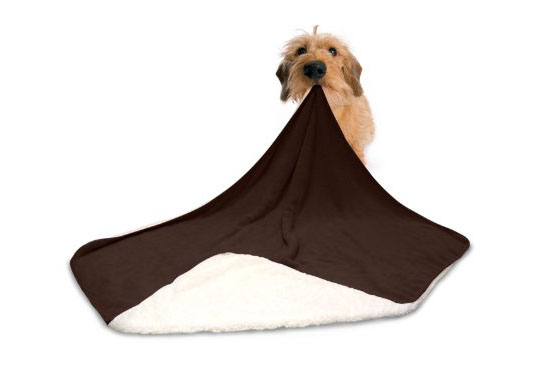 If you're looking for modern gate to keep your dogs away from dangerous area in the house, you should consider this attractive Summer Decorative Wood and Metal 5 Foot Pressure Mounted Gate. This is ideal gate to use to contain your dog in certain area, for example to keep the dog out of kitchen, you don't want your dog to get hurt. This gate is made from high quality wood and metal, the combination makes it pretty stylish, you can adjust it up to 5-foot wide for better security without damaging the wall.
For Gimli Dog Den is a modern and beautiful dog house, a perfect hideaway for your furry pal. Each house has been crafted from solid walnut with solid brass detailing for elegance touch along with bright color panel option. The form of this product is pretty unique, it plays on the iconic pyramid combined with teepee shape, your dog will be comfortable in style inside its stylish house.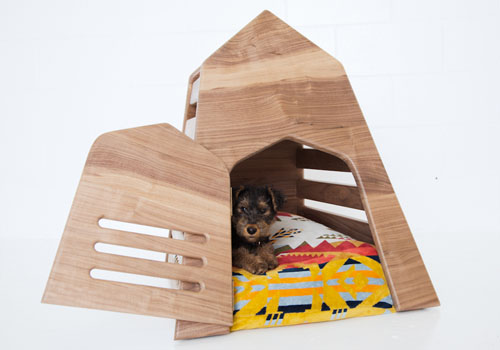 These 3 piece dog accessory set has been designed by Japanese design studio Nendo for PEN, Japanese lifestyle magazine. This accessory set consists of a unique dog bed, dishes, and toys, the artificial leather bed turns into a little hut when your dog burrows inside it and then transforms into a cushion when your dog lies on top. The dishes are also beautifully designed; they are reversible so that you can use the shallow dish for food and the deeper dish for water. The silicone rubber bone toy can be reshaped into a ball simply by tucking in the 2 ends. The toy is pretty cool, it is constructed of triangular panels connected in polygon mesh. There are 2 color options available: white or black, so, it is easy to blend with your existing home interiors.
GMI Keepsafe Expansion Gate is a nice patented pet gate to keep your dog in certain area and stay away from kitchen. It's a great gate to ensure your dog can only move around in his/her special area, the gate design prevents pinch points or choke points even without plastic coverings. There are many different size options available, from 36"wide to 108"wide, pretty tall we might say, enough to keep your dog from jumping over the gate.
Those pivot points have been designed to allow maximum expansion but still meet J.P.M.A certification specifications. The gate attaches at 4 points and is hinged to swing 270-degrees for great opening and collapsing to the industries' narrowest gate for easy storage. This gate won't damage your floor, thanks to its rubber stop, the center-mounted leg makes the gate very sturdy even when fully extended.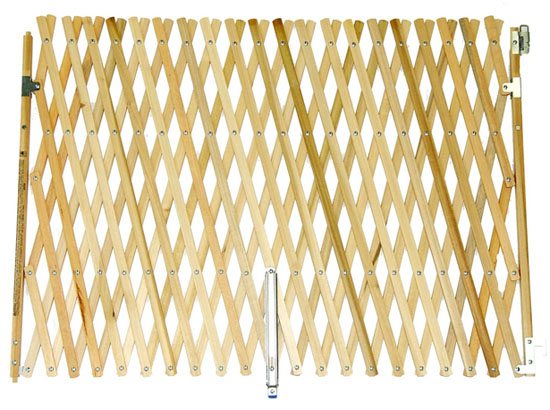 This dog house set from the Six Hands is pretty unique, it's a combination of a dog bed and a little house. The wooden house or roof is made from Douglas Fir Plywood without any harmful stain or paint, while the bed is made from natural cotton canvas and water proof inner cover. Let's just say that when your dog loves his bed, he would love the house as well, as it provides him with more privacy, perfect place to relax. The bed dimensions are 55" x 65" x 20" while the wood house dimensions are 55" x 65" x 60", enough to accommodate small to medium sized dog.
The bed cover is removable and machine washable, each product is build to order. Currently they are on sale, so you might want to checkout this dog house set, it could be a nice gift to your furry pal. the design is also modern and minimalist, perfect for different kind home decor.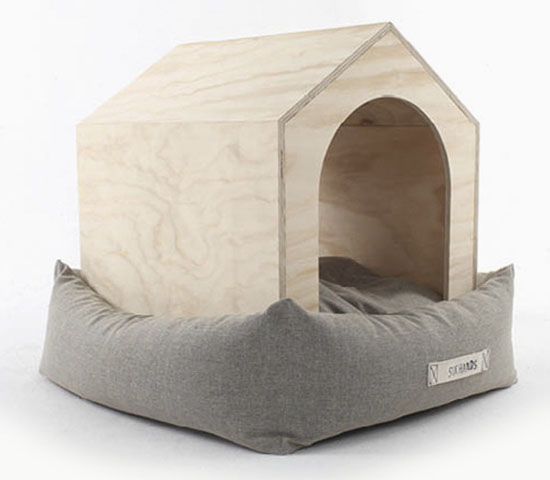 Hide S is a combination of modern dog bed and foot stool, but we must admit, we've seen better design from DenHaus with its combination of dog bed and end table. Hide S from Neroko offers you simple and minimalist design, aside being your favorite pet's hiding place, it also functions as footstool so that your feet can rest comfortably on it. Since this pet furniture doesn't come with replaceable top hood upholstery, you can choose to use it as a night stand just like Merry Pet Cat Washroom or a small table top. Yes, so you can see here, it's multi functional pet furniture.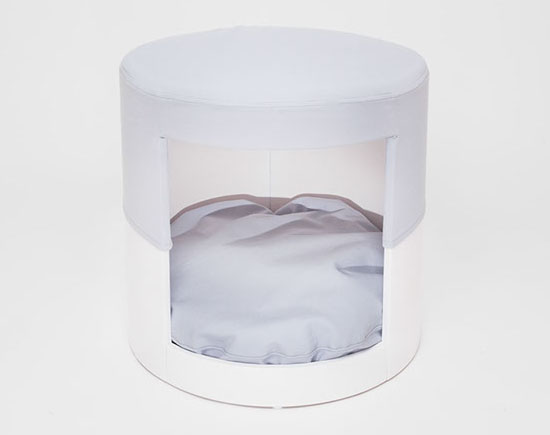 Checkout this cool DIY project to build a cool geometric dog house. HomeMade Modern EP13 Geometric Dog House features faceted, angular appearance, but don't be fooled by its design, it is actually pretty easy to construct. First, you would need to create triangles about the same height of your sitting dog. Start measuring off those triangles and create markings, use RYOBI circular saw to follow the lines and cut the triangles. Checkout the site for details step by step.
Tweets by @pawfipet
Recent Searches