Browsing articles in "Houses, Beds and Furniture"
Keep your dog's teeth healthy by giving them Paragon Whimzees Toothbrush Star Dental Treat. It's available in different sizes for different size of dogs, a nice flavorful dog treat in the shape of toothbrush, pretty cool, your dog would love it. Each treat is potato based with no wheat and gluten free, totally edible to help control plaque. The texture is nice and chewy, dogs love it, aside from reducing plaque on the dog's teeth, the treat also freshen your dog's breath.
Just because dog can't use toothbrush doesn't mean dental health is not important for them. Whimzees dental treat makes it easy for you to maintain dog's teeth, it is low fat with high fiber, highly digestible, in fact, your dog's poop might become regular with good, solid shape. We've read many customer reviews that this treat can do great for dog's digestive systems.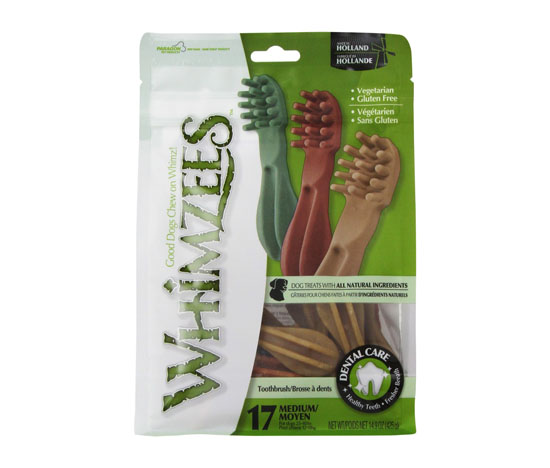 Cat Study House TheGiant is a unique cat house constructed with bamboo and canvas cloth. This structure offers a private space for your feline friend, an ordinary bamboo structure connected by acrylic and copper joints. The canvas cloth is washable, making it easy to clean. You can use this cool tent not only for cats but also dogs, it's a nice space for your pet to rest. Due to the material, this pet house is very light, making it easy to carry around wherever you go.
Pyramd Design Co. presents you with a modern dog house called Puphaus. It features minimalist design with modern touch, it's nothing like plastic dog house. If you are a design conscious dog owner, you'll be happy to know that this beautiful dog house is designed by industrial designers and dog lovers Roy Fleeman and Zach Griggs. They both wanted to design and build something unique and stylish for our best furry friend. Inspired by modern home design, only natural derived materials are used, making the final product looks and feels like home in any outdoor setting while making a head-turning architectural statement.
Made in America, this dog house is constructed from western red cedar and Portland cement board. The adjustable feet make it easy for leveling while the floating roof provides great air circulation. It comes with integrated food and water bowls. The unique construction allows to flatpack design for affordable shipping, you can easily assemble this unit in 5 steps without any additional tools.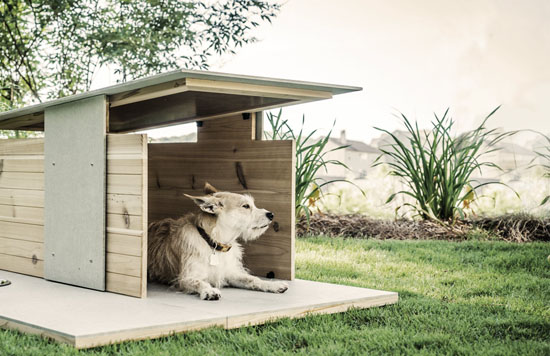 Dear dog lovers, you'll happy to know that Samsung is actually making a concept smart house for dogs. Apparently Samsung understands the love bond between a dog and its owner that they would even think to create the prototype of a dream dog house. It's a $30,000 futuristic dog house that offers any dog a luxurious living, it's pretty hi-tech kennel.
Designed by 12 designers for over 6 weeks, yeah, that's how serious Samsung is, this doghouse is equipped with entertainment wall, with auto snack dispenser, hot tub spa, and a treadmill. It looks like a great start for Samsung to reach out dog market after their great success in human market.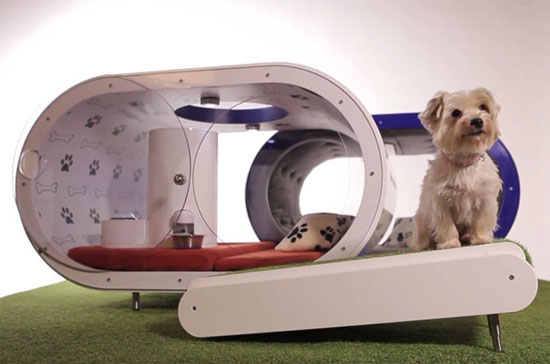 Pets love hiding, The Missy Cave from PUP and Kit will let your little furry friend hide in style. It's a modern pet cave for small cat or dog, the unique geometric shape is for pet owners where they can place this pet furniture in the living room proudly. It's a little table/small pet house that can be a focal point in any room, so yeah, both of you can enjoy this piece of furniture. Inside this cave, there's a cushion made with Sunbrella fabric or a modern canvas print, stuffed with a polyfiber fill. Your dog or cat would love to hide and take their own time inside this cave.
Constructed with wood veneered plywood and sealed with eco-friendly lacquer, you can be sure that this furniture is safe for your pet. You can also request custom finishes to match your existing interior décor.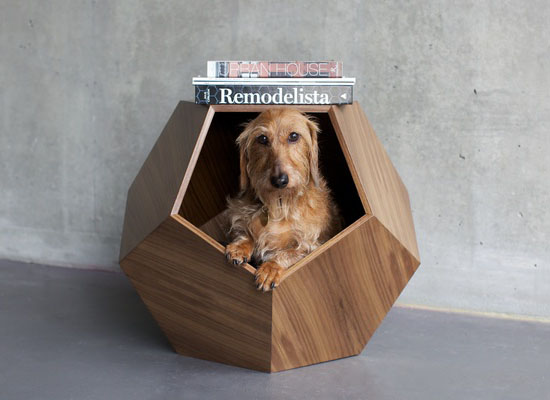 Fabbricabois has designed unique origami coffee table called Nidin. It's not only a contemporary coffee table, it doubles as pet furniture where dog or cat can enjoy snuggle in the triangle space at the bottom. This table demonstrates a pragmatic geometric composition, a beautiful interpretation of Japanese origami that consists of an arrangement of complementary and clean lines. This design offers multi-function furniture, you can use it as magazine rack, pet house, and a coffee table. Each unit comes with a cushion soft made out of washable textile designed in Italy. It measures 47cm (H) x 98cm (W) x 63cm (D), and since it is shipped in kit, you have to assemble it.
Check out this cool modern pet furniture from Korean design studio called POTE. BBung-a House Original looks like fishbones, it's made out of plywood where your dog or cat can hide and relax during the day. The unique shape is inspired by the structure of fishbones, one of the furniture even has the color of a clown fish, perhaps they accept customization request as well. Due to its structure, this pet house looks like having a nice air circulation, your dog or cat might enjoy laying on its comfy bed inside. The lightweight material allows you to easily pick this unit and move it from one room to another.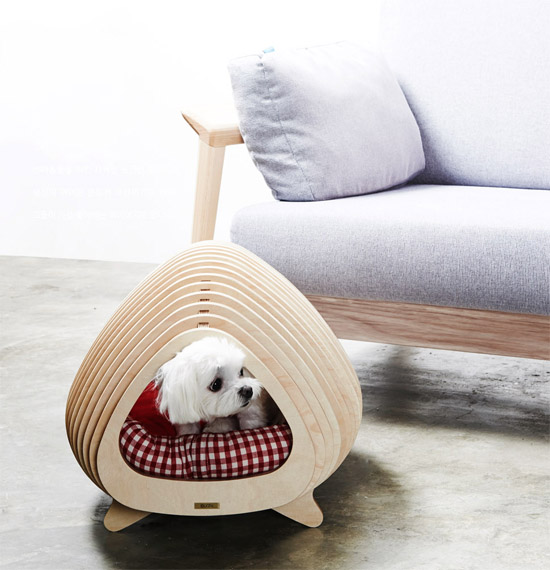 You can safely confine your small pets in certain area of the house with Richell Wood Pet Sitter Gate. It helps to know your little dog doesn't run around in the kitchen while you are preparing meals for the family. This adjustable gate fits doorways from 28.3-inch to 41.3-inch wide with its beautiful polished wood and metal. There's small wire door that you can open both directions to let your pet pass through, for you, simply step over it, this gate is actually pretty low, but high enough to stop small pets from jumping over it.
If you own a puppy, a shihtzu, or a yorkie, this could be a perfect gate. It is really easy to set up, the rubber skid bottom and side stoppers help to protect any surfaces from scratches. What we really love about this gate is its versatility and gorgeous design, just remember, it's meant for indoor use only. [CLICK HERE to checkout details of Richell Wood Pet Sitter Gate]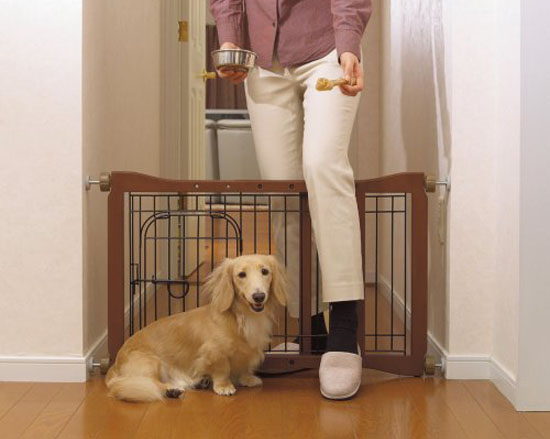 This modern Sidney pet house is the result of paying tribute to Jorn Utzon, the architect that designed Sydney Opera House. It's a unique way to re-interpret famous architecture in history and build it as a home for your lovely pets. The 3D shell must be cut on the front to create an opening for the pet house right after printing. It's available in 2 different sizes: big one for dog and the smaller one for cat. Using special technique of 2 mixtures at different times during molding, the designer has managed to develop multicolor version: one color for interior and another for exterior.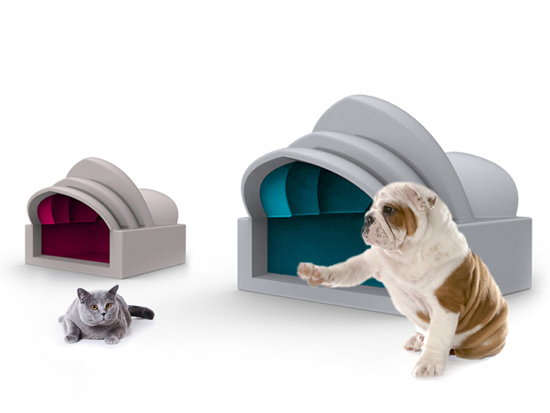 Comfy Pooch Ultra Soft Pet Bed features not only comfort but also style. Design conscious dog owners would love to have this bed in their house for their furry friends, well, what's not to like? Look at those stylish patterns and colors, available in brown, red, yellow, navy blue, and sea blue. It's a modern pet bed that you don't want to hide, in fact, you might want to show it off to your guests.
The design features a bolstered microtect center along with luxurious printed microfiber sides and backing. It can be used in your home, crate, dog house, or even car when you travel with your best pal. Please make sure that you measure your dog to get the perfect bed size, your dog should be able to stretch out in the bed. Once you open the box, your dog might not want to leave the bed all day long.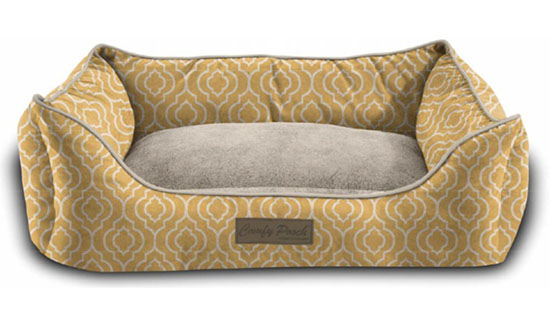 Tweets by @pawfipet